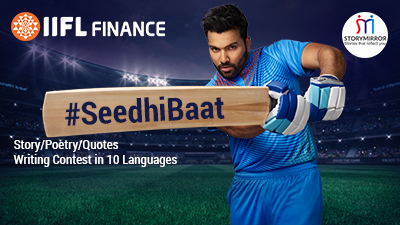 #SeedhiBaat
SEE WINNERS
1916+
Recent Participants
View
All
Share with friends
The contest is open to all individuals residing in India. Participation in the Contest is on a voluntary basis. There is no entry fee for participation in the Contest.
Participants need to submit stories, poems or quotes that are original works. Articles, essays, etc. are not allowed.
There is no limit to the number of entries that can be submitted. Participants can submit as many of their creations (i.e, stories, poems, quotes, or all) and those can be in any languages prescribed for the contest viz, English, Hindi, Gujarati, Marathi, Odia, Bengali, Telugu, Tamil, Malayalam and Kannada.
The Contest should not be used for promotion of business and/or any commercial solicitation by the Participant(s).
The Participant is request to not submit / post any spam, foul, indecent, threatening, discriminatory, vulgar and/or any such entry which is against public morality, as the same may lead to disqualification. Such decision of disqualification shall be at the sole discretion of StoryMirror and IIFL Finance.
The content of all entries submitted is at the sole liability of each Participant. By submitting entries, each Participant(s) represents and assures that all entries are their original works and no copyright, trademark and/or any other intellectual property rights have been infringed / violated.
The Participant(s) agrees and consents to indemnify StoryMirror and IIFL Finance for any intellectual property rights infringement claim related to or arising out of the entries submitted by them and use of the same by StoryMirror, IIFL Finance & their affiliates thereof.
All the submissions are to be made only on the contest link – http://sm-s.in/EzCQacN. Any submission made over email or as hard copy or without using the contest link will not be eligible for entry.
The Participant(s) hereby grants exclusive license to use any content and images in the entry including right of reproduction, in any format, with/without modifications to StoryMirror, IIFL Finance, its affiliates and/or any representative thereof.
Participants agree that personal information may be processed, shared and otherwise used for the purposes and within the context of the contest and any other purposes outlined in these clauses. The data may also be used by StoryMirror and IIFL Finance in order to verify the participant's identity, postal address, and telephone number or to otherwise verify the participant's eligibility to participate in the contest.
In case of any dispute or difference in respect of the Contest, the decision of StoryMirror and IIFL Finance shall be final and binding.
The general terms & conditions of StoryMirror as prescribed on https://storymirror.com/terms-and-conditions is part of this contest.
IIFL employees are allowed to participate in the writing contest. However, they will not be eligible for prizes other than participation prize.
Images shown in prizes sections are for representation only.
The contest timelines can be increased or reduced by the organisers as deemed fit and this decision will be binding on all participants.
In case of any discrepancies, rules and informations mentioned in English and other languages, the English version will be treated as final.
---