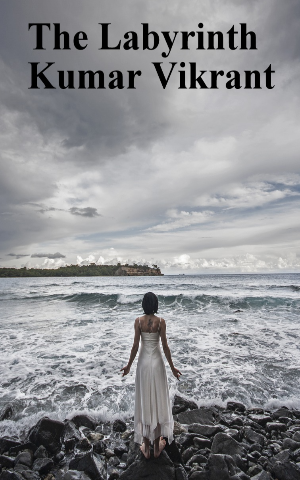 Kumar Vikrant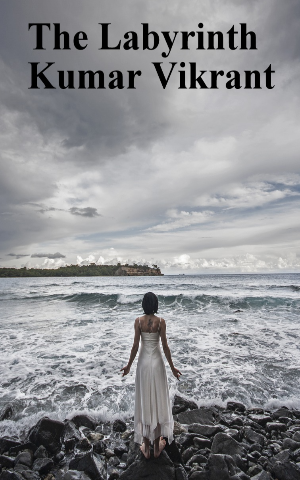 Kumar Vikrant
The Labyrinth
The Labyrinth


---
---
Deliverance Villa, Andheri Dahisar, Mumbai, December 26, 09: 15 PM
Meera washed off all the Greek yogurt from her body. Its pungent odor filled her king-size bathroom. She steps out of the warm water shower and wrapped her body and hair in smooth towels.
You are a spinster now, people prefer young and fresh faces. But don't worry, I'll find a role for you, for old time's sake. The sharp words of producer Harry Dattani were still piercing her ears.
She put on a silky nighty after drying her wet body and hair. She looked at her slightly wrinkled hands and tried to hide them in her loose attire.
The mirror in her king-size living room seemed to be mocking at her. Her skin looked dead instead of a good Greek yogurt bath. Her lips... her blistering sore lips require a lip balm.
Every winter you need Anti-Aging Lip Balm, a number of its tubes.
She reluctantly looked at her loose bosom which used to be a most sought after thing for every filmgoer, now there were more hot actresses who were ready to do more bold scenes. She ruled the film industry during her twenties, but the advent of the thirties saw her career's decline. At thirty-six there were no producers or directors to offer her a role in any big-budget movies.
Her mobile phone bell startled her, there was a relatively unknown number flashing on its screen. She touched its screen to reply.
"Hello."
"Hi Meera, this is Ritu from Will City. Recognize me?"
Meera pondered over the name, Ritu... Yes, she is a college time friend, not a close one but a friend.
"Hi Ritu, I recognized."
There was no pleasantries exchanged from both sides. The woman on the other end said, "Kamal is dying."
"What? What are you talking about? Said Meera in an urgent tone. Kamal was the man who sacrificed everything to make her way to stardom.
"He is dying, hope you still have little concern for him."
"What happened? Where is he?"
"He was hit by a fast running car outside his workshop today in the morning. He is badly injured. He is in Will City Medicare's ICU. Doctors have gone through several surgeries since morning. He is on a ventilator now."
"Oh my God....." Meera wept bitterly, tears flooded out of her eyes. "I'm coming.... I'm coming back."
Chatrapati Shivaji International Airport (CSIA), December 26, 11:30 PM
There was no direct flight from Mumbai to Will City. She decided to take a flight to New Delhi. New Delhi was 200 km from Will City. Her travel agent has booked a seat for in IndiGo air and the departure time of the plane was zero hour. On her way to the airport her mobile phone rang. The number flashing on the screen was unfamiliar, she reluctantly attended the call.
"Bai tu kaha hai?" (Where are you, madam) a harsh voice came from the other side. She unmistakably recognizes the voice of Hameed Bhai, local boss of the Mumbai underworld.
"I'm on my way to the airport; I'm going to Delhi"
"Dilli kyu ja raheli hai? Sun aaj raat tere ko mere feerend logo ku entertain karne ka hai." (Why are you going to Delhi? Listen you have to entertain some of my friends tonight)
"This is urgent; one of my acquaintance is in hospital, I have to see him."
"Jyasti bakwas mat kar, tu abhi ki abhi airport pe ja. Victor aur uske chokra log tere ko le lenge. Wo tere ko mere feerends ke thikane pahuncha denge. Aur sun mere saamne jyasti English gitir pitir ni karne ka." (No blabbering, just go to the airport. Victor and his boys are going to pick you; they will take you to my friends' place. And be careful no English chattering with me)
Hot tears came out of her eyes. She has been facing it from the very first day of her stardom. She was exploited sexually by the photographer who took her pictures to show them to the producers and directors. Her first break didn't come so easily, she had to please a number of men before playing an innocent girl's role in her first movie.
She reluctantly started towards the airport. She wanted to slip from Mumbai silently, but her thoughts were interrupted by a harsh voice.
"Bai, chal jaldi chal bhai ka friend log tera intezaar karte." (Come quickly madam, Boss' friends are waiting for you)
She saw Hameed's henchman Victor was standing before her. He snatched her luggage and forced her to sit in a waiting car. Soon they were in a dirty Mercedes Benz which was running towards Malabar Hill. The dirty men sitting in the car making bawdy remarks.
She tried to protest, but Victor threatened, "Bai chupchap baithne ka, baad me tu rape ka report likha dena. Tu takdeer vali hai jo tere jasi sadeli heroin pe bhai meharbaan hai." (Sit silently ma'am, you can report a rape later. You are lucky that the boss still favors you)
After 45 minutes the car stopped before a big villa. Victor dragged her towards the entrance of the Villa. A uniformed gatekeeper came out and opened the gate.
Victor dragged her towards a big living room in the villa and pushed her into a room. She saw there were three rough looking men; who were looking at her with their lust filled eyes.
Will City Medicare Centre, December 27, 01:30 PM
The moment Meera reached WCMC, Kamal was still on a ventilator, and unstable. Doctors told her that one of his ribs has punctured his lung and damaged it, they have operated it, but he is still breathing on his single lung. There was Mala Devi; mother of Kamal, who cursed her publicly and told her to go away, after all, she was the one who has destroyed her son's life. Her forty years old son was still unmarried in a hope that someday Meera would come back to him. Ritu was also there, she escorted her to visitors hall.
"Thanks for coming to Meera, yesterday doctors were totally hopeless that is why I called you up; hope you still have a place for him in your heart."
Meera wanted to say something, but her eyes glued to the LED TV screen which was placed above the front desk and playing the news of daylight killing in Mumbai. The news reporter was reporting from Raheja Vihar Andheri West; where the renowned film producer Harry Dattani was killed in the morning while coming out of his house. His killers have fled and there was tension in the whole area. The news anchor emphasized that Mumbai underworld was behind this killing.
Meera knew that Dattani was a mean man who exploits every newcomer for a role in his movie. She knew about the nexus of the underworld and Bollywood. Underworld always takes its cut from every person involved in the movie-making business. Most of the film actresses exploited sexually by underworld bosses any refusal might result in; end of a career in Bollywood and even cost their lives too.
Ritu looked at her tense face and asked, "Any problem?"
"No, I met Dattani yesterday and today he is killed."
"Any emotions attached to him?"
"No... he was the meanest of all."
Ritu smiled at her answer and asked, "How are things going in Bollywood?"
Meera knew she was asking about her. She looked at her and replied, "My days are over, now the newcomers are dominating the industry."
"You have been a part of a number of good movies, what went wrong?"
"Just a trend, I have played my role now this is the time for the newcomers to show their talent."
"Very generous."
"Not at all, what about you? Married?"
"Yes with three kids; my husband Deepak and Kamal are good friends. Kamal used to tell him how madly he was in love with you."
Ritu saw there were tears in Meera's eyes. Broken words came out of her mouth.
"He did all to make me a successful actress. He used his contacts to make my way to the National School Of Drama. He took me to Mohini Sharma school of dance, where I wanted to learn the classical dance. He used to take me to the studio to studio, director to director during my initial years. He stayed with me in Mumbai until I got my first break. But he fed up with the artificial life of Bollywood and went back to Will City, he used to tell me to come back. But then I was busy in several big movies and things went on becoming bitter between us."
"Why didn't you marry someone else?" asked Ritu.
"Didn't find one who wants to marry me."
"There was one who was waiting for you all these years."
Meera remains silent and looked at the TV screen where she could see the para medicos who were carrying Dattani body in a body bag.
Suddenly both the women saw Deepak rushing towards them. He looked at Meera and said to his wife Ritu, "He is unstable again, they are referring him to Delhi."
Both the women stood up and rushed towards the ICU. There was a commotion all over doctors have been gathered around Kamal.
Soon they were all in an ambulance, which was running towards Delhi. Kamal was unconscious, but his body was in the grip of a powerful seizure. All the three women, Kamal's mother, Ritu, and Meera were weeping silently.
Outer Medicity New Delhi, December 29, 11:25 AM
After two days of intensive care finally, Kamal's condition was better. He had to go through two consecutive kidney operation one of which was also ruptured in the accident. Doctors have put him on 72 hours of observation. Meera used all his contacts to put Kamal in such an expensive hospital. Kamal's mother had had no money at all. Their family expense was carried by the meager income of Kamal's art studio. Deepak offered money, but Meera paid all the expenses with her debit card.
It was a sunny day, which was rare during the month of December. Meera looked at the bright sunlight, people were enjoying it in the vast courtyard of the hospital. She was away from all the rush of life. People were calling her, his secretary was handling the dates given to the movie directors. Life was stagnant but good, she prayed to God after a long time; she prayed for the life of Kamal. She knew both of them were now like the two banks of a river that could never meet.
Some people recognized her and make a fuss, but hospital security pushed them away from her. A few people came into harmony; took her autograph and went away. A few tried to take her pictures with them, but she refused them politely.
The calm life of Hospital premises forced her to think about the futility of the glamour world where everything counted for money. She even thinks about the unholy nexus of criminals and Bollywood. Criminals extort money from them, they use them by threatening them. She was forced to sleep with top underworld bosses during the peak of her career, but yesterday dissolute criminal Hameed forced her to sleep with other two-bit criminals. Saying no could cost her; her own life and career. What career? She has lost everything which a woman could offer to her would-be husband. Now she was also a two-bit hussy in other peoples' views.
Her reverie was broken by two stalwart men who came straight to her. One of them took out his identity card and waved it before her. All she could read a strange name and Mumbai police, crime branch. One of them sat beside her and said, "Madam, my name is Mahip Tawde, senior police inspector; Malabar police station. I have an arrest warrant for you."
"What for?" Blurted Meera; looking at the piece of paper which was produced by the other man who was still standing before them.
"For the murder of film producer Dattani."
"What the hell are you talking about? I know nothing about his murder, I've been out of Mumbai for three days."
"We have strong evidence that you spent the night with the killers of Dattani; scheming to kill him. Your presence out of Mumbai is indicating that you were involved in this murder"
"What nonsense?! I know nothing about the killers or whomsoever you are talking about."
"Just come with us; we can make walls speak."
Meera realized there was something really very serious, perhaps she spent her night with Dattani killers and now the cops are making a case against her.
"May I call my lawyer?"
"Practically not, but I'm generous today; talk to anybody you want to I give you only ten minutes."
Meera called up her lawyer Sridhar Kale and explained everything. Sridhar thought for a while and assured her that he'll try to get a bail for her. As soon as she finished her conversation with her lawyer, Mahip snatched the mobile phone from her hand.
"Let's go now, we have to catch the flight back to Mumbai"
"No, not right now. I have friends to inform about this arrest.
"Bai jaldi kar, apan akkha day tera bharat milap dekhne ku ni aaya hai." (Hurry madam, we didn't come here to see your rendezvous) Said the other cop.
The crowd was gathering around them. Ritu and Deepak came rushing towards her making their way through the crowd.
Meera explained everything to them and handed over her debit card to Ritu to pay the hospital bills. Ritu looked at her husband and took the card reluctantly.
Malabar Hill Police Station, December 29, 09:30 PM
The moment Meera and the cops arrived at the CSIA there was a flock of press and TV news reporters waiting for them. As soon as they came out of the airport all of them darted at them with their questions, but a number of policemen appeared and made a security circle around her.
There were several questions thrown at her....
"Why did you kill Dattani?"
"Who were your allies?"
"Did things go sour between you and Dattani?"
"Were you planning to flee from India via Delhi?"
Meera has wrapped her shawl around her face and moved faster towards the police vehicle. They made her sit in the back of their car and sped away from the airport. A few cameramen followed them and tv reporters went on telecasting it all live.
Soon they entered the big building of the Malabar Police Station. She was taken before the SHO who completed paper formalities and escorted her towards the lock-up.
The SHO seems to be a gentleman who grinned at her and said, "I'm so sorry for all the inconvenience. You'll have to spend the night in lock-up. I'm arranging some fresh blankets and sheets for you. I've sent my men to bring some good food for you."
Meera thanked him and sat on the bench, which was placed beside the wall of the lock-up.
Soon her secretary Mubarak Badr was brought. They allowed him to sit him with her in the lock-up. He told her that Sridhar hasn't obtained the bail order so far. He is still trying with the Judge. Meera thanked him and requested him to leave. Badr looked at the blank face of Meera and left.
Meera was surprised at this turn of her life. Now she was a murderer and spending her night in a lock-up. It was perhaps the last nail in her already dead career's coffin.
"Bai tera phone hai. Tera sagewala tere se baat karna mangta." (Madam, your call, your acquaintance wants to talk to you) A sentry came holding a mobile phone in his hand and handed it over to Meera through the lock up iron bars with a smirk.
She took the phone reluctantly and put the earpiece in her left ear.
"Sorry bai, tu meri vajah se lafde mei fans gayi. Bai Dattani security money dene mei locha karta tha usko to apan ko tapkane ka thaa. Victor ka chokra log mukhbiri keyela hai, pann ab wo log samandar ka pende me rest kar rayela hai. Bai bas aaj raat khamosh rehne ka, subbha mai tere ku udhar se nikal lenga. Ghabrane ka ni bai, SHO apun ka feerend hai wo tera khyal rakhenga." (Sorry madam, you are in a fix because of me. Dattani was refusing to pay his security money, we had to kill him. Victor's boys cheated, now they are resting at the bottom of the ocean. Just keep quiet tonight, I'll take you out in the morning. Don't be afraid; SHO is my friend, he will take care of you) Hameed was on the other side of the phone. He went on speaking in his gibberish tone and cut the without hearing any answer from her.
Sentry took the mobile phone from her and went away. Meera had a burning desire to kill all who has taken advantage of her and exploited her so far. Hot tears came out of her eyes and fell on the dirty floor of the lock up.
The same sentry came back again and unlock the gate of the lock and said in a hurry, "Bai ACP saab aaya hai tere se milne ke vaaste. Chal jaldi chal." (Madam ACP wants to see you, come quick)
The moment she entered SHO's office, she saw a young cop sitting on the SHO chair. He gestured her to take a seat and ordered SHO to go out of his office. He himself got up and closed the door of the office and pulled a chair to sit close to her.
"Ma'am, I'm ACP Saleem Shaikh. I have always been a big admirer of your enchanting beauty and wonderful acting. He paused for a while and went on, "I know you have nothing to do with Dattani murder. You have just been at the wrong place at the very wrong time. Please tell me all and go out of this police station as a free bird."
Meera looked at the young cop, she saw there was a lot of confidence in his eyes. She told him everything.
"Okay, now I can nab Hameed for it. I'm a little worried about your security. These people have a number of people working for them, we cannot recognize them all. They can send someone unknown to kill you. Tonight you stay in my guest room, my wife will take care of your dinner and other things.
CSIA, December 30, 00:00 hour
Hameed was furious at Victor and cursing him continually.
"Mai Bhai ke paas Nairobi ja rayela hai. Ab tu idhar ka dekh, wo chudail, ACP ke samne sab kuch bak rayeli hai. Wo mere ku pakadne ke waste aayega pann us se pehle mai out of India hoyenga." (I'm going to Nairobi to see the boss, now you handle the matters here. That witch is telling everything to the ACP. He will come after me, but I'll be out of India by then)
"Theek hai bhai, bai ka kya karne ka?"(Okay boss, what to do with the woman?)
Hameed looked at him and said in a stern voice, "Usko khallas karne ka, iddar ka bheedu istemaal nahi karne ka. Madari ko bula, wohich uska game bjaynga." (She has to be killed, don't use local shooters. Engage Juggler, he will take care of her)
Juggler, Andheri Dahisar, Mumbai, December 30, 08:25 PM
Juggler placed his best garrote in his salesman's bag. Killing people hadn't been a big deal for him, but he always preferred killing them with a gun or a knife. He arrived from Mauritius today morning and had an intention to finish this fishy job tonight and flee. As always he got this contract online and paid in advance. He has successfully replaced contract killers JK and Samant who were killed two years ago. Both of them became a victim of a trap laid by drug lord Rana, even the sly cop Jagat was also dead after six months in a coma.
He knew India's underworld people now tend to prefer contract killers because their own shooters don't last long. Cops kill them in fake encounters, besides sometimes police force them to open their mouth against their masters. This new trend of hiring killers to kill someone gave a boost in killing the industry. There were several hired killers who were based in India and outside India, taking the contract to kill people. Juggler left India after his first successful hit, he knew he would never be safe in India. He migrated to Mauritius as a sculptor, infect he was a good sculptor. He would plan a kill while cutting stone to shape it. He based himself in Moka the suburb town of Port Louis, from there he could easily slip to any other part of Mauritius.
He has made a mental map of Deliverance Villa situated on Yari Road. His target was still out of sight and the fog has engulfed all the area in its thick layer. He was waiting for her in his hired car. His contract giver had advised him to strangle her to death. He hates instructions, but to keep his business running he has to take care of his clients' wishes.
After a few moments, a police van stopped in front of the villa and she came out of the car with two tough-looking cops. They escorted her inside the villa and disappeared. The cops were really a problem he has no intention to kill them unless it was necessary. He decided to stay but he will strike after midnight when the cops might be dozing off.
Deliverance Villa, Andheri Dahisar, Mumbai, December 31, 00:00 Hour
Meera was dead tired she wanted to fall down in her bed and sleep. She had to take care of the cops who had been appointed as her bodyguard for one month by ACP Saleem. All the formalities of bail consumed her day. The ACP had informed her that Hameed had fled and was a menace now. She ordered dinner for the cops and herself from a local restaurant. After dinner, she shows them adjacent rooms of her living room, one of them was occupied by them. At ten, she called up Ritu to inquire about the health of Kamal. She told her that he was still unconscious but stable. She decided to take the morning charter to go to Delhi. She finally went to her bed and slept.
Sharp at 00:00 hour Juguler jumped over the Villas backyard boundary wall. He fell on the ground with a little sound and waited for any reaction, but there was none. He used a glass cutter to open the window pane and finally entered in. There were several locked rooms. He went towards the penthouse which might be the living room of Meera. He used a master key to unlock the door, fortunately, the door was not latched. He saw her sleeping on her king-size bed under a thick blanket. He took out his garrote from his bag and walked stealthily towards the bed. He silently climbed on the bed. He wrapped the garrote around her neck silently and pulled both its ends with all his force. She struggled a little, but her struggle ended in a few seconds. Jugular lets her limp body go and placed his garrote in his bag. She was dead.
He was about to leave when Meera's phone rang. He took it and placed it between his palms to reduce the sound. Fortunately, it was just a message, not a call. He curiously read the message, which said-
Kamal died a few moments ago, please come soon- Ritu
Juggler placed the mobile phone back on the bed and left the living room quickly.