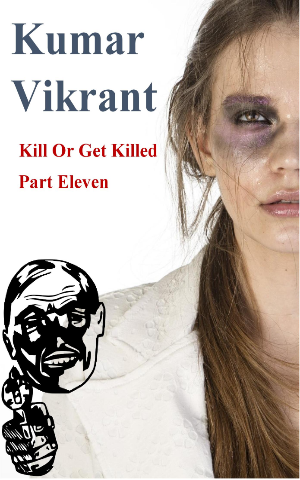 Kumar Vikrant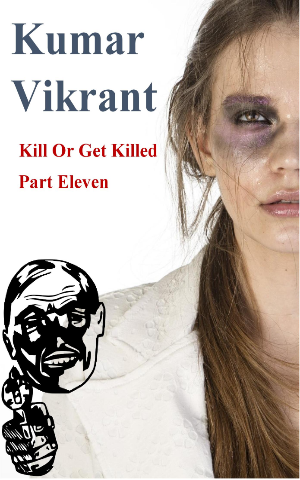 Kumar Vikrant
Kill Or Get Killed Part- 11
Kill Or Get Killed Part- 11


---
---
August 14th, 08:00 PM
It was dark outside of the Naka police check post. The in charge of the check post Ojha was ordering a home guard to bring cold drinks for the police station staff. He was surprised to see SHO Shobha, who came to this check post with another woman. Shobha ordered him to stay outside.
Shobha went through the small cloth satchel which she found with Seema. There was nothing much, an ages old woman dress, a pink saree, an ATM card and discharge certificate for the Zaura jail.
"Seema? So, your name is Seema, a jail bird?" said Shobha with her harsh voice.
Seema kept quiet.
"Why did you go to the jail?"
There was no answer.
"O madam, I'm talking to you, speak up."
There was still the silence.
Shobha frowned.
Suddenly the check post in charge Ojha interrupted.
"Madam, this is Seema, she attacked Dev Saab."
"The minister, Ranjeet Dev?"
"Yes, madam. The men who attacked her must have been sent by him."
"Shut up Ojha, he is our honorable minister, we cannot allege him for this attack, and those ruffians must have something to do with her from her past life."
Ojha kept quiet for a while and then blurted, "Madam, we don't have anything against this woman, we must let her go otherwise minister Saab will send more goons, they shall massacre us all."
"Ojha, be in your limit."
"I know my limits ma'am, but I also know our honorable minister, this woman is in a grave danger and her presence will endanger our lives too."
Suddenly she saw a paper which might have fallen from the satchel of that woman. She unfolded the paper. There were three words scribbled in blue ink.
'JACK WILL CITY'
"What is this?" Shobha inquired.
Seema maintained her silence.
"Ma'am, this woman has a very short life to live, the minister won't spare her." Ojha interrupted again.
Shobha looked at him irritatingly and pondered over the matter. There was nothing against her to detain her, she was the attack victim. And whatever Ojha saying was true, there may be trouble. She also knew about the criminal background of that minister, there may really be trouble. Let her die. Sure, what is wrong? People are born and found dead every day; she is not an exception. She may die, but not under her jurisdiction. Let her die at any other SHO's jurisdiction.
"Deepak." she called, her driver.
"Yes, madam." Deepak came rushing into the room.
"Take her with you to the city and leave her wherever she wants to go."
"Ji madam (sure madam), said Deepak and looked at Seema with disgust.
"Aaja." (Come) said the driver to Seema.
Seema got up like a robot and followed the driver to the SHO's car.
"Kaha Jayegi?" (Where do you want to go?) said the driver after starting the car.
"Bus stand." said Seema briefly.