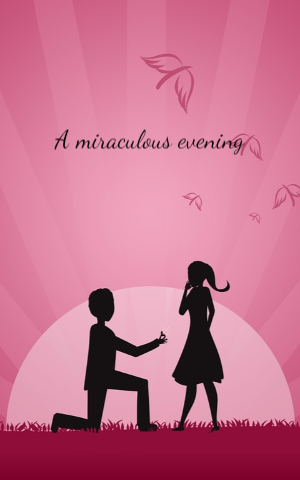 Nehal Chandak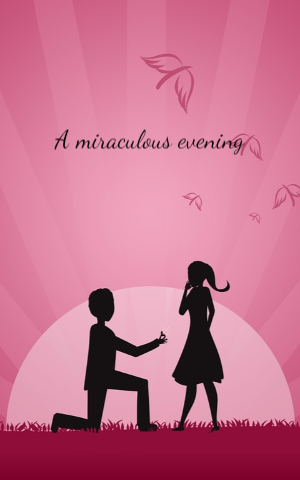 Nehal Chandak
A Miraculous Evening
A Miraculous Evening

2 mins

216

2 mins

216
---
---
Dressed in an alluring combination of red beads on pitch black evening gown.
As I stroll towards the terrace of the villa.
The view my eyes witnessed was mesmerizing.
Red rose petals paved the way leading me to where he stood.
The silver moonlight and the lit candles flattered the site making everything crystal clear.
As I take my steps forward a heart shaped balloon falls right in front of me.
The three magical words beautifully carved on it saying "I love you!"
With every inch I took my heart skipped the beats and the butterflies tickling inside my potbelly.
My face blushed in scarlet
And my eyes eagerly dancing in search of the love of my life.
There comes another balloon.
To my surprise it said "Will you marry me?"
To my astonishment this time i see him right there on his knees
A man dressed in perfectly suited white tuxedo.
He was well aware of my answer but despite it he never let go off an opportunity to make me feel special, loved and cared.
As his hands gently grabbed my waist while mine was on his shoulders, we moved slowly to the romantic tune of our favorite songs and lost quite in each other's eyes. In our own world of love.
Apart from all the love in the air, he knew what made my heart happiest - yes that's right - Food! My favourites where put right on the table where we sat across each other. The fragrance of our favourite dishes made our date a perfect one. We ate and ate until there was no space. But hold on, there's always some space for desserts - that too when it comes to the hot sizzling brownies with over loaded with choco chip ice cream and hot sauce bubbling on the Platter.
Alas ! He left no stone unturned to make my dream of a perfect date come true.
Having someone who adores you to a level we cannot imagine - is indeed a blessing not everyone is blessed with.