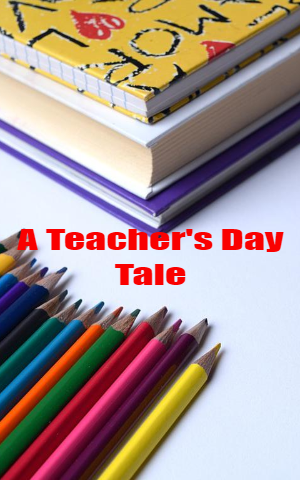 ACHINTYA AKKI
Abstract Children Stories Drama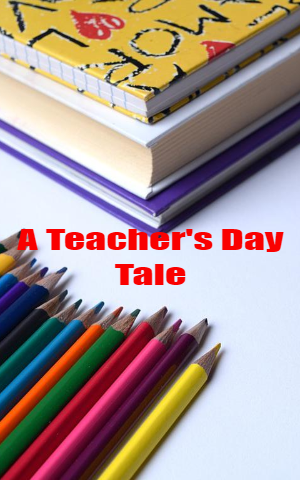 ACHINTYA AKKI
Abstract Children Stories Drama
A Teacher's Day Tale
A Teacher's Day Tale


---
---
This is the story of a kid in class 8 named Vikram. He was duff in his studies and was willing to score a bull's eye in his finals. "I can do it this time. I am confident about it" he said to himself sitting in his class at recess. Suddenly a whispering noise came from his bag. He peeked inside his bag. He saw that his books were whispering to each other
"I don't think he will get marks," The History book said to the civics one
"Yes! Yes! He always has got marks less than the passing marks, so the probability of him getting passed is 0" The Mathematics book calculated
Vikram was now feeling very wretched and despondent.
"Yes! You all are right, maybe I do not have the potential" Vikram sighed
"We will make you do it" a voice from the class door came
It seemed as if a team of superheroes came in.
They were Vikram's teachers of numerous subjects
"We, your teachers will help you to do the task… just have faith in us" the teachers smiled and marched off the class
The educationalists worked for hours together leaving Vikram in a mind full of muddles.
After a full day work of 48 hours, the teachers came up with some shooters. The teachers pointed it at Vikram and shot together at his forehead. After the shot, Vikram was completely changed and scored a 100% in his finals
The gun was actually the knowledge that the teachers provide all-day night working hard for their students.
He was the topper and was called on the dais to give away a few words
"I am here today because of my teachers and their love towards me"
They are just equivalent to the almighty for me"
"So, it is my opinion that we, the students should always esteem our teachers and always follow their lead because…
They can turn you to a hero from a zero"
"गुरू गोविन्द दोऊ खड़े, काके लागूं पांय।
बलिहारी गुरू आपने, गोविन्द दियो बताय।।"