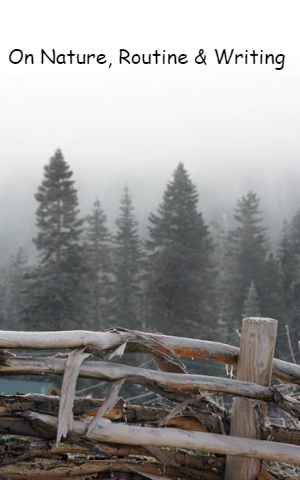 Pravind Thakur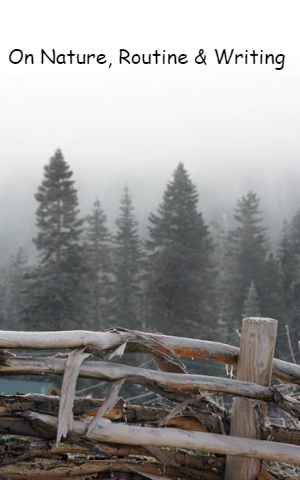 Pravind Thakur
On Nature, Routine & Writing
On Nature, Routine & Writing

5 mins

235

5 mins

235
---
---
I am right in the middle of nature here in Ghoramora village in Assam. The day begins with birds & the clatter of cycle wheels, as farmers pedal down to their faraway fields. Each morning, I walk to the community well with my host Abhilash and we draw four buckets of water for everyone at home. A small bathroom at the back of his house is occupied for the first two hours of the morning, each member of the family taking a quick winter bath. Post shower and a quick prayer, we assemble in the courtyard for tea. Bread is served. White toast with butter.
The rest of the day, we both take bicycles within the tea estates, into the floodplains of Brahmputra, into a ridge by its side, in a reserved forest infested with chameleons and tall trees. I don't feel like carrying my phone during these journeys. Neither a pen nor my notebook. I slowly embrace my surroundings, becoming an invisible part of it. Everything human — especially voice — seems to adulterate this pristine beauty of nature, the bed on which life rests. Abhilash and I, hence, do not speak much. It is as if we both are meditating together on our respective life journeys, on our aspirations, until nature perfumes our thoughts and then we can't think of anything else. We sit in trance next to a brook, partaking a bit of winter sun, not feeling the itch to express at all. Nature is like that unputdownable book that makes you forget the world and yourself.
Today, I was reminded of Lord Byron's word: "There is a pleasure in the pathless woods, there is a rapture on the lonely shore, there is society, where none intrudes. by the deep sea, and music in its roar: I love not to man the less, but nature more." I spent my afternoon in the forest today, feeling as carefree as a child. There were no deadlines, no pressures. The mounting heap of emails to reply to, the newer letters to write, and the challenges waiting to be given forgot me during that time. I felt connected, myself in nature, the nature in me. There was no phone, no Internet, and no compulsiveness of checking the countless notifications. I decided I would take a break. A relatively long break from writing my letters. I will collect my experiences and let my bucket of a mind fill before it overflows into these letters.
I needed digital detox. Life isn't inspiring every day, and it'd be dishonest of me to try to inspire my readers without being inspired myself. The folks at YQ were quite understanding. They considered my plea, noted down the ideas that I had for the challenges, and set me free. They will post on my behalf on the app, and wait for me to write secret letters once I am ready.
What does it mean? Yes, your fear is right. The daily letters are going to take some time. The next one is probably going to arrive in a week probably. Sometimes, we are so trapped in technology that we cannot imagine a space outside it. But there was a time when you are among those born in the pre-Internet era. Remember those days? When there was no mobile phone, television had just one channel Doordarshan and the only source of entertainment was reading books and playing sports. How our parents would leave for work and until they returned home, we didn't have a clue where they were. There was no such thing as constant touch. It was the era of wait, the era of letters, and the era of landline calls from PCOs.
I am nostalgic and sort of reliving those days in the lap of nature, ruminating over the glorious past. It's ironic how connected we were in those little moments stolen to converse with our relatives, and in this age of Whatsapp forwards, we have lost that personal touch to constant touch. Perhaps, that's why my letters worked with you. You liked to read them. You got a chance to relive that nostalgia, of having someone writing to you intimately, every day. But you know what, good things, if done in excess, make them forgettable. My letters are honest and well-meant and I wish for them to continue being that. And for that, I have to believe every word that I am writing. For that, I need to have experiences that are solely my own, experiences worthy of being told. Experiences that I have to go through as a human first, then as a writer.
I want to keep secret letters exciting & contain an element of surprise. True, the content inside can be surprising, the places I visit or the feelings I try to capture. But another element of surprise that's missing is the surprise of getting it when you are not expecting it. I am sure you'd have missed reading my letters every once in a while, because of weariness or casual disinterest, only to read them later, or probably missing to read them altogether. No routine letter can replace the delight of an unexpected letter in your inbox. Like how my first email might have felt to you. I want to retain the secret part of the letter. For the secret to really be told and kept, it has to be said in private, when you least expect it. Like now.
I leave you with a quote about goodbye: "I wanted to see you again, to say goodbye the way that I wanted. Then I realized if I got my way, I'd never say goodbye."