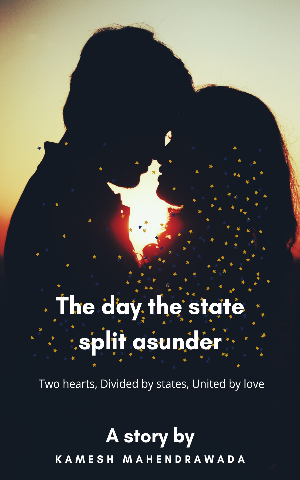 Mahendrawada Kamesh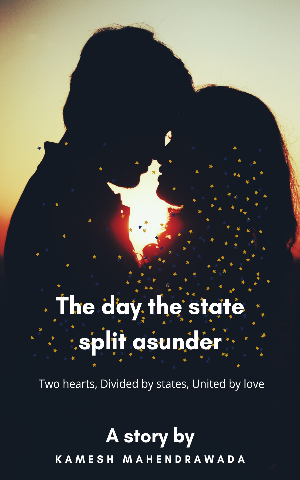 Mahendrawada Kamesh
The Day The State Split Asunder-16
The Day The State Split Asunder-16


---
---
For Adarsh, his life resembled a barren land until Aarti arrived into his world. From the day she accepted him, he was on cloud nine. Life became fragrant and colourful like flowers that bloom in spring. Every day he used to be very eager to meet her. Phone conversations used to go on for hours and hours. He confided all his worries with her.
To him, Aarti was different from all. She was unique and he had never met anyone like her before. His desire to live life with her was very persistent, he could never let go of her thirst for life. He is a big fan of her smile and constantly used to tease her that if their children didn't get the same exact smile, he would divorce her.
Six months passed. One chilly day in September, he picked Aarti up from her home in a rented car. She looked cute in her blue salwar-kameez. She wore the earrings that Adarsh had given her on valentine's day.
'Adarsh Where are we going?' she asked in her mesmeric voice.
'Shh... You are not going to ask me any questions. You are just going to enjoy this day,' Adarsh smiled and kissed her hand.
They both took their respective seats and Adarsh soon drove away to the outskirts of Bangalore.
'I don't know what's special about today? You just give me a lot of sudden surprises. Please tell me where we are going?' she asked again.
'Aarti! One question has been bothering me for a long time. I wonder how is it possible for someone to be this cute? You are, seriously, the cutest girl. If Ruth Handler had been alive and if by chance she got the opportunity to see you she would regret a lot.'
'Who is this Ruth Handler and what will she regret?'
'Ruth Handler! She is the inventor of the Barbie doll. She would have regretted not putting your face on the doll, you look that much cute…' said Adarsh pulling her cheeks as she leaned on him.
Adarsh had planned to spend some time with Aarti. He decided to take her to Mysore as there are many romantic getaways that can spark up the flame of romance. He had even planned a few surprises for her just to make her feel special. As they reached the highway, he played soft romantic music by A R Rahman. He asked her to open the wrapped box kept on the dashboard.
'What is this?' she asked in undisguised wonder.
'Open it!' Adarsh said.
She unwrapped the gift box with her nimble fingers and happened to find a small box. As she opened it, she saw an envelope, her favourite perfume, a brand new wristwatch. She took the envelope into her hands. She glanced at Adarsh once and started reading it.
Aarti all I need is just a part of your time to open my heart and compose a rhyme. There's nothing I can do, Except spend my life loving only you. In your presence I have nothing to fear, I forget the world around me when you are near. Just a glance at you, I feel something new and then I'd never feel blue. Your angelic smile, unique in its way, Makes all the bad things go away. I promise that these feelings aren't lies, If my love is measured it would go on for miles. You are the smile of heaven, A paragon of wonderful confession. With all of my heart, I love you, And I vow to show you that in all I do.
'Adarsh, why do you love me this much?' she said as tears rolled down her cheeks. She neared him to kiss him on his cheek.
Adarsh avoided her and said - 'Aarti we have entered the Chamundi hills. This is a holy place and we are not supposed to do such kinds of things in a place like this.'
She leaned back against her seat feeling blushed. 'Adarsh I am really lucky to have met someone like you…'
Adarsh stopped the car to the side and asked her to come out. Aarti stepped out of the car. Silence filled the air and both of them remained quiet, holding hands until they reached the viewpoint. The ViewPoint is a vantage point to enjoy the sight of the city below. Adarsh has been showing her the landmarks of the city. 'Aarti, are you able to see that oval-shaped ground?' he said pointing his finger while holding her hand firmly with his.
'Yes!' she replied.
'That is the racecourse track and on the right side is the whitewashed Lalitha Mahal Palace.'
Aarti was mesmerized by the picturesque landscapes surrounding the hills. They took a selfie-and approached the hilltop. Adarsh parked the car and they both started marching towards the temple.
'Why did we come to the temple?' asked Aarti.
'I made a vow that if you accept me I will come along with you to this place…' he said, placing his arm on his shoulder.
'So sweet of you…' she said. 'Only temple visits for today?'
'No, there are still many. Let's complete this first…' they walked towards the entrance. But it was completely crowded. He purchased two special darshan tickets and was able to complete the darshan in an hour. After completing darshan they began walking toward the parking lot.
'Aarti! What did you pray to God?' asked Adarsh.
'You tell me first,' said Aarti.
'I prayed to God that we should get married soon and I vowed after getting married I will come here once again.'
'Once again! You would have said a different place,' she returned.
'What did you ask for?'
'I prayed that soon I should start a company.'
'What!' he stopped walking. 'You didn't pray for our marriage.'
'Adarsh, it's my dream about starting a company. I don't want to get married until I start a company.'
'We can even start a company after getting married. It's not a big deal. We will work hard and save enough capital to incorporate the company.'
'Adarsh after getting married things will slow down, please try to understand!' she seemed agitated. 'Will you not help me in fulfilling my dreams!'
'Cool! Cool! See Sweety!' he took her hands into his, 'Your dreams are my dreams. You are my heart and why will I leave you alone? As you say, let's get married only after starting a company. Let's go, we have a lot of places to cover.'
They resumed walking, got into the car and took their seats.
'Where are we going next?' she asked, looking at her face in the side mirror.
'Just wait and see…'
Afterwards, they went to Karanji Lake. Took two cycles for rent and had a wonderful time cycling across the parameters of this beautiful lake with an enchanting water body and captivating greenery with a canopy of lush trees. The calmness around the lake premises with comfortable seating options and the chirping of the birds transformed that place to a fairytale romance.
Later they went to Malgudi Cafe, the in-house restaurant with a refreshing space partly open to the sky. They took a quick bite of cake. Next, they went to Mysore Palace and ended the trip by watching the sunset at Kukkarahalli lake and started back to Bangalore.
While on their way, Aarti said, 'Adarsh I really cannot explain how happy I am today. Thank you so much.'
'I hate you!' he said in a stern tone.
'What! What happened to you all of a sudden?' she asked in a scary tone.
'I hate you because you said thanks,' he returned with a smile.
'I See! And by the way, shall we watch the Titanic movie tonight together?'
'No!' he replied. 'You said you would give me the link but you didn't share.'
'Are theatres still screening it today?'
'Who said we will be watching in theatres?'
'Then where?'
'In my room…'
'What!' He increased the speed of the car. 'Are you sure?'
'Yes, I am!'
'God you are so great!' he whispered slowly. 'But before that, we need to hand over the car, else they are going to charge for the next day also.' He gave her a flying kiss and two hours later he handed over the car to the rental company and took a cab to her home. They got into the flat and as soon as they stepped in she connected the laptop to the television and started the movie. She sat beside him on the sofa.
'Aarti you said you already watched it before. Am I right?'
'Yes! I already watched it.'
'This is strange. You don't like repeating things. I wonder why you want to watch this movie again?'
'Yes, I am indeed watching it for the first time. Previously I watched it alone and now with you. So it's my first time watching along with you…' she leaned on his shoulder. 'Now don't speak anything, let us enjoy the movie.'
The room was dimly lit and she pressed the button on the remote. The movie started. Even though Aarti's eyes were focused on the movie his eyes were fixed upon her. The movie has reached the denouement. The giant boat had finally hit the iceberg. She locked her fingers into his fingers. Her eyes were reflecting moroseness and they were watching the movie with more curiosity. Finally, the ship went down into the icy waters of the Atlantic and the movie ended.
'Adarsh! Which character do you love the most in this movie and tell me which scene you liked the most?' she asked with unconcealed excitement. 'You have to be frank…'
'Do you want a frank answer?'
'Yes! I need it!'
'Then you see, I love Captain Smith.'
'What!' she gave him an irritated look. 'Are you serious? Why?'
'Even though he had the opportunity to save himself first leaving everyone behind, he didn't. He went down with the ship.'
'I think you will be the only person on this planet to give such a strange answer,' the spark in her eyes and her seductive looks intoxicated his senses. He moved closer to her and pushed a strand of hair away from her face. 'I want to lose myself to you... I know what you have expected.' Adarsh grabbed her by the waist and made her lie down on the sofa. He saw the nervousness in her eyes and kissed on her forehead. 'You might have thought that I would tell you about the sketching scene?'
She got up and pushed him against the wall, wrapped her hands around him, and kissed him on his lips forcing them apart, trying to control his tongue with hers. Adarsh proceeded to kiss her neck, then her ears, then her eyes. They were nervous but equally thrilled. She felt a wild sensation running through her body. Slowly, she began unbuttoning his shirt. Lost in the euphoria of love everything was happening so quickly that they were about to cross the limits.
All of a sudden Adarsh regained consciousness.'Aarti! we are not supposed to do this,' Adarsh said, as he stroked her hair. 'It is a sin to have this before marriage…'
'But This was indeed amazing…' she pulled him back into her arms and kissed him harder than ever before, leaving him utterly breathless. He commensurated her kisses with equal fervour.
'I don't want to bring any complications into our life,' he stepped back and sucked in a breath. 'Thank God! I am in control. You don't know how difficult it is to control a situation like this…'
Aarti looked into his eyes and rushed into his arms, kissing his cheeks. 'It's ok we are safe now. You pulled out at the right moment.'
'Will you play the song My heart will go on…' he whispered in her ear. 'You know, I loved the three characters in this movie. But of all those three I love Captain Smith first, Jack second and third… Any guesses?'
'Who is the third one? Now don't tell me, Murdoch?'
'Not Murdoch it is Rose!' He hugged her tightly, planted another kiss on her tender lips and were lost in each other's arms, with not a care in the world.
'Oops! It's already 12:30. How can I go now?' said Adrash looking at the time on his wristwatch.
'What's the big deal about sleeping here tonight? You can go in the morning, but leave early so that no one around will identify…'
'Sure Aarti!' they released themselves from each other's arms.
Adarsh lifted her up in his arms, carried her into the bedroom and lay on the bed, side by side, with Aarti's head nestled against his chest, embracing him lovingly while he wrapped an arm around her.
'Aarti!' asked Adarsh lightly, as he began cuddling with her hair. 'Why don't we resign from this company and search for a new job?'
'What happened to you all of a sudden?'
'Nothing you know about this idiot Siddharth. You and I worked together in completing the project on time. But he gave the entire credit to you!'
'Oh, I see! You are feeling jealous about it.'
'It's not about jealousy. He is a kind of playboy, a roadside Romeo dog. He seductively looks at you. Nowadays you are spending most of the time in his cabin. It's not good for you.'
'Why are you making a mountain out of a molehill!' she said, circling her fingers around his button. 'I was just explaining the basics of programming. He never misbehaved with me anytime.'
'Sweety! He is not a nice guy. Let's quit the company… We can find another one easily… Did you forget how many times he asked you to come out for dinner?'
'You very well know that I avoided him every time when he requested me. See Adarsh, if our love is true, then no force can separate us.'
'But-'
She gave him a kiss on his lip to put an end to that conversation. 'Let's go to sleep. Good Night!' She closed her eyes and within minutes they were lost in sleep.