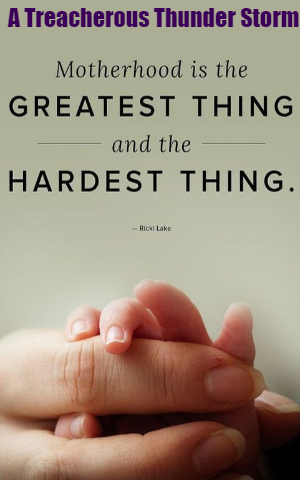 Ruhi Sharma
Romance Inspirational Thriller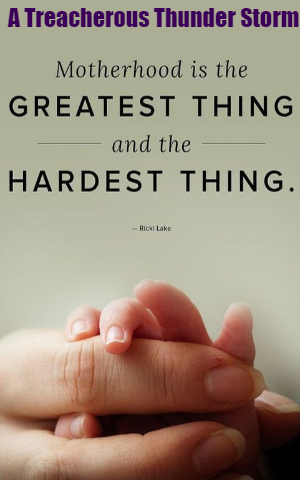 Ruhi Sharma
Romance Inspirational Thriller
A Treacherous Thunder Storm
A Treacherous Thunder Storm

8 mins

409

8 mins

409
---
---
An incredibly beautiful moment,
When news of pregnancy is declared,
A phase of woman life to complete within,
Joy shared with husband and family,
That's why I say,
A woman is incomplete without a mother.
A powerful creation growing inside the womb,
A life-sustaining nurtured by your body,
A gift of almighty to fill your life with bliss,
A very beautiful chapter of being pregnant,
That's why I say,
A woman is incomplete without a mother.
An awaited moment comes with a surprise,
Yes, a surprise of triplets in my womb,
The hard decision of my lovely life,
Anticipation and excitement go side by side,
That's why I say,
A woman is incomplete without a mother.
Blooming this beautiful journey to experience,
Struggles with medical aid and mental health,
Discomfort and exhaustion with doctor's appointments,
Still hope to explore motherhood,
That's why I say,
A woman is incomplete without a mother.
Complications in the pregnancy to carry the babies,
Stresses and strain to abort the one,
Strong belief and firm determination,
Mutual decision to give life to tiny dots,
That's why I say,
A woman is incomplete without a mother.
My own experience to my own journey,
My own feelings to be a mother of triplets,
Inspired by my faith and trust in my destiny,
Self-indulgent stage in the world,
That's why I say,
A woman is incomplete without a mother.
My body has given me the greatest gift of my life.
Extremely happy when new life is stirring inside,
Surrender me to the unseen force behind life,
An uncertainly never prepared for the triplets,
That's why I say,
A woman is incomplete without a mother.
Kicks from inside and grow to the throat,
Breathtaking heartbeats with rhythmic vibes,
Gestures to touch of tiny hands and foot,
Fantasy to resemble a mother or father,
That's why I say,
A woman is incomplete without a mother.
A dwelling three souls under one skin,
Always remind me that I am never alone,
I am never as happy as when I was pregnant,
I literally have experienced three lives in my life,
That's why I say,
A woman is incomplete without a mother.
I am a proud mother of naughty triplets,
Rejoicing my motherhood with my sons,
Sacrificing my comforts and my dreams,
I am in lockdown for four years past,
That's why I say,
A woman is incomplete without a mother.
Life is unpredictable and is not the bed of roses. As there is a famous proverb, every cloud has a silver lining. You never know when you see the adverse circumstances of life while life is in its full swing and blooming too.
A woman is complete in herself when she is a mother. Hereby, I am sharing my real-life experience at the time I was rejoicing my motherhood.
A month of October when I was expecting and a day came i.e. 19th October 2016. I excitedly called my husband and we planned a visit to a doctor.
The doctor said, "Congratulations but your pregnancy seems complicated". Some multiples are visible in your ultrasound. We will monitor every month.
I am always firm determined about my future plans. So, I was relaxed and on cloud nine.
I was bestowed with triplets on Tuesday, 6th June 2017. My joy knows no bounds when my surgeon declared I had delivered three baby boys. I was on top of the world. My babies were premature but I had full faith in Almighty that my babies will be healthy and recover soon.
At the time of delivery, my babies were underweight as compared to a normal healthy baby. Their weight was 1.0 kg, 1.2 kg, and 1.3kg. All babies were under observation and on ventilators. My optimistic approach and my firm-belief results fruitful. After two days, on Thursday, 8th June 2017 at 9:20 AM my two sons were discharged from the incubator as doctors declared them fit.
I held out my emotions but busted out into tears when my brother surprised me with the news that babies are on the way to the room where I was hospitalized. My eyes sparkled with excitement as after delivery due to my c-section I was unable to have a glimpse of my babies. Being a mother, I was desperate to hold my babies in my lap. I was eagerly waiting for the moment to touch the tender petal. The moment of joy but endure the pain of being patient.
The first glimpse of my tiny twinkling babies was in my imaginations. I was on cloud nine and overwhelmed too. I was impatiently peeping out from the window and my eyes were gazed at the escalator and lift in the hospital. The staff nurse entered my room for my routine check-up and provided the three cradles in my room. I arranged the bedding for my babies and was full of the joys of springs. The moment I turned back towards my bed, I was astonished as my brother and my husband occupied my seat by holding my babies in their laps. I was as Oh My god! I was speechless as do not know what to do.
My brother helped me to settle down and one by one they handover babies to my lap. I was numb for a while but when I touched them, I was in seventh heaven and my baby's softness gave me a new life. I still mesmerize these moments.
A day passed; we all were concerned about our third bundle of joy. The routine examination of the pediatrician declared that he was fighting hard to survive at this very moment. The moment was tensed and we all were worried. The Pediatric suggested my husband shift to the other child specialist hospital where he will be monitored continually. He was supposed to be under observation for 72 hours.
I was about to lose my mental balance. My husband also disagrees with the pediatric because my surgeon monitored our third baby early morning and he was normal. The situation was worsened for us. We were very surprised that all of sudden why pediatrics proffer such a statement. As my husband paid a visit to the ICU half an hour before an on-duty nurse described the positive aspect of the third baby. Even the nurse happily shared that the third baby will soon be hand over to her mother.
But the situation was out of control and we were concerned about our infant. We had a perplexing situation. We had to take a call on shifting our innocent infant. My husband along with my father and my brother discussed with me. I was busted as till now I had not caught sight of him and the hospital where he has to be admitted was 10 km away from my home as well as from the hospital where I was admitted.
I was supposed to be discharged after twelve days of hospitalization. The situation was more frazzled. Plenty of questions arose while the family discussion.
Is it being good enough to shift the helpless baby there? How will he be diagnosed? Who will take care of him in that hospital? In what way he be getting mother feed as lactation was mandatory for his survival? It was a sarcastic situation for all. It was very difficult to do To and FRO from two hospitals and home too. His care and nurture were the points of discussion. Furthermore, we had lost trust in the doctor. As it was clear prospective to charge more and more money and to humiliate the patient.
From downstairs, we were getting the bad news that the baby is shortening his breath. Even baby cry was spreading all over the hospital as he was the only baby left alone in ICU. The nurse explained, that baby is hungry for the last three hours and that is why his health is worsened.
Here again, the question raised is who will inform us about baby feed? It was the duty of the nurse to monitor the baby's diet in ICU.
My husband no longer stayed there and rushed downstairs barefoot. The nurse was insisting to wait for the senior doctor to visit at night. My husband removed the oxygen mask from the baby as well as a drip from his hand. The nurse failed to stop my husband as his temper was a volcano, ready to explode but picked my baby for a ventilator in his nap, very calmly, and made him comfortable.
Without anyone's botheration, my hubby climbed the elevator and entered the room. He dropped the baby to my lap and was moaning for a while but he had a sigh of relief on his face. After a second, he said, "hold the baby on your chest. Make him feel your warmness." I will handle the doctor. The doctor does not know humanity? For four days, the baby is apart from her mother. He is in the hands of a stranger. He needs soothing and pampering. He should be surrounded by his loved ones. He must be lactated and realized the tender love of her mother, affection of his father, and care of his family members.
I was again speechless. Tears rolled over my cheeks.
Yes, a miracle happens once in a blue moon. My baby started responding. He showed gestures of touch by his body movements. He started galloping a drop of water as well as started intaking milk.
It was the carelessness of the on-duty nurse as well as the pediatrician. All such scenario seems as they both are mingled to fetch more money.
My husband's gut feeling was fruitful. I was submerged with the tender love of my petals and was falling in deep love with their touch. My lap was full of the happiness of the universe. All three cradles were swinging.
At night, when my surgeon visited, he was also very surprised by the drastic improvement of the baby. He instructed on-duty staff with a strict warning to provide full care.
With the grace of God, our firm determination and optimistic approach presented us with the wings to fly. No doubt, it was painful but counting blessings is a beautiful and unforgettable life experience.
We had a narrow escape as well as a Treacherous Thunder Storm was over. Now my kids are three years old. My nights are still sleepless and my house is fully messy all the time. No tape can ever measure, the extent to which a child can become a parent's treasure. A part of my heart was in my tummy and now it is a permanent part of my life. I am loving it.