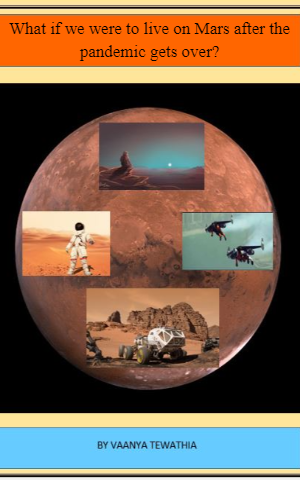 Vaanya Tewathia
Fantasy Inspirational Children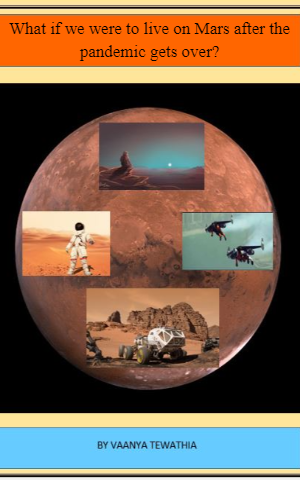 Vaanya Tewathia
Fantasy Inspirational Children
What If We Were To Live On Mars After The Pandemic Gets Over?
What If We Were To Live On Mars After The Pandemic Gets Over?


---
---
Right now, we all are facing a threat of the Covid-19 pandemic. All of us want to put an end to this virus. The whole world is trying its best to fight against coronavirus.
Now, even after the pandemic is over, the Earth might still not be the best place for humans to live in. We have polluted our Mother Earth and made her suffer. Now we will have to face the dreadful consequences. Because of global warming, the weather might become unbearable. But have you thought of starting a new life on a new planet?
Now you must be thinking, why leave the Earth were our family, friends, and home is? Well, did you know that Mars is a planet that might support life? It has similar Earth-like conditions, as it may have water, air and has approximately the same landmass as Earth.
Imagine jumping & floating in the air. It'll be like flying in slow-motion! And guess what, the sunsets on Mars are blue, while the Martian day is pinkish-red! Completely opposite from Earth! Wouldn't you love to watch such amazing views? To travel around the planet, we could create new inventions that allow us to glide in the air gracefully like a bird. May be electrical wings? Living such a different life would be a completely new & creative experience. Thriving and flourishing on a pristine experience would be brilliant! Doing cool new things, exploring the terrain. All at ease…
Have you ever thought of living your life in a whole band new way? If not, do it now! 'Cause life is never complete without experiments. It is what life is all about – full of puzzles, riddles, mysteries, experiments, and challenges! Life is a conundrum of esoterica …
Anyways, enough with life, let's get back to Mars. Scientists say that life may be possible on the Red planet. So let's explore and extend our research on Mars further, as a possible place for humans to live in. Who knows, it might be the best alternative we have after this pandemic is over!!