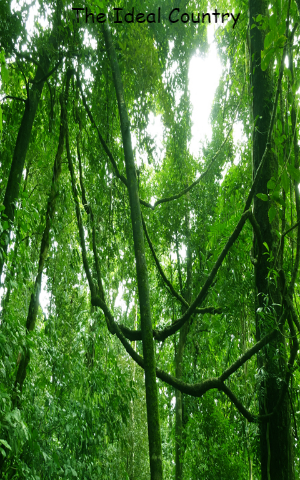 Sudha Narasimhachar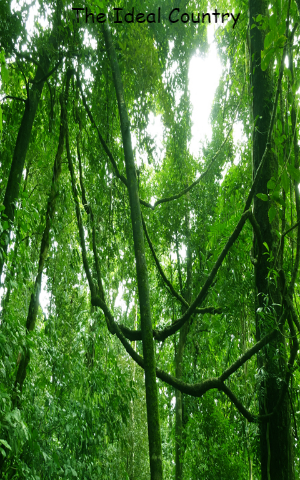 Sudha Narasimhachar
The Ideal Country
The Ideal Country


---
---
That was a very small, cute island country. It was hardly a speck on the world map. The population was just around a million, out of which 30 per cent were senior citizens and 25 per cent were children. It was a perfect equation. The island had rich forests in the centre and people resided along the borders of the forests in small layouts. The houses were simple wooden houses built on stilts of bamboos and the trunks of coconut palms that grew in plenty along the coast. The people largely depended on the forests for their resources- food, shelter, medicines, etc. and also did a little farming.
Nimbus was born and brought up on that island and for him, the world meant his island, like the majority of the residents. Hardly a few from the island had ventured into the seas and travelled to far off lands. They came back and spoke for hours about their experiences in the other world. Though a few youngsters were curious and excited to hear about how people in the other countries lived, most of the others were quite contented and happy with their lives on the island. They just heard the stories like fantasies and laughed it away. They feared going to unknown lands. They enjoyed the peace and secure living conditions of the island. They looked at the occasional aeroplanes that flew high above and the ships that passed by at a distance.
Nimbus was around 18 years old when a batch of islanders got ready to sail. Bovin, who had sailed to a nearby country two years ago and returned a few months ago, said that huge ship was going to arrive at that country by the month-end and it would be sailing to the United State of America, a very advanced and exotic country about which they had heard a lot through some of the earlier travellers. Bovin said the captain of that ship had promised to take at least 25 of them in his ship if they worked for him. Nimbus got interested. When he expressed his wish to go, his parents were shocked. "No, Nimbus, please don't go. We don't even know how the people of that country are and whether they will accept you. We heard that only the most educated youngsters get into good jobs there. Our education system is so different. We have learnt everything so informally. Nature has been our best teacher. What do you lack here? Sardin, Jumbo and so many others who went, never returned. You are our only child."
Nimbus would not listen. Of course, there were schools in the island country. A few people who had visited other countries long ago stayed back there, got educated came back to the island and set up schools. But they had their own curriculum and system suiting the lifestyle of the people residing there and many of the courses were occupational and practical training courses, that would help the islanders lead their lives smoothly. The country was administered by a bunch of families. The elders were respected a lot. There was only a barter system and the resources of the island were utilised very prudently and in a way that everybody had all their basic needs met. The excess produce that they grew or harvested were stored in common whare-houses. Nobody knew the economic differences, discrimination, richness, poverty and such ills and banes of a so-called developed country. The attempts to introduce technology and modernity by the travellers were totally rejected. They had no strength to oppose the elders.
Nimbus did sail on the D-day, as many elders of the island, including his parents, came and bid a tearful goodbye to the 25 youngsters who sailed in their kutcha boat.
Nimbus arrived in the US after sailing for nearly a month. Three of his friends had died on the way. The captain of the ship was a nice guy but the other sailors treated these people very rudely. Nimbus did fall ill three or four times on the way. On arrival, they were all shunted to a temporary shelter, where they had to wait for months before they were allowed to get into the country. The authorities were surprised that these guys knew nothing about the world. They spoke in broken English. Life was not easy for Nimbus. It took almost a year for him to understand the systems and lifestyle of the country. Everything awed him right from the huge buildings, the beautiful houses, the gardens, the vehicles, the dress that everybody wore, the variety of languages he heard around him and most importantly the little gadget that everybody carried and spoke for hours on end. He also learnt about legal tender and how he had to pay in the currency for all his needs. He had loads to share with his parents. He worked in a hotel first. Later, he worked in many places and finally reached the huge guest house of a popular telephone company. While there, he got close to a senior executive, who was curious to know about his past. Nimbus told him all about his own country and George, the executive was surprised that there was still a country on this planet untouched by technology and globalisation. How did people spare this beautiful island?
"Will you take me to your country sometime?"
"Sure Sir. I will be very happy. It has been nearly seven years since I came here. I am eager to go back and meet my parents."
After a few months, George and his team of eight officials set off with Nimbus. Nimbus said he could guide them from the country near his island from where had sailed seven years ago. George and his team flew to that country. Nimbus enjoyed his first-ever air journey. From that country, they arranged for a small ship to reach Nimbus' country. When they arrived there, they were simply amazed to see the beauty of the place, the coconut palms swaying all along the border, the thick forests very close to the shore, the cute little wooden houses hidden away among the trees and patches of green fields here and there. All they heard were the chirps of birds and the vague sounds of some animals. As soon as the island dwellers heard about the arrival of the ship, thousands of residents came to the beach. They looked at the people with suspicion and surprise. They could not recognise Nimbus but when he addressed them in their language, they were so happy and ran to him.
Nimbus required nearly a week to relate all his experiences to his family and friends. Then he introduced George and his friends to the elders and told them that they had come to explore possibilities of connecting the island to the world by telephone. "That way, when any of us travel outside, we can talk to you all regularly". It took a lot of talking to make them understand and finally, they agreed to George's proposition.
That was the beginning of the destruction of the beautiful island. The innocent islanders fell for the bait. Within a span of ten years after that, the island became a colony of the various companies that set up their businesses there. Legal tender was introduced. Seventy per cent of the residents welcomed the change, little realising what that change would do to that peaceful country. Nimbus stayed back as a representative of that telephone company. After a couple of years, he was very disappointed to see the way the corporate world took over the island slyly, sometimes even using violent methods. He resigned. His mother had died five years ago. He lived with his father, wife and three children. Many in the country started looking at him with despise. "You brought evil to this island. We lost our innocent children. Our families are broken. We never knew what was fear. But today, we are scared of our own people. Yesterday, the armed gang shot dead the village chief and two of his friends. The chief of our country died with disappointment. Nobody knows where we are going. All of us had enough to eat and keep us secure from all seasons but today, people have started hoarding money and many of us are dying of hunger."
Nimbus was very sad. He formed a group and started creating awareness of the sly plans of the companies. He tried educating the youth to oppose the projects that came with ulterior motives. He told them not to get wooed by the carrots that they threw, because very soon, the island would be wiped out of all its rich resources. Acres of forests were destroyed in no time. But Nimbus was too late. He lost control. Very few supported him and called him a cheat. "After enjoying all the fruits, he now advises us to shun them."
One night, as he was returning home after a meeting, a group of youth attacked him and beat him up. He was grievously injured and the local elders were treating him with native medicines.
Though the whole process was started by George and he was hailed as a great pioneer back in his country, after a few years, he got dejected by the greed of the people and very upset that the innocent locals were exploited for their greed. He, therefore, quit his job and settled down on that island. His wife supported him but his children preferred to stay back in the US. They supported his social activities on the island remotely. They met good journalists and wrote stories about the island.
George visited Nimbus and said, "Nimbus, I will take you to the US for treatment. You need surgeries to set right your broken limbs. Please trust me! I will get you back safely after the treatment. You are young. You have a long way to go. Please listen to me." After a lot of cajoling, Nimbus was flown in a special helicopter to the US. George and his family took care of him with love and dedication. After three months, Nimbus was back on his feet.
George too joined Nimbus in his fight to protect the island country and bring peace there by talking to all splinter groups. It is not an easy battle. However, gradually the youth started seeing the other side of the companies and more and more of them, who had gone to different countries in the last few years, realised that materialistic and consumeristic culture was taking a toll in many small countries and was harmful in the long run. They started entering local politics and bringing awareness in the misled groups.
George and Nimbus sat on their favourite rock to watch the beautiful setting sun. "The sun rises every morning, bringing with it loads of hopes and positive energy. Let us carry on with those hopes and save whatever little is leftover", said Nimbus.