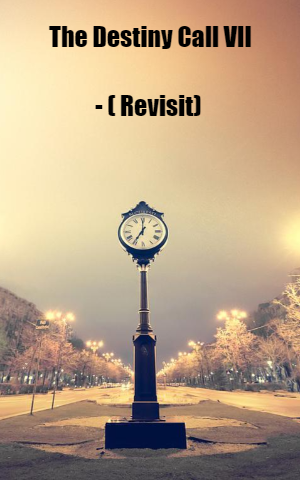 Shikha Mishra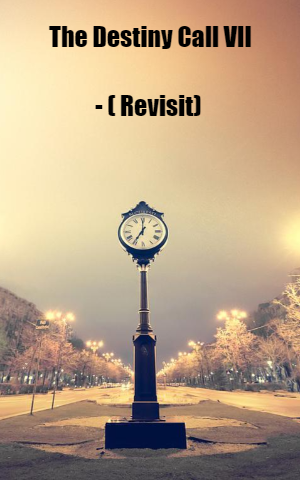 Shikha Mishra
The Destiny Call VII - ( Revisit)
The Destiny Call VII - ( Revisit)

7 mins

328

7 mins

328
---
---
Recap
Swati got up and said, I am really glad to know about Meetali, no wonder she is a gem of a person, but Uncle what I don't understand is where is she right now. And what's the connection between the dreams I had?
I am still clueless as to how you found me and what do all those dreams mean?
He said, Swati I know I still haven't answered your queries, the answers to your queries revolve around the life of Meetali.
You told me about your dream, where you saw Meetali and myself in a dance competition. That was the last competition Meetali ever participated in.
Swati and Naina were shocked and said, What does it mean, last competition participated in? Where is she now?
Krishnaswamy started crying and said Meetali is no more in this world......
:::::::::::::::::::::::::::::::::::::::::::::::::::::::::::::::::::::::::::::::::::::::::::::::::::::::::::::::::::::::::::::::::::::::::::::::::::::::::::::::::
Swati and Naina were staring at each other, they just didn't know what to say. They too had tears in their eyes.
Krishnaswamy controlled his emotions and said, Swati, I lost my daughter in a car accident. See my bad luck I lost my 2nd child again.
She got eligible to participate in the National Dance Competition by winning that dance competition you saw in your dreams. We all were so excited, due to some urgent surgery Radhika was not able to join us at the show, instead, she said, she'll reach home directly and shall arrange to celebrate Meetali's win.
Meetali's dream was about to come. We couldn't have asked for more. That day While returning home from the venue, my car started giving trouble at the last moment, so I had sent it to the mechanic and instead, we took a cab to ride home.
During our last trip, we were busy discussing the next day event and the preparation to be done and even before we could realise what happened, our cab got into an accident. Within a fraction of seconds, Meetali was bleeding very badly, our cab driver died on the spot. With the help of people who gathered around us, we quickly took Meetali to the nearest hospital. While she was immediately taken to the operation theatre, I somehow managed to call Radhika to tell her about the accident.
I too was in a lot of pain but seeing my daughter struggling between life and death, I didn't realise I was bleeding too. A nurse noticed my wounds and did the dressings of my wounds.
Since the hospital was far from our home, it took some time for her to reach the hospital. While I was eagerly walking outside the Operation Theatre to hear the good news, the door finally opened, the doctor emerged out and said, I am sorry I have bad news. Due to excess internal bleeding, we were not able to save your daughter. We are really sorry!
I was about to collapse when the doctor and nurse held me to save me from collapsing down. This cant be true doctor, Please check again, there might be something you can do, She can't just leave her father and go. I started crying and shouting at the doctor. But all my efforts were in pain. I didn't have the courage to go and see her for the last time, I just sat down on the bench outside the room, not knowing what to do next.
I don't know, how long I sat there like a statue, it felt as if someone has sucked the life out of me. I still couldn't believe it, my daughter, my life has gone away from me.
All of sudden I felt someone's hand on my shoulder, it was Radhika standing near me, with a lot of questions in her eyes. Where is Meetali, I want to see my baby. It's all my fault, I should have joined you guys, we could have avoided this accident What did the doctor say? Hope she is out of danger.
Tell me, where is she, what are you not with her, Is she still undergoing the Operation? I want to see her why are you not saying anything?
She started crying as if she knew something bad has really happened. What has happened to our baby?
I couldn't hold myself and finally said, "We lost our baby Radhika, she has gone far away from us forever.
No, this can't be true, this can be true, you are lying, she is all fine. She has such a big competition tomorrow, she can't give up like this. She has to win this competition. We know how much this competition meant for her.
This is not true, she'll get up in some time. Maybe she is tired. Radhika started shouting and crying at the same time and even before I could console her, she fainted.
When she gained consciousness, Radhika was completely lost, as if she didn't remember what happened a few hours before.
I was shocked when she said, 'What are we doing here. Let's go Meetali must be waiting for us at home. She has such a big competition tomorrow. You know I have taken leave and have told everyone not to disturb me tomorrow since it's a big day for my baby.
I immediately asked the doctor to examine her, something was wrong with her. The doctor told me she has got into a state of denial, she was in such a state of shock, that her brain was not just ready to process what happened.
The doctor suggested putting her under observation for some time and to run some tests for her.
Meetali was gone and Radhika was in a state of shock, things were just going from bad to worse, I just didn't know whether to mourn Meetali's sudden departure or take care of Radhika.
On one side preparation had started for Meetali's final departure and on the other side, doctors have kept Radhika in observation.
While waiting for it, I didn't realise when I closed my eyes for some time and when I opened it I saw Meetali.
She was standing right in front of me, there was sadness on her face.
I got up and quickly moved towards her to hug her, but she stopped me and said, No Dad, Please don't come near me. I am here to tell you something very important and I am sorry but I don't have much time. So I need to make it quick.
I said, Meetali, what happened. You know, your mother got in some state of shock, doctors are still trying to diagnose what happened to her. I am so sorry beta, this all happened because of me, I wish I could have not taken the cab. We would have not been in this situation.
Meetali said, Dad, You please don't be sorry. Instead, I am sorry to put You and Mom through this. You both have done so much for me and when I was getting a chance to do something for you both, this happened.
Dad, I am sorry to disappoint you. I couldn't keep my promise. And to make the situation worst I got Mom in this terrible situation.
I was literally crying seeing her and said, No beta, we are proud of you.No one knew this is going to happen, don't worry about your mom, she'll recover soon.
She nodded and said, Dad, you know there was so much I wanted to share with you but right now I just want to tell you something very important.
After listening to her, I asked, Do you think, this would work? How do you know all about this?
Meetali said, Yes, Dad, and don't worry I'll be with you till the time mom recovers. At any time, you need me just close your eyes and remember me, I'll be there for you.
What did Meetali spirit say to you? Swati asked Krishnaswamy .
He said She told me about you Swati. And how you would be instrumental in saving Radhika's life?
Destiny has something great planned for you Swati, you are the only person who can save my wife's life.
Now, what I am going to tell you, would seem shocking to you, but the truth is You and Meetali are twin sisters.
You too were adopted Swati.
I am really sorry you had to find out the truth this way, that's why I called your parents also here to support you.
Swati was shocked to see her parents there.
To be continued.....