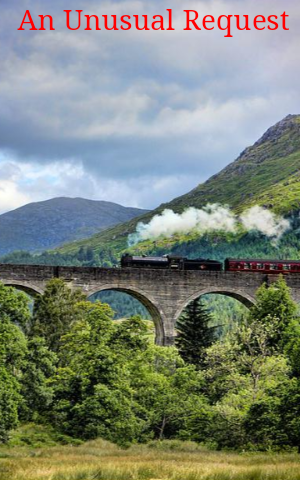 Punyasloke Bose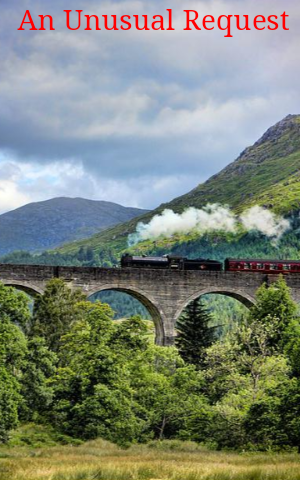 Punyasloke Bose
An Unusual Request
An Unusual Request


---
---
Ratan was seated near the window. He was travelling by the afternoon train to reach his home town. It was almost two years now since he last visited his native place. He had become very busy since he got the job at the government office. Sitting opposite to him was an elderly person. This person was reading a novel and in between was gazing at the open fields from the train window. Sometimes Ratan had crossed looks with the stranger. But no one spoke to each other. Then before his station was approaching, this elderly person broke the silence and started a conversation with Ratan.
It was more or less a one way affair as Ratan was feeling a reluctance to talk. After finishing his talk the stranger gave a small piece of paper on which was written a name and address. He requested Ratan to take time out and once visit this address and meet the person named there in. Ratan felt surprised with this unusual request. After finishing the conversation the stranger got up and pulled the overhead chain hard. The train stopped with a jolt. Then the man got down and vanished among the trees. The railway police came to enquire why the chain had been pulled. But not finding any reason they went away. The train again moved on its journey. At the next halt Ratan got down as he had reached his home town. Soon he was at his home relaxing and enjoying the delicious food cooked by his mother.
In a few days Ratan decided to visit the address given on the little piece of paper. He had not disclosed the contents of the little paper or his encounter with the stranger on the train with his family members. The address mentioned was located about ten to twelve kilometres from his house. Ratan lived in a small town and used his bicycle as his mode of transport.
Very soon Ratan found the address. It was a big mango orchard. In the midst of the orchard was a sprawling one storey bungalow type building. Ratan passed through the iron grille gate and put the cycle on it's stand just in front of the house. He didn't have to knock as the door was open. It seemed that the occupants of the house were expecting him.
On entering Ratan found the same man who had been his fellow traveller.
Ratan raised his hands in salutation. The man clasped Ratan's folded hands in his hands with much warmth. Then he introduced himself to Ratan as being his close relative but without giving his name. Ratan felt very intrigued by this behaviour but was curious to know the later developments, so he didn't show any alarm. The stranger asked Ratan what he would like to have, cold drinks or hot tea or coffee. Ratan nodded in the negative saying he didn't take anything in strange company. The stranger smiled and asked his forgiveness for being so secretive. Then he vanished indoors and little later came back with a bag full. '' These are best export quality choicest mangoes. These are sent every year to the King of Saudi and other Princes in the Gulf. The Queen of England is also a huge fan of these mangoes which she enjoys every year. Please accept this as a small token of gift to you and your family, '' the Mr. Stranger requested with folded hands. He then said that he was expecting company and very soon a friend would be visiting them.
Within a few minutes a man entered with a brief case in hand. The stranger introduced him to Ratan as his lawyer friend Satya Biswas. '' Mr. Biswas would explain to you the purpose of my calling you here, '' said the stranger affirmatively. Their meeting ended very soon. The lawyer asked Ratan to visit his chamber tomorrow to complete some legal formalities. Ratan fell into a deeper dilemma in connection with his recent happenings. He left with the token gift.
However next day he made his way to the lawyer's chamber. Ratan was in for a life time surprise which he could hardly have imagined. The lawyer Mr. Biswas then began with his narrative painstakingly. The story goes as follows - -
Ratan had an aunt from his father's side. This aunt had married against her family's wishes to this stranger, the train passenger who had encountered Ratan. For the rest of her married life she had been debarred from meeting her own family members the pain of which she had carried in her bosom. But she was very happy with her husband whose name was not to be divulged as he was of a different religion. This husband made Ratan's aunt very happy and they became very wealthy. This man had varied business interests and had built real wealth. For the purpose of marriage Ratan's aunt had to convert from her religion. This was a taboo to her family so they totally disowned her. But she was never deprived of any other happiness from her husband. She had toured the whole world with her husband twice. Unfortunately they had no children of their own. They were into philanthropy in a big way. All the wealth this man had amassed has been now donated and is under the control of a court appointed trust as a giving back pledge . Mr. Biswas was the chief trustee. The last belonging this couple had was this bungalow and this mango orchard, a sample of the fruits that was gifted to Ratan yesterday.
This lady passed away last month and before passing away she had made a Will to bequeath their last possession to her only brother's son Ratan and had mandated Mr. Biswas to execute the Will. The lady died with a regret of not being allowed to visit her own parental family and her darling nephew, Ratan. To whom now she has bequeathed her fortune. After bequeathing his property, the stranger would leave this place forever to go on a religious Pilgrimage to the Gulf and never to return. Ratan was stunned to hear this fairy tale of a story. He had never learnt that he had an aunt because she was never discussed in family gatherings. The mystery around this stranger became more shrouded to Ratan who was in awe of the recent developments his life was encountering. His life would never be the same. This unusual request from a stranger had opened a Pandora's box.