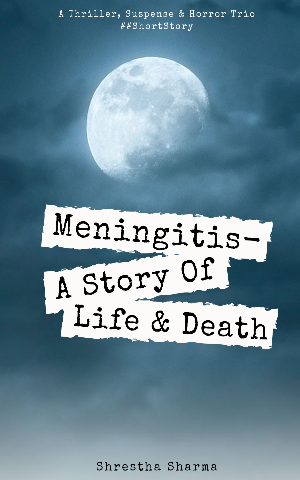 Shrestha Sharma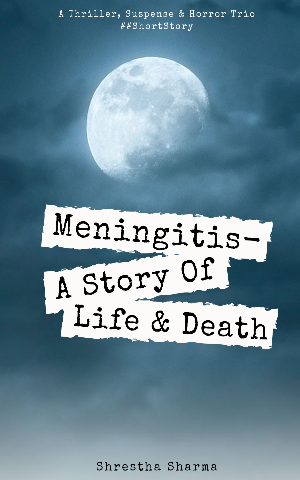 Shrestha Sharma
Meningitis - A Story Of Life And Death
Meningitis - A Story Of Life And Death

5 mins

102

5 mins

102
---
---
It was the night of 2009. The sky was getting darker as it held tranquility within it. The pale crescent moon shone like a silvery claw in the night sky. He looked up at the blanket of stars that stretched to infinity with his pale yellow eyes. A slightly crooked smile appeared on his face; allowing his wrinkles to descend. He unfastened the lid of the wooden box he clasped with his hands. He smiled a contorted smile again but now a solemn tear fell down his cheek; his body felt calm compared to how tangled his mind was. He picked up the tattered photograph, which was the only content of the box. He closed his eyes as flashbacks twirled in his mind.
It was the end of the 1900s; the December of 1995 to be exact. John and Lisa along with Michael, their 5-year-old son used to stay in West Africa at the time. The day dawned crisp and clear and the rising sun cast a rosy hue across the morning sky. The sun poured through the window into Michael's room. It was the first time when Michael woke up on his own with the first ray of sun. It was his birthday after all. John and Lisa had substantial plans for the day to make Michael feel special. Though they weren't grand plans, they patently were great ones. The family had commemorated the day with a cake and new shirts for Michael as gifts. 'Birthday Parties' were in trend and so John had decided to conduct one for their son. It had gone well, Micheal was happy with his friends and so were his parents. But something awaited them ..... only then they did not know what. That day they had decided to make a 'memory' a memorable one that is. They went to the passport photo booth and took a photo together.
He lifted his hand a touched the photo as his tear fell over it. A feeling of guilt arose in his mind, a strong one. "I should never have planned the party..... NEVER !" He stood up from his chair as if to sleep and forget the things that had happened, after all; 14 years have passed.
Almost a year had passed from then. John and Lisa glanced at the photograph to remember how small their Michael had been. "He's growing..." Said Lisa. "Smarter, and Strong too." John continued as he smiled. Suddenly Lisa felt uneasy. She started pressing her head. "What is the problem, Lisa? Why are you holding your head ?" "Uh. It just suddenly started to pain." "You should rest. You seem tired." John replied. "I suppose. I have a pain in my back too." She replied as she smiled. It was another morning of 1996. John sat reading his newspaper as Lisa cooked in the kitchen. He gave the newspaper a little shake as he turned to the next page. "This is bad !" He muttered. "Michael's marks? Ya... well, he had performed better last time," replied Lisa. "No, not that," John replied back as he shook his head. "Then? What's the matter? What's bad ?" She asked restlessly. "It's the breakout of this disease called 'meningitis'." He replied "And it has already killed about 50 people yet. And there's something even worse!" He continued. "What ?!" She asked as she rushed out of the kitchen. "The breakout is in West Africa." He replied with his voice low and his dark blue eyes looking into the green ones of Lisa's. "Do we know anything more ?" "Not really." "That's bad..." (Lisa holds her mouth with her hands) "What is wrong Lisa ?" John asked, confused. "I.. I. Don't know. I feel like vomiting." Lisa ran back to the kitchen.
He dragged the chair along with him as he went to his bedroom. He had spent 2 hours. It was almost midnight.
Days passed by and Lisa's health continued getting worse. She began getting irritable, she had mental confusions, high fever, and loss of appetite. She kept getting worse as each day passed by. When civilians came to know of the symptoms, John realized Lisa was a serious patient. Hospitals weren't available, deaths of people were around 1000 by now. It was difficult for him to find a hospital for Lisa. But Meningitis never left Lisa alone. She was losing memory and having difficulty remembering it. She had hearing problems, dizziness, speech problems, and vision problems. The potentially life-threatening infection of meninges led to brain swelling. John was not able to find a hospital for Lisa and because it wasn't treated she had a permanent disability, she went into a coma. John stayed and waited in hope each day that Lisa would wake up and he will get back his loving Lisa. Micheal could not bear the pain of his mom, his health started getting affected. And soon it was too crucial that he left John ... forever. John still waited for Lisa to wake up, but she never did. One day her heartbeats stopped, and he knew that he had lost everything, his son, his wife, and everything. He didn't want to survive the epidemic, but he did.
The sound of the chair being dragged could be heard quite loudly in the night's tranquility. He dragged it till the middle of the bedroom. He clutched a rope in his hand, a strong one; enough to carry a person of his weight. He stood up on the chair and his crooked smile returned back. He closed his pale yellow eyes. "I'm coming to meet you Lisa, and yes, how can I forget you Michael; my boy."