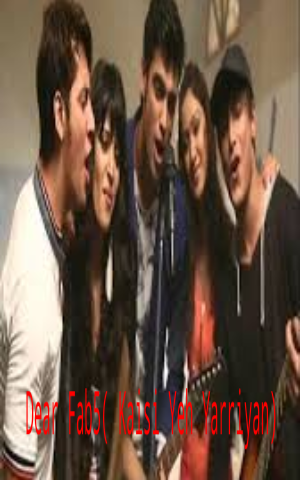 Almas Wafa Khan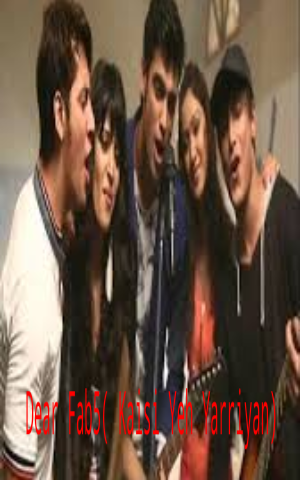 Almas Wafa Khan
Dear Fab5 ( Kaisi Yeh Yarriyan)
Dear Fab5 ( Kaisi Yeh Yarriyan)


---
---
Dear FAB5,
You are the Best Gang I have ever seen.
Your individual life started with different odds. But you got to know each other, stood for each other and created the Gang to look up to understand what's friendship.
Starting from Cabir. You realised that you were a Gay but kept it to yourself. You tried your best to hide is from everyone but Manik got to know. In the fear of society, you were afraid to reveal it to your friends. But the plan to break FAB5 through your secret brought you all more closely.
Next comes Alya. You were the fashion tycoon of the Gang. You went through heartbreak after break up with Manik. Dhruv entered into your life and we know, you tried a lot settle everything but it resulted opposite every time. As common girlfriends, you didn't hesitate to accept Nandini as Manik's girlfriend. Most importantly, you chose your Friends over your Brother because they were your Life- changers.
Now comes Mukti, the lady don of FAB5. Broken past and present mistakes to heal it by you created a lot of havoc in your as well as FAB5's life. But they every time stood with you to cover your mistakes and help you. Even Dhruv, when not with you, silently supported you to fight with the nasty thoughts of this society.
Here comes about Dhruv, the shy boy and Manik's buddy. We know, you were the one who controlled Manik's anger before Nandini. Possessiveness is natural but it went too high that you forgot your friendship. But thank God, you realised it as FAB5 had never let you go from their lives.
And finally the stylish Manik. Attitude in your body and Aggression on your nose. FAB5 was your only family before Nandini entered. While breaking up with Alya, not only your hatred to lie was revealed but also your care for Nandini. You were afraid that FAB5 won't accept Nandini as yours and hence, you kept everything hidden. But thank God Cabir knew it and got her back to your life. And FAB5 also accepted her the way she was and stood with you every time you were in pain, may it be because of Home or Nandini. Most importantly, Alya was on her way to leave, Dhruv was about to go. But your rolled out tears, your hope made us realise that how possessive you are about friends. How your biggest strength becomes your biggest weakness, you just showed it so beautifully that we had tears in our eyes.
Your friendship taught me that life without friends is no life. Different goals, different attitudes, different choices but when heart is true, you have gotten the Best Compatibility and Beat Friendship.