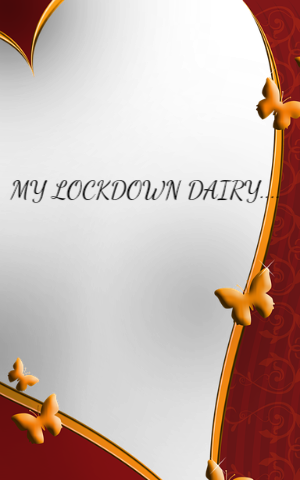 Trending heart
Abstract Fantasy Inspirational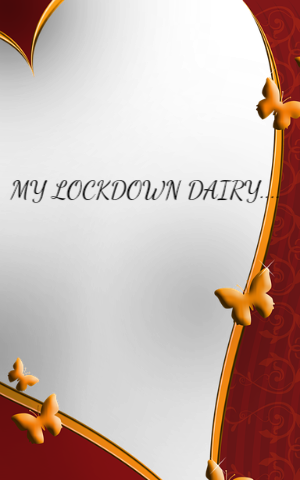 Trending heart
Abstract Fantasy Inspirational
My Lockdown Dairy....
My Lockdown Dairy....


---
---
Hi... hello... hey... Some messages pop up in my notifications... But here is my family sits in front of me... They just don't disturb me... Just help me to avoid dark circles by making me avoid mobile. A heart fulfilled family... Strict officer of my home, of course, my dad..!!! My first live in my life forever, for him. My innocent lovely mother... Who blames me for laziness...still I won't get sleep without hearing her blaming. And crazy sister, who always torture me to play something..!! Uff.... I'm proud of myself I can participate in Bigg Boss next season. I'm capable of being inside the home for 100 days. This lockdown starts with online classes and for me ends in exams canceled... Such lovely news. But on another side... They locked me inside the home as I live to explore the outer world... But hope every positive corona cases will recover soon and hoping for reopen news from college...
As I didn't have any works from any side... Started to notice everything around me. As usual, I woke up morning 6 and noticed bird sounds in an awesome climate. Sometimes, rainy day... Sometimes awesome sunrise.. then the day starts with laziness and eating with family, a new habit. If it's a normal life, dad, I and sis started to rush up for their own works, college, and school. But with a smile , everyone spends time and eats happily. And the day goes on, cleaning home and spending time in the garden by plucking Jasmin... And 30 mins cardio workout with full water. Shhhhh..... Planning to reduce weight too...!!! Inspired by famous artists in Kollywood industry... And night, starving myself. SOME PAINS ARE RESULTS OF PROUD. Planning to beautify my soul and body, to lead a healthy life.
But the financial problem strikes our happiness... Though life moves with happiness and joy...
I won't get tired as there was no work, and be stay awake at night... There I found a beautiful scenario... My father sleeps like a child... Oh my god... Why I missed these many days... My mom sleeps like a tired lion princess... My sister as usual beats me even in sleep. And also learned embroidery, drawing portraits, and awesome mobile photography.
And also the placement session too came. There too not interested to attend. But due to some situations, pushed to attend. But unfortunately selected till training. Waiting for further notifications.
The great lesson though in this lockdown is... Have to spend time with our family. Have to be with them. We have to show our love and care to our parents. Our love is identified as to how they make us grow well. Don't avoid parents for someone who going to be temporary.
Here but I love my bestie a lot, we used to fight a lot. There too lockdown starts with a fight. Missing that idiot. But everything goes fine and thank god for the lovely environment gave for me.
HOPE YOU LIKE MY LOCKDOWN STORY .. I'M EAGER TO KNOW COMMENTS AND YOUR LOCKDOWN STORY TOO... LET'S ALL BE STAY SAFE AND STAY HOME. GET CONNECTED BY OUR LOCKDOWN STORY. STAY TUNED. Share some comments on my story for my improvement.
THANK YOU...:) STAY SAFE...KEEP SMILING AND HAVE A HAPPY PURE SOUL.