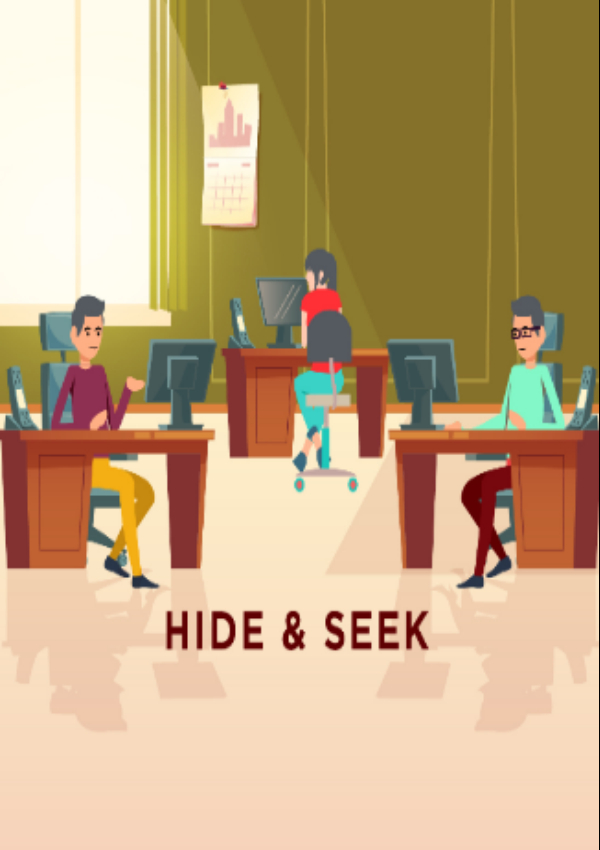 Ajay Chavan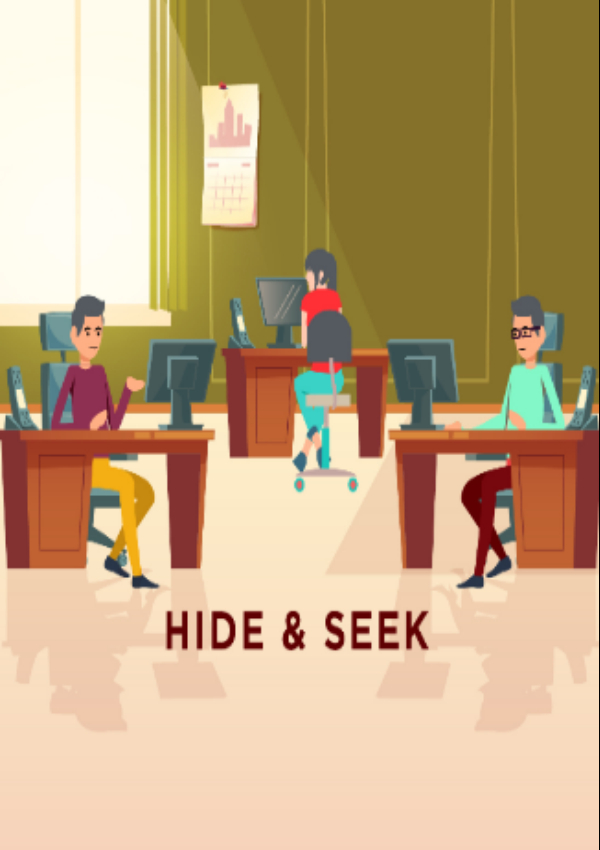 Ajay Chavan
Hide & Seek
Hide & Seek

12 mins

2.1K

12 mins

2.1K
---
---
Karthik and Pranav were two new joinees in a big insurance company...The insurance world was not new to them but this time the platform was huge. This was their first time when they actually were being associated with a big brand. One of the top five insurance brands in India.
They were entering into the third month with the company. So lets see what happens with them in this new journey...
6.30 pm nearby office….
Pranav: The beautiful thing about this office location is this beach nearby.
Karthik: Yes brother and you know whats even more beautiful? The evening tea and sunset which we are enjoying right now.
Pranav: absolutely…. But kartik have u noticed that as a writer this office has a lot of content for you… this will be a nice addition to your writing list. Life is so different here... people say sorry and also expect sorry for the smallest of things.
Karthik: I have never seen people repeating their clothes here as if they have a new shirt for a new day. Every time I see them, I see them with a new colour.
Pranav: These people are not open. They seem to be very much reserved. I guess they have that segregation of people with whom they should talk and whom they shouldn't.
Karthik: Pranav I was under the impression that you didn't notice all these things, but you are well aware.
Pranav: Yes brother I am aware but why you thought it this way. We both came from the same background where things were not like the way they are here.So it was quite obvious that i would notice the change.
Karthik: My dear friend I thought like this because inspite of you being aware of all this things I don't understand why you are in love with this girl Rashmi... She is also one of them.
Pranav: No not at all. Rashmi may be one of them but not like them. I dont think she has a category for people. She treats everyone in the same way.
Karthik: How do you know and infact how are you so sure about her. We are into our third month in this company, aaj tak kabhi baat bhi ki hai usne humse. (Till date has she even spoken with us?) Our other team members who belong to her category the sales managers (unse toh has has ke baat karti hai) she enjoys talking with them.
Pranav: Karthik those people are with her from a long time and she knows them well. Compared to them we are quite new to her. Apart from that she is a girl she will always be the one who will not start first.
Karthik: I agree on only one of the aspects of it.
Pranav: Which one???
Karthik: That she is a "Girl"
Karthik and Pranav laughed on it and their conflict continued.....infact it continued for few days more. At this point of time none of them seemed wrong on their perspective about Rashmi... still believe Pranav has slightly an edge ahead of Karthik. Well let's see who wins the argument...
Karthik: Pranav chal let's go for lunch... it's already 1.30pm.
Pranav: ruk na (Wait) lets go at 2 pm.
Karthik: Why??? At pm is there a deluxe thali or a royal king's lunch waiting for us in the canteen. Come get up lets go now i want to return early lot of cases today.
Pranav: Karthik please... let's go at pm I heard Rashmi talking on phone that she will be having her lunch at 2 pm.
Karthik: I knew it... Something like this would have been running in your mind. Pranav I am warning you... You are getting serious day by day for her. i am telling you the day you will go through a heartbreak, I hope you stay strong and if not then may god save you.. I am not kidding around. Aur ab chal lets go...
In the canteen: Karthik: look Pranav don't feel bad about what I told you... I want you to understand one thing. Dont forget what we were and what we are. We are a simple data entry operator who is being provided with a general 30% hike on our last drawn salary. That's all...
We are still the same data entry operator. Coming back to that girl Rashmi, she is a liabilities manager much ahead than us in all aspects. 3 months have passed she hadn't spoken a single word with us inspite of sitting beside us or rather in the same bay. I also got to know that she is only sitting here with us because right now there is no fix place allotted to the liabilities team due to their internal things. Understand one thing just because she is sitting here with us doesn't mean she is one of us.
I know whatever I said right now will not make a difference to you because right now you are blindfolded with that silken cloth of love which isn't allowing you to see hear or understand anything which is entirely against you.
Pranav: Did you forget what our previous company's boss told, insurance companies recruit people and offer them high posts but their job is not entirely like a manager. aur woh manager hai fir bhi we are of almost same age so sorry brother but i still believe she is not what you are thinking and i also believe even if we are just a data entry operator we still have equal respect like the other ones in office irrespective of whatever position and status we are working under.
Karthik : If you think like that why we aren't offered a post like "data entry manager" why we are we given a tag of data entry operator and also pranav, equal respect for each other and all seems good only on the first day at the time of induction. I wish you all the best brother I hope you succeed believe me I will be happier than you if you go through with a win.
This time Karthik nailed it didnt he?? But Pranav is as usual quite confident about him and Rashmi. Let's hope everything goes well....
One week later....
Boss calls Pranav...
Boss: Pranav, there is a 1 month project which you will be a part of. This project will have the liabilities team and Rashmi Sharma will be the part of this project as manager.
Pranav was on cloud 9 his eyes lit up with excitement and dreams as soon as he heard the news. This was like an opportunity for Pranav to talk with her and take his feeling towards the destination.
Pranav came back and shared this news with Karthik.
Pranav: dekha Karthik where there is will there is way... you were telling me about staying away from her and now opportunity has knocked my door to be close to her. That's what I wanted. Always stay positive brother and aagega ka raasta apne aap khul jaata hai... (The door opens up miraculously).
Karthik: May be you are right brother all the best go ahead...
Next few days Pranav started working with Rashmi.. Pranav was really happy kaam ka kaam ho raha tha and love was in its full swing. Pranav and rashmi had started knowing each other quite a bit now. Pranav always use to make her laugh at regular intervals.
One fine afternoon...
Pranav: Karthik, listen buddy... main soch raha tha ki from today I will have my lunch with Rashmi. Thoda aur time mil jaayega to talk.please dont mind ok... no hard feelings our friendship is forever magar right now i want rashmi and u can understand my feelings buddy how much i love her. This is temporary later agar sab sahi raha toh we all will have our lunch together. Waise I would have asked you to join but tu fir wahi bolega "hum data entry operator and all"
Karthik: no bhai (bro) go ahead... i can understand.
Pranav: Thanks brother...you always understand...
From that day Karthik was all alone he use to have his lunch alone and also use to work alone.
Things continued the way they were going at the moment for a few days more..
Friday afternoon at office (lunch time):
Rashmi: You don't have lunch with your friend these days... all good??
Pranav: yeah yeah all good its just that he has changed his routine a bit. He has started having heavy breakfast so he has his lunch a bit late or at times also skips it. Hence I preferred to join you.
Rashmi: ohhh fine... Pranav bas ek hafta reh gaya hai (last week remaining) pure dedication se kaam karte hai (lets work with all the dedication we have)
Pranav: yes... lets do it..
The next week was quite pacey and loaded with work. The whole week Rashmi and Pranav both worked quite hard and managed to finish the project on time.
Pranav went for a pre planned 2 days leave after that. He comes back from the leave and then.....
Pranav: Karthik how r u bro?
Karthik: fine how was your trip?
Pranav: lovely!!! Enjoyed a lot.
Pranav and Karthik's reporting manager steps in and then...
Manager: so Karthik are you sure about your decision I believe if there are any issues we can sort it out. Pranav you also speak to him once and let me know By EOD (end of the day) today.if your decisions stands the same i will accept your resignation tommorow.
Pranav was shocked to hear the news of Karthik's resignation.
Pranav speaks to Karthik about it.
Pranav: Karthik lets go down need to talk to you..
Karthik: abhi nayi baadme (later not now)
Pranav: I want to talk to you now. Come down now or don't talk to me henceforth.
Pranav and Karthik then moved outside the office and both went towards their favorite area to the (Beach) and then their conversation starts....
Pranav: why all of a sudden resignation and you didn't even tell me about it.
Karthik: nothing it's just that i want to concentrate on my writing and also now want to return to my family in Pune. I will find a part time job there and focus on my writing aspect. I am tired of staying away from my family. Tired of running to places. I was waiting for you to return.
Pranav: ok is that all you want to say about your resignation.
Karthik: yes that's all.
Pranav: good... I also wanted to tell you something.
Karthik: yes go ahead...
Pranav: hatsoff to you brother. I have to say you tried well but you can't win when Pranav is at the other end.
Karthik: kya bol raha hai (what are you saying I am not getting you)
Pranav: hold on brother I will explain you everything. Whats the name of your college?
Karthik: R J V College Pune... But why you are asking this.
Pranav: your college friend Vivek whom we met in Mumbai was also in same college. Right??
Karthik: yes...
Pranav: ok. Few days back I got a friend request on Facebook. You know who he was??? He was Vivek. I accepted his friend request.
One day when I was going through some of his uploaded pics I found an old college group pic where a lot of them were tagged including you. Just when I was moving forward in that pic I saw a girl standing in the right corner and guess what who was she?? She was Rashmi. Rashmi Sharma. The liabilities manager.
After that things started projecting the actual story to me. I understood everything why you were always negative whenever I used to talk about Rashmi. I had a hint of doubt earlier but didn't had the support of the evidence i got now. Whenever you use to stop me and tell me about how Rashmi is. It always strike me that someone could not have so much negative thoughts in the mind about anyone without thinking much deeper about him/her. So that time i was confirmed that you are thinking about her. Right at that moment I decreased the intensity of my feelings for Rashmi. After that I always had that needle of my friend involved in it pinching me badly.
Once Rashmi also asked me about you in the canteen at that time i was convinced that there is something very wrong happening here. It might still be a general question from her but was enough to ignite the fire.
Later I had a conversation with Vivek on Facebook. I told him about the whole scenario and post project completion in my pre planned leaves i went to Pune to meet Vivek. Vivek told me about you and Rashmi. Your relationship from college days and the reason you got separated. The next day Vivek came to Mumbai with me and we called Rashmi to meet. We spoke about you and you will be glad to know that rashmi told us that she was guilty from the years you left. She told us that, it was her fault that she didn't respect your dreams. She further added that she always forced you to choose a career which will have a luxurious effect on your standard of living but forgot one basic thing that the Karthik which she loved was a simple boy who wanted to become an aspiring writer and it was the simplicity which she fell for.
I told her Karthik that you still love her and if I am not wrong you still love her don't you.
Karthik: All this you did for me Pranav... Seriously I can't believe that people like you still exist. How you can be so selfless I don't think anybody else would have done that for anyone. I don't have words brother.
Pranav: Karthik what melted me was the fact that you never wanted to distract me from her by false accusation. You were trying to stop me by the reasons which you faced earlier in your relationship with her. What else you need when your friend is so truthful to you.
Slowly Karthik's eyes were occupied with tears and he moves ahead to hug Pranav and immediately Pranav stops him.
Pranav: yaar don't hug me if you want to hug someone than go and hug that girl standing behind you...
Karthik looks behind and he finds Rashmi standing. Today after a long period of time they both were facing each other.
Pranav: I already messaged her to come down here.
Pranav: love birds once you finish your formalities join me at the lunch i am waiting in the canteen. Karthik i told u remember "agar sab sahi raha toh ek din teeno saath milke lunch karenge".... all the best guyzzz
Pranav makes his way from there and the love birds were ready again to fly together.