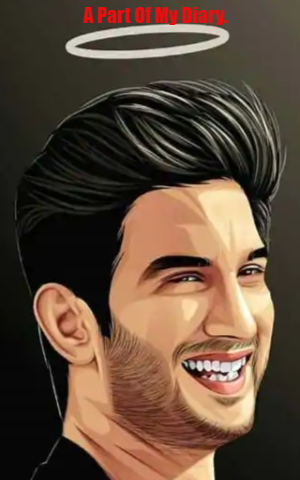 astha mishra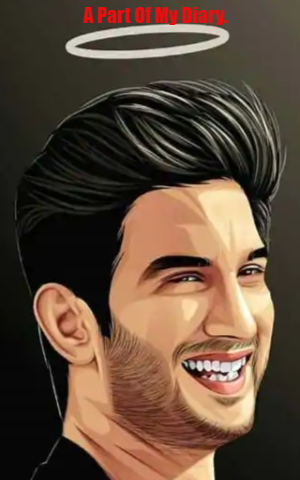 astha mishra
A Part Of My Diary
A Part Of My Diary


---
---
It was just another day of Lockdown. I got up from my bed by 11:15 in the morning or I should say by late morning. By now my routine has become very disorganized, according to my parents. They have been complaining of my lazy attitude from very long but now as it has become part of my personality I really don't care for about being who I am. That day I had my breakfast, well I should say brunch by 12 and then I started by checking my phone, TV watching. So my day was going normal as same as other days but only till when I heard the news of Sushant Singh Rajput committing suicide.
I know I was standing in front of the computer table with my towel and don"t know thinking about what, when I listened my dad shouting from the living room, " actor Sushant Singh Rajput ki death Annu Dekh actor Sushant Singh ki death". The moment I heard this I ran to the room with my eyes shocked. While I was running towards my dad just to confirm if he was right with a "kya!" on my mouth my dad also said, " haa yeh savdhaan india vala sushant ki death hui hai". I have never watched this serial with so much concentration and I don't know what was which made me so much confirmed with the actor's face who died that I with so much confidence said to my dad that, " nhi yeh vo vala nhi hai", without even looking at the news showing the actor with his name, when I entered the room. And when I saw the news, yes i was correct. It was that Sushant Singh only about which I thought. His video was been shown in which he was doing dance, coming down from a pole and down the TV screen, there was the headline show, actor Sushant Singh Rajput ki maut. Aaj subah bandra wale ghar me death hui". I can't even explain how my eyes which were already grown bigger with shock became bigger. I was still in a phase of, " hain, kaise ". The news then started showing more stuff that," ghar ke naukar ne police ko bataya" and then sooner the focus shifted to his Bollywood career. In all this time I couldn't take my ears and eyes off from the screen. I was still in a state of surprise and shock. I was unable to digest the sudden demise of the actor. I was thinking about how this all happened and with the same state of mind I went to have a bath.
It was 3:30 in the afternoon when I sat with my laptop open in front of me. I remember headlines showing the cause of death to be depression and the cause of this to be the actor's unsuccessful Bollywood career. So I started searching on the laptop about all the movies late Sushant Singh did. I checked the reviews of all his movies and chichore which was his last movie to appear on the silver screen. It was a hit the google told. I searched more to see that from where and when his bad times in Bollywood started. Then by late evening when I opened my Instagram it was filled with "RIP Sushant " tweets messages and stories. Many celebrities even cricketers tweeted condolence to our actor. Our own Sushant played the role of Mahinder Singh Dhoni. In his biopic, the way he portrayed MS Dhoni and the amount of hard work he did to put himself in the character of such an amazing cricketer whether it was doing batting or maintaining the poised form of Dhoni made the movie hit, and also made even cricketers send their condolences to Sushant Singh's family. Sushant Singh's movie Mahinder Singh Dhoni the untold story made MS Dhoni and Sushant come so close to each other that Sushant's sudden and demise let our most beloved cricketer in shock. The two made a very beautiful bond with each other. Then I scrolled down and saw more famous celebrities to show their condolence. My own home feed was filled with stories, my friends, and cousins expressing themselves after such a tragic incident. Of course, it was a tragic incident and it will always be because Sushant Singh's death felt like a personal loss. Yes, death is unexpected but it can be so unexpected that I didn't know. That day I felt so low. My insta feed, the explore page all was filled with RIP messages that whenever I used to open it all I could feel sad, low and after some time I completely started feeling unwell.
The other day when I open my Insta again I was kind of thinking that now there would be no so much news of demise of our actor. That maybe I would not again see so many sad reactions of people but I was wrong. There was no difference in the number of messages, tweets, and people reacting to the news. And was confirmed that again my this day would also end up bad. But to be very honest this day went better as compared to the day before. This time with the whole B-town showing condolence to our actor's family, I also saw some more stuff. That stuff acted as the real reason for our actor to suffer from depression. The sentences were," Sushant Singh Rajput was boycotted from dharma, YRF films, and Bhansali productions. On that day I started getting reasons for why our late actor's career was not going well.I also saw the tweet of actress, Raveena Tandon and the IGTV video of Kangana Ranaut revealing the actual game played in the film industry. On one side Mrs. Tandon says about the good and bad side of the industry saying that at the end you have to collect the mess and stand up again and on another side, Ms. Ranaut describes nepotism and the dirty games which the rich producers play to diminish the talent and promote which is fruitful to only them.
It's been 9 days and still, my explore page is full of- "justice for Sushant Singh", short video clips of his interviews, the images of the lists of his dreams which he wanted to do before he dies, memes on Karan Johar and on Alia Bhatt and even on Rhea Chakarvati now. A lot of good things people have started posting about late actor, but the question why people haven't including me discovered his talent, intelligence, achievements before his talent. If we the public who go and watch the movies and support our favorite actors and actresses would have supported Sushant Singh and his talent with the same spirit as we are doing now then I don't think that the situation would have been the same. If the late actor had committed suicide then maybe for us for his so many fans he wouldn't have done committed it because the number of people who are now supporting him if would have supported him before his death then his achievements and happiness would be have been double. He would have been so famous. At somewhere we are too responsible for his no success in his career and it was clearly seen when he was literally begging in front of the people to go and watch his movies. I am not saying that showing so much love and support to the late actor is wrong but showing these now is wrong because firstly, he could not see us. He doesn't know what is happening now. If we have shown them before things would be different. But I am happy that the amount of love, respect and support the people are showing now have helped in only one thing that this case, unlike other cases, is not ignored by the police and investigations are still on. Honestly, Sushant Singh has never have been so admired by me. I was not a fan of him but after his sudden demise when I started watching his interviews, one of which he explained what success is and what is the biggest lie we all have been listening to made me his fan. I wish I could have watched his interviews and could have become aware of the amount of hard work he had done in all his movies, his intelligence, and what person he was before his death. He was a real talent and I would rather say he is a real talent, a person who was an all-rounder. There will always be a need for a person like him for me because with everything he was a good advisor especially for me. OUR SUSHANT SINGH RAJPUT will always be remembered and yes he will be called as late but he will always be present in our hearts. I hope that he will soon get justice because something is too fishy.