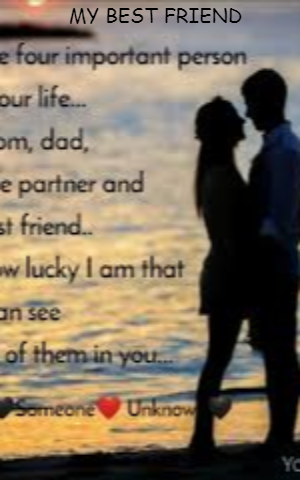 Delhi Bijaya Laxmi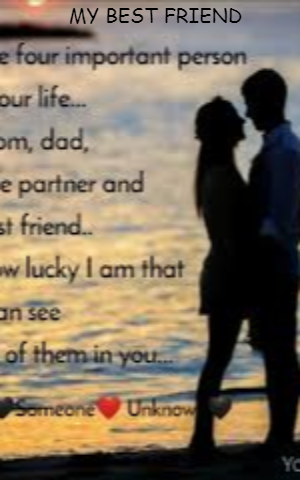 Delhi Bijaya Laxmi
My Best Friend
My Best Friend


---
---
We come to this world alone by birth
And leave this world alone by death
But in the gap between
We live a beautiful life
Which should have worth.
Living alone in
When life is full of worries and strife
For which we need someone to be our near
As a companion who can give us joy and cheer
I wish God to send someone in my life
Like a friend means
A 'Faithful Relation In Earth that Never Dies'
He is that ray of sunshine
Who makes my days joyous
And my life wonderous
He is that flame of hope
Who is always there
When I am in despair
He is that precious god's gift
Which I need to care and uplift
He is that someone
Whom I need to stick with
Me together till the end
And like a straight line
That should never bend
He is that someone
Who is there in my cry, in my smile
In my laughter and in my dreams
He is that someone
Who comforts me
When I am in pain
And he laughs with me '
When I am in pleasure
He is that someone
Who stays with me
When the whole world
Is against me
He is that someone
Whose bond endures
When I am in an odd or bad time
His love is unconditional and pure
When I am happy or sad
He is that someone
With whom sometimes I can fight
When I am in the t
And he can show his might
Which is a beautiful sight
He is that someone
Who changes my frown
Into smiles
When I am down
His words are like
Beautiful melodious music
That lingers in my heart
And make all the ills of
My life depart
He is no less than
A diamond that is rare
Whom I should handle
With love and care
Without whom I
Am completely bare
He stays in my heart
As a precious treasure
For which there
Is no measure
Alas!
God has already given
That someone as my 'BEST FRIEND'
A true companion, my happiness my love
He is none other than
My life partner
And my better half
Dedicated to my husband my best friend!