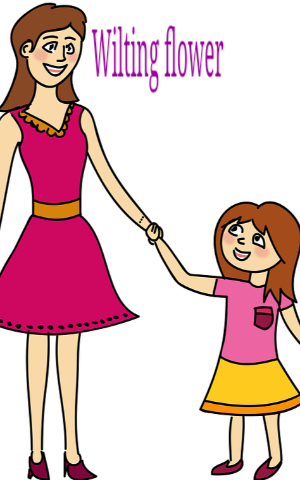 Nivedita Das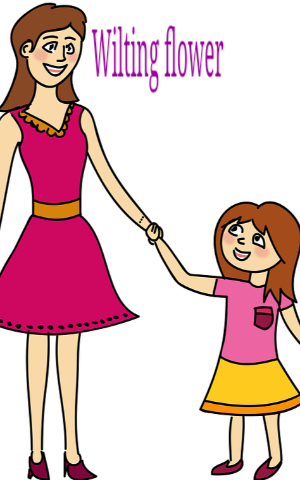 Nivedita Das
Wilting flower
Wilting flower


---
---
Today it's dark and rainy. It's not me alone, nature too has mood swings. I yelled so much still she was silent like a wilting flower and went without uttering a word. I was having a battle with my inner self. This morning I came across the truth that changed my identity forever, all the while I was living in a bubble world. I'm still unable to accept the truth, why my life story is different from others.
I believed I was living with my parents ever since I was born because I never felt indifference in the mediocre lifestyle in these ten years. My elder sister is twenty years older than me. She has a job in the town and lives in women's hostel visiting us during weekends.
She has decorated the house magnificently, her ideas are amazingly beautiful. She has created an interesting and artistic vibe in my room which we share during her visits. Saturday mornings when I open my eyes, she will be sitting next to me caressing my head waiting for me with a pleasing smile. Sometimes tear droplets in her protruding eyes. I'm always elated to see her and hug her tight. She looks like a diva even in the simplest of outfits. She is always humble and speaks with a soft voice. She showers all her love and takes care of me, feeding me with her hand the food she cooked with affection. She helps in my school assignments. We often build bell tents with mother's sarees and bedsheets inside we have much fun. She narrates beautiful stories full of inspiration, determination and happiness. She knows what I need and surprises without asking. She plays with me and if I get hurt she would run to lift me and lovingly caress with her finger over my scar while applying medication. She knows the smallest detail about me though living miles away and notices the finest of things that nobody else ever. She is always strong and clear still shy to ask for help from parents. I cherish the little moments sprinkled with pure love.
Early morning while sleeping I heard some noise in the living room. I got up and followed the source. My parents were insisting my sister to get married and move on in life. I was gladdened to know about her marriage proposal. I had pretty nearly entered the room when I heard her saying, "No one can replace him and I can't live without my daughter". I couldn't control my curiosity and barged into the room. My father held my hand to take me out of the room, but for me, there was no turning back. Tears were in the eyes of everyone which made me crazy. I demanded, "What happened? Why you all are crying? Who is your daughter?" My mother put her hands on her head, sat down on the floor crying. My sister was sobbing hugging a cushion. Father made me sit on the couch and said, "We never wanted all this to come before you like this, but the truth is you are not our daughter." I was fuming when he continued, "She is our daughter and your mother". I could not control myself and shouted, "Why did you not tell me about my father? Get out of my sight I don't want to see your face again?" She got up, wiped her eyes, snivelling, went inside and came out with her bag and was gone.
My mother, rather grandmother came to my room with food on a plate. Placed it on the table and sat near me on the bed for a while which seemed like an eternity. She slowly said," You are the reason for her existence, you are the best part of her." She was eighteen when we got her married to your father who belonged to an affluent family. He let her pursue her studies, then you were born. She took care of the household holding you in arms. Your father pressed her to sit for the final exams." Wiping her tears she continued, "Those few hours she left you in his care. The results came and she was among the toppers. Your father was euphoric. He went to buy sweets." She choked and sniffed, "Fate had something else stored for your parents. His car met with an accident, he was rushed to the hospital but succumbed to injuries in five days. You were a few months old and your paternal grandparents refused to accommodate your mother and you. She came to us, for a fortnight kept weeping holding you in her lap. And then one day told us she didn't want to spoil your life without a father along with to adopt you while she will work to pay for expenses. We argued this won't be fair for you but she was adamant. Her reasons were if you know about your father you will crave for affection and compare with other kids. And if you know we are your parents then you could have a normal childhood. It wasn't easy for her to leave you with us and to be addressed as an elder sister."
Hearing all this I had special feelings and respect for her. I picked up the phone and dialled her number contemplating to call her mommy or momma.