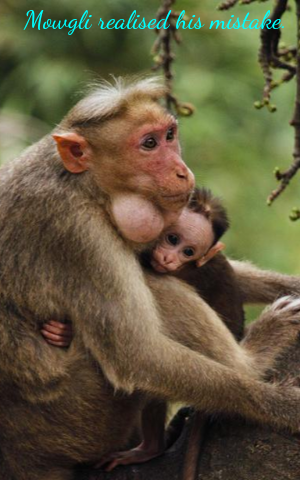 Rashi Goel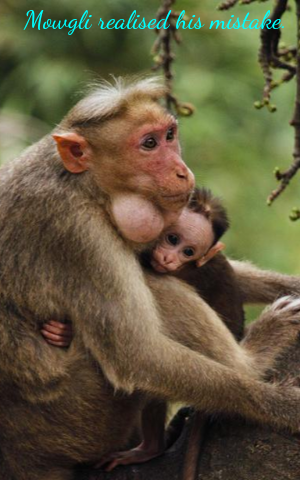 Rashi Goel
Mowgli Realised His Mistake
Mowgli Realised His Mistake

2 mins

100

2 mins

100
---
---
Favorite cartoon character- Mowgli.
The jungles of Alaska was world-famous for the different types of animals. Bear, tiger, lion, panther, leopard, wolf, fox, jackal, etc. One day the lion saw one small infant lying over the side of a pond. He grabbed him and tried to eat him. He at once jumped from the lion's arms and fell inside the river. He learned swimming and came to the other corner.
Since that day, be was raised by a group of elephants and white bears who envied the lion a lot. The boy also grew to be strong and sturdy with a hatred feeling towards the other side of the beasts.
'Mowgli'. Someone called him from behind. He turned back. It was a chimpanzee. Mowgli now understood how did he evolved. He always used to wonder how can he have both a human body as well as ape-like characters, lots of hairs, ability to stand and jump, eat almost everything and above all speak an utmost different language than the animals.
As he mushroomed among the wild beasts he too grew to be like them. He used to wear leaves to hide his body. He practically used to consume anything he sees lying barren.
One day as he was swimming in the same pond, he saw a very newborn cub near him. He took him and cared for him. He asked his fellow beasts to look after him but everyone refused. They knew he must have come from the other side of the river.
Mowgli didn't listen to anybody. He raised him like his own brother. Soon the cub grew into a voracious lion. Mowgli wanted to keep him and raise him forever but he tried to kill everyone. Mowgli realized it's time to let him go. He once again left him on the other side and understood.
Moral: Never believe everyone. The basic nature of everyone remains the same always howsoever he or she is raised up.