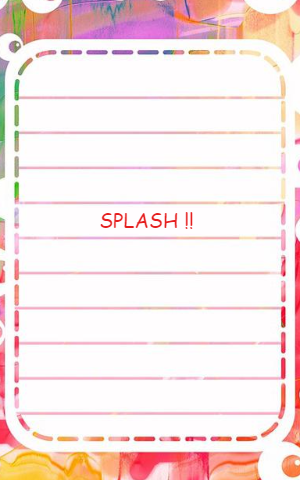 Prachi Raje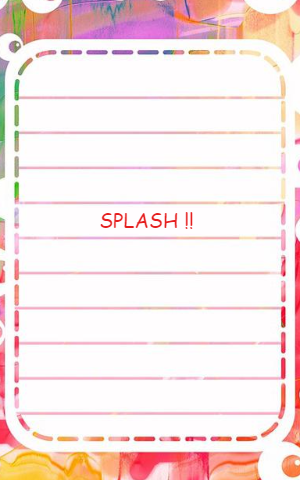 Prachi Raje
Splash !!
Splash !!


---
---
"Trust me, I'm fine! I'm doing great and you all can stop worrying about me now", Rohit said in a bleak voice.
His younger sister from the other end of the Video Call responded, "Not at all, we all know how much you are missing being around us. This is very unfair Bhai. Couldn't you just leave everything aside and come home? We are not celebrating Holi without you. I have told everyone not to expect our family members for Holi this year".
Everyone was there, Rohit's Grandpa, his parents, elder brother, his sister-in-law, and his cheerful, jovial younger sister. They were right in front of him by the grace of technology, but technically, they were Miles apart.
Rohit's mother spoke in a low tone, "We were planning a grand celebration this year, only if you could have made it, my Son !"
Rohit had been trying hard to convince each one to go out and play Holi with the neighbors from the society. He missed the Society Ground which must have been full of people by now. He visualized everything - How he would be on the Holi Organizing Committee each year and take lead in making the arrangements. The arrangements were pretty common every year - The Plates full of different Dry Colors, a few buckets of water around the corner, a DJ by the side, playing the latest Bollywood soundtracks and a Snacks corner beside him. Warm Jalebis, Kachori, and a Chilling glass of Thandai were the staple menu on Holi. Rohit had made a huge colorful banner himself which read #RangBarse with color-dipped palm prints of all his fellow Committee members around the text. The Banner was displayed right above the DJ's spot each year. Rohit's duty started right from the collection of contributions from each House in the Society. He had set certain Do's & Dont's too for Holi and pasted the printouts across the society - "Do not waste water! Do not forcefully pull people to play Holi, No Outsiders Allowed"; Rohit used to ensure all such Holi Rules are followed. But it was a sight to watch Rohit dance to the tunes of the song "Rang Barse, bheege chunarwali, Rang Barse". He would imitate the Big B style and get cheers and applauds for his signature moves. He played and celebrated Holi to the fullest. People in the society mockingly, but lovingly called Rohit "The Holi Guy"! It was his festival!
A year ago, Rohit had to leave his hometown for an excellent onsite opportunity in New Zealand from his employers for the last three years. He had been recommended for this position by the senior management and it was a 2-year contract with a client. Rohit's family was extremely proud of his achievements and so were his neighbors. Rohit's father had distributed sweets in every household of the society when he had been confirmed for this post. Rohit left India last year in August and was working diligently to represent his company before his clients in a foreign environment.
Rohit had casually mentioned to his Boss back in India that he would be taking a week-long leave for Holi, but he knew that his request would not be granted. They had milestones and deadlines to meet. Rohit had accepted this, but to convince his Loving family was going to be a very tough task; he was certain!
Here in Auckland, Rohit had been given accommodation in a Guest House with people from different countries. It was a common guest house which was not only for his company associates. On this note, Rohit had absolutely no friends in the strange land. His Housemates moved in and out based on their work and contracts. Needless to say, Rohit was a congenial man, but it appeared to him as there are certain ethics and boundaries which people from other countries like to maintain. Formal conversations and greetings were the only interaction Rohit had had with his present housemates.
It was 9 am in India and all Rohit wanted on this day of Holi was to see his family happy. He had been speaking to them for the last 1.5 hours. He also tried making jokes about their situation and recalled some funny Holi incidents from the past but in vain! Finally, with some assurance that his family will go out and play Holi that morning, after a long Video Call, Rohit had hung up. It was almost 4:30 pm and the day had almost passed in Auckland. Gloomy, cold, and colorless - the day as Rohit would describe it. He thought, "Leave aside the Jalebi-Kachori, at least let me enjoy a warm cup of coffee". He put his Laptop aside, got up, and turned to the kitchen behind. Suddenly ............. SPLASH !!!!!
A huge water-color palette came right up to Rohit's chest and hit hard on Rohit's white T-shirt. Red, green, blue, orange, yellow, purple ........... all the shades mixed together to form an abstract imagery on his shirt. The rest of the colors made their way to the sleeves and also to Rohit's face. With a sudden bang, Rohit had closed his eyes as a reflex. Before he could open them, a soft but firm female voice shouted in an English accent "HAPPY HOLI" !!
Rohit opened his eyes to see Amanda in front of him. Amanda was one of Rohit's three house-mates living for past 2 weeks in one of the upper rooms of the Guest House Bungalow. Hardly had Amanda and Rohit interacted in last two weeks. But today, being a Sunday, both were home at the same time. Just like Rohit, she was also working in a London-based firm and had been deputed for a six months project here.
Surprise, Joy, and thrill - Rohit spoke with a blend of all these emotions, "What are you doing, Amanda ?".
Amanda repeated her greeting, " Happy Holi to you and to your family. Sorry, but I crossed the Living area 3 to 4 times while you were having a call with your family. I couldn't help but notice how sad and lonely you are today. I know Holi is a very special Indian festival and you are missing your native place desperately. I just wanted to cheer you up. I rushed to the near-by store and picked up a few colors for you. I know this is merely paint, but I could not find anything else here. I just wanted to give you a homely and festive feeling. Hope you are not mad about your T-shirt though.... ". Amanda stopped talking. Rohit's expressions were difficult for her to read. He was neither angry nor upset, but he stood still for a moment.
Then, with eyes full of tears, he moved ahead to hug Amanda. It was a hug of Gratitude, a hug full of emotions and thankfulness. Amanda too had sensed that and hugged Rohit back. "You made my day", Rohit said, "Thank you .... thank you so much".
Rohit quickly clicked a selfie of his now colorful face and T-shirt and shared it on his Family Whatsapp Group. The Comments in return were overwhelming for him too. He simply replied "Now you all can play Holi cheerfully ...... Please carry on !". The smile on his face was reflecting on Amanda's too. She was as happy as Rohit and his family were.
Rohit turned to Amanda and asked in a shy, hesitant voice, "Hey, if you are free, would you like to have a cup of coffee with me?".
Amanda replied, "On one condition; I will make it".
The two smiled at each other and took the route to the Kitchen.