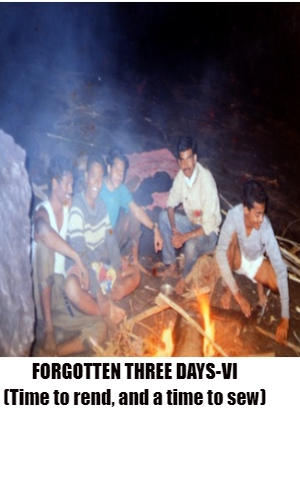 Aurobindo Patra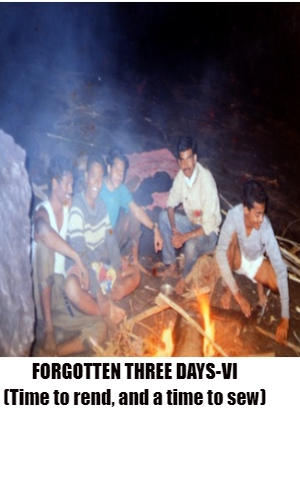 Aurobindo Patra
FORGOTTEN THREE DAYS-VI (Time To Rend, And A Time To Sew)
FORGOTTEN THREE DAYS-VI (Time To Rend, And A Time To Sew)


---
---
(Prologue: As briefed by the villagers previous evening, enthusiastically followed that Adhah Kosa distant village. Debrigarh Jungle, since the moment we step into, offered flabbergast at every stride. However, the group managed to escape from it and walked by the right dyke of the Hirakud dam reservoir to reach Jhagadabehera village where a fabulous lunch was waiting for satiating hunger of the life ... )
4:49PM, May 13 - AUROBINDO: We five took our seats on the verandah and Bhegnath being the only Sambalpuri speaking guy had all the liberty in having an access inside, beyond the main door.
To be honest it was our tiredness rather than his being Sambalpuri and no doubt he had all the energy of the world to help the inmates in arranging our lunch. Of course it was his duty being the trekking leader.
Unfortunate chap … Alas, he were around!
4:52PM, May 13 - AUROBINDO: Each one of us took out the water bottle that we carried from the over-night base-camp and emptied into the empty stomach. None was afraid of Shashikant's hard stares, for the first time since we stepped into the jungle. We were eagerly waiting for what Bhegnath and his team had to offer, a fabulous lunch.
4:58PM, May 13 - AUROBINDO: There appears Bhegnath with his wide-grin, big smile, concealing all the humility of the world, as he used to be, carrying a jumbo "Baunsha Pachhia (Bamboo Tray)" in hand. Few ladies inmates were following the great man.
Being seated on the verandah, were making all out efforts to have first look, over the edge of the "Baunshia".
None had a clue!
5:00PM, May 13 - AUROBINDO: The "Pachhia" about to be placed on the verandah. The menu got revealed. It was Desi Mudhi (country puffed rice), Chanachur (spicy lentil mixture), chopped Onions mixed together.
Before the tray was placed on the verandah, each of the 10 hands sprang into action, forgetting other group members letting the surrounding villagers, anxiously watching with awe.
5:04PM, May 13 - AUROBINDO: Poor Bhegnath was obvious to join the lunch after we had handful couple of times.
5:09PM, May 13 - AUROBINDO: On Niranjan's request, one lady went inside and came back with a bottle of mustard oil. Niranjan had to take all the pain in stopping the working ten hands so as to add few drops of oil and mix it well.
In no time the 12 hands finished off a Baunsia-full Mudhi, Chanchur, chopped Onion mixed with mustard oil.
5:11PM, May 13 - AUROBINDO: Bhegnath was requested by the group to get some more. But the lady shop keeper and the inmates with all humility told about their offering all that they had.
5:16PM, May 13 - AUROBINDO: Bhegnath was pure desi (naive), myself adjacent to Baripada, famous for its country puffed rice, had the item at home menu and Banaj and Niranjan, being half-desi, had their liking for Puffed Rice.
But Shashikant, a sophisticated UBI (Unfortunately Born in India, currently stays in USA) and Pulu, a pampered brat, the act that happened was improbable.
5:18PM, May 13 - AUROBINDO: At those despairing moments with stomach-full starvation, something caught Niranjan's eyes. A biscuit pack of the size of present day's Tiger brand biscuit. Written "SCHOOL", never heard off, on the wrapper.
He asked for 2 packs.
5:22PM, May 13 - AUROBINDO: I was offered a piece. It was of the same shape and design as the Tiger Biscuit. I put it between teeth and gently pulled down. Lucky I didn't press hard else my upper teeth would have been uprooted. Seeing me in pain Niranjan had a wildest smile.
5:25PM, May 13 - AUROBINDO: "Abe sala School Biscuit kana semiti khanti, dekh emiti khanti ... (Hey brother-in-law, that's not the way, this is how School Buiscuit to be savored …)"
What he did, I still laugh, recalling!
CROSS TALK BEGINS:
5:34PM, May 13 - AUROBINDO: Are bhai mane kana soi padila ki? (Hey, are you all asleep?)
5:43PM, May 13 - PROF. PANDEY: Waiting for you ...
6:00PM, May 13 - AUROBINDO: Someone has to respond, by the time Niranjan was demonstrating how to eat "SCHOOL BISCUIT", we six were out of hostel skipping 2 lunches and one dinner.
Be gracious enough and recall whether there was any hunt for us?
I don't know, knowingly or otherwise, you all have evaded answering to my question, twice earlier.
I need an answer to get six of your friends out of Jhagdabehera and back to hostel. Else, let them enjoy their days there in the middle of Debrigarh Reserve Forest, by the Right Dyke of Hirakud Dam.
6:09PM, May 13 - BANAJ(UK): Good point Arabinda. Let's make lot of them rather all of them guilty.
Sala, 6 ta sanga kuade male ki gale, kahari tike bi chinta nahi … (Brother-In-Laws, nobody had any concern if 6 friends, alive or dead …)
6:11PM, May 13 - PROF. PANDEY: First time I came to know all these!
6:12PM, May 13 - AUROBINDO: Why you should know? You are friendliest till … alcohol was around … Am I right, Professor?
6:13PM, May 13 - BANAJ(UK): Tote Daru pee'i baru fursat mili'le ta ... (How would you get time ! As long as you had few pints to savour, did you care a hoot about the world?)
How about others guys?
6:13PM, May 13 - AUROBINDO: Just a joke … my dear friends.
Even 50% batch mates did not have an idea of those three days.
CROSS TALK ENDS:
6:19PM, May 13 - AUROBINDO: Well now coming to Niranjan's demonstration, but before my narrating further please recall the stature of Niranjan Swain being one of the most articulated and sophisticated guy with soft tone, jumping to discussion only if the issues are damn serious.
Keeping in mind the above words …
CROSS TALK BEGINS:
6:19PM, May 13 - NAYAN DAS(UK): I even did not know about the trekking.
6:20PM, May 13 - NAYAN DAS(UK): Anyway, in next meeting, will request him to give a demo again ... Ha ... Ha ... Funny guy ...
CROSS TALK ENDS:
6:24PM, May 13 - AUROBINDO: He took a glass of water in left hand, a piece of "SCHOOL BISCUIT" in right. Dipped in the water for few seconds and placed between teeth and started chewing.
Like obedient followers we copied him. Even all the "SCHOOL" biscuits exhausted from that shop. But the group had all the courtesy in sharing few pieces with the village kids, surrounding us.
6:25PM, May 13 - AUROBINDO: The half-naked kids and the elderly persons gathered around were enjoying our sudden dropping in as if we were from another planet … named CUTTACK ... Ha … Ha …
6:29PM, May 13 - AUROBINDO: The bill was paid, bottles filled with chilled water from the well inside the home that housed the lone shop of Jhagadabehera.
Time to bid Good Bye…
Bhegnath responded to all the queries of the other villagers, whom we came across on our way.
This phase of walking was with more energy and vigor after the so called delicious lunch.
6:32PM, May 13 - AUROBINDO: We crossed the village and as per Bhegnath, we had to reach at the earliest Lakhanpur Hat(weekly market), so as to have our next companion who would lead us to the Wood-cutter's camp situated atop, another hill.
6:36PM, May 13 - AUROBINDO: Jhagadabehera village was left behind and we were far away from any symbol of village. After an hour of walking we came across a "Bara Koli (Indian Plum)" tree, "Ber" in Hindi and "Bhura" in Sambalpuri.
7:06PM, May 13 - BANAJ(UK): Arabinda ... May I ...
7:07PM, May 13 - AUROBINDO: Please ...
7:07PM, May 13 - BANAJ(UK): How come you forgot our going around the village asking for any other food, even just cooked rice, but to our utter dismay there was none in the whole village as it was late afternoon.
7:11PM, May 13 - BANAJ(UK): I remember this part distinctly because Niranjan was constantly cursing us for our consuming whole of Puffed Rice and School biscuits of the village, leaving the entire village foodless for few more days.
Bhabithilu baunsha nalare jungli kukuda poda khaibu boli… dekhila belaku milila adha peta mudhi … Ta uparaku puni Niranjan ra gali… (Anticipating to enjoy the delicacy of jungle cock meat roasted in Bamboo pole … but ended up having just half stomach Puffed-Rice … top of that scolding from Niranjan …)
Bhegnath and Shashikant also seconded Niranjan's view.
Please continue...
7:22PM, May 13 - AUROBINDO: Hold on my friends … Your hungry friends found something to satiate the hunger …
7:27PM, May 13 - AUROBINDO: Nearing the tree full of ripen Pulm the group had no choice than to satisfy the insatiable hunger of life. With little effort, Bhegnath climbed the tree and started jerking the branches and the ripen fruits were spread on the ground.
7:30PM, May 13 - AUROBINDO: Initially we were competing each other in gathering the ripen Pulms. Bhegnath's coming to full activity the fruits were spread all around. We consumed till our taste buds given up to the sour tinge, but kept pouring into pockets and bags.
7:34PM, May 13 - AUROBINDO: At this point I must add that during 2nd year I was administered with Penicillin for a couple of months, for acute tonsillitis. Some of you, might recall, it was Jayaram Bhai, the chronic Asthma patient, used to have his signature headscarf 365 days and others in the race was me.
Consuming Pulm nothing less than poison.
Hunger is the deadliest killer of all diseases.
CROSS TALK BEGINS:
7:38PM, May 13 - BANAJ(UK): Hun …
7:38PM, May 13 - ARUN MAHAPATRA: Great going Arbind/ Banaj
7:39PM, May 13 - AUROBINDO: Are you reading Arun? Thought you were busy.
7:39PM, May 13 - ARUN MAHAPATRA: 100+ msg in weekday that too in daytime. Good celebrations for century achievements.
7:40PM, May 13 - ARUN MAHAPATRA: Just read all last hour sitting in T3 at Mumbai Airport. Was far from data network since last few days. Only been able to access during evening.
CROSS TALK ENDS:
7:44PM, May 13 - AUROBINDO: Someone suggested that pinch of salt along with Pulm, side effects of cough and cold gets minimized. Neither we had salt nor we had any inclination to have it but consumed stomach full.
7:45PM, May 13 - AUROBINDO: After a break of 20-30 minutes the group marched ahead so as to avoid sleeping under open sky for the consecutive night.
7:49PM, May 13 - AUROBINDO: At about 4.30 pm reached Lakhanpur hat. Again it was action time for Bhegnath. After a lot of enquiries with the localities in Sambalpuri, he zeroed on a person, who would lead us to the wood-cutter's camp, uphill.
7:52PM, May 13 - AUROBINDO: Banaj you throw some light on the job entrusted to that person for our dinner. I do not remember much. How much he was paid and what items he was instructed to purchase. I mean to say the quantity of Rice, Lentils, vegetables etc.
CROSS TALK BEGINS:
7:58PM, May 13 - BANAJ(UK): First tell about lantern march ...
8:03PM, May 13 - AUROBINDO: That is totally out of my memory. Please elaborate a little.
8:08PM, May 13 - NAYAN DAS(UK): Arabinda, the way you tell the story even my Grand Mother was not half as good.
8:12PM, May 13 - ARUN MAHAPATRA: Nayan eka tharake taku Jejemaa karidela ... (Nayan, you promoted him directly to Grand Mother...)
8:15PM, May 13 - MANOJ DAS(USA): Nayan, only difference is Jejemaa was telling stories, Arabinda is typing and leaving us with much more to image, at stopgaps.
8:18PM, May 13 - NAYAN DAS(UK): Double Jejemaa … Aurobinda, Great talent!!
8:19PM, May 13 - ARUN MAHAPATRA: DJJM (Double Jejemaa) … Ha … Ha …
CROSS TALK ENDS:
8:20PM, May 13 - BANAJ(UK): I only recall that we got quite late as we could not walk as fast as the guy who guided us from that foothill bazaar and it was completely dark. We had to walk at the scarce dim light of his lantern.
Abey tu dariki jama pachhare rahu na thilu, bhuta khaijib boli. Ebe bhuli gale haba? Mane paka and bhal se kaha ... (Hey, you were so frightened and manoeuvred not to be at the end of the line. How could you forget? Recall everything and tell properly...)
I don't remember any more.
CROSS TALK BEGINS:
8:25PM, May 13 - AUROBINDO: Yes Banaj now I faintly remember … Let's have few words before proceeding further. Call me at my mobile.
8:28PM, May 13 - DHUSA BHAI: Dear Auro... you are confidently providing so many stories.
Please stop it ... try to publish one small book ... copy to all my dear friends ... thanks ...
9:27PM, May 13 - PROF. PANDEY: Auro, please don't delay ... how you people got back to hostel ...
9:35PM, May 13 - MANOJ DAS(USA): 2ndnight to continue ...
9:35PM, May 13 - AUROBINDO: Dhusa Bhai, I take your word as compliment.
On move ... Will resume soon...
CROSS TALK ENDS:
9:51PM, May 13 - AUROBINDO: It was around dusk and the man was all ready to lead us before Debrigarh Reserve Forest loses its dimensions to total darkness of another wintery night.
10:03PM, May 13 - AUROBINDO: With darkness around, the new leader appeared with a lantern in hand. We were to follow him up, a hilly terrain. In that light, the breadth of the road was neither visible nor measurable at all but we didn't have other option than to follow him in synchronization in an ant line as we used to walk from Hostel to College and back, during first year ragging. The road seemed little narrow, so we had to move in a row. Nobody was volunteering to be the 7th. I tried all tricks possible not to be the last in the row.
I remember pleading many a times not to be the 7th in the row.
10:06PM, May 13 - AUROBINDO: Don't recall how much it took to reach the uphill wood-cutter's camp. But it was quite tiring to carry the fatigued body and stomach filled with hunger of Life.
10:10PM, May 13 - AUROBINDO: Anyhow, after a good bit of walking reached the camp. We were provided with a room with mat spread. We got fresh ourselves and in no time I was in deep slumber, unconcerned of other members.
10:13PM, May 13 - AUROBINDO: I was made to wake up after good sleep of more than an hour might be. The host friend was all ready with dinner to be served "GARMAGARUM (Steaming Hot)".
10:15PM, May 13 - AUROBINDO: It was a "Full Handi Bhata (Rice cooked in a big shallow utensil)" and another handi of "Dalma(Boiled vegetables with lintels)" and six "sala patra khali(Sal leaf plate)". We six started together. The host was just watching at our eating spree with sheer disbelief.
10:16PM, May 13 - BANAJ(UK): Then Niranjan innocently asked "aau Dalma nahi ... (Can I have little more Dalma...)".
The guy showed us the utensil, not a single trace was left. We asked for onion cubes and with that finished other half of the rice from the utensil.
10:18PM, May 13 - AUROBINDO: After we finished up completely the man told something to Bhegnath in a low tone in Sambalpuri.
10:20PM, May 13 - AUROBINDO: Afterwards Bhegnath divulged that our host had to starve that night as he had cooked 2 kg rice and equivalent dalma, we six consumed completely, to his sheer dismay.
10:23PM, May 13 - AUROBINDO: Hearing, we could only sympathise his position but I went to bed without remorse anticipating he must empathise us.
10:22PM, May 13 - BANAJ(UK): When you were asleep, myself, Niranjan and Bhegnath requested to cook little more as he was starved and we still were hungry. Almost all the base-campers were asleep. He preferred to be empty-stomach.
10:23PM, May 13 - BANAJ(UK): He was not a cook, he was a woodcutter. After day's hard labour he was barely left with energy to keep his eyes open.
10:24PM, May 13 - AUROBINDO: Oh … Then …
10:25PM, May 13 - BANAJ(UK): Even, we volunteered in taking all the used utensils and washed in the little pond nearby but nothing worked to change his mind. He did not even let us use that kitchen area.
10:26PM, May 13 - BANAJ(UK): But one thing helped at last and guys you all would enjoy this.
10:26PM, May 13 - AUROBINDO: What's that?
10:28PM, May 13 - BANAJ(UK): Bhegnath said "Ye babu mane Burla Engineering College nu aai'chan ho! (These people have come from Burla Engineering College!)"
Hearing Burla Engineering College completely changed his and others' attitude. But, it was too late to take up cooking again.
10:28PM, May 13 - BANAJ(UK): Burla re Engineering padhibara paisa se dina uthigala … (At that point felt like getting back worth of every penny, spent for pursuing Engineering at Burla …)
10:29PM, May 13 - AUROBINDO: Ha … Ha …
Banaj, please add what more you recall of that night ... Stage is all yours ...
Let me have a bottle of chilled beer ... After all, I am from a dry state, Gujarat ... Cheers ...
To be continued …
[ Deforestations are the repercussions of modern day comfort with multi storied buildings and gigantic market complexes that houses all contemporary equipments. Our adventures are confined to pass few minutes with abrupt electrical black-outs.
Step out and move near to nature. Even one life is too little to unearth our mother earth's hidden treasures.
Without mention of Vipul Makwana, a friend from Rajkot, the story would not be complete. The four photos of that trip, I handed over to a photographer in 2015 to develop but somehow recalled about the same after 2 years i.e. 2017 and re-visited in 2018 after I was transferred to Ahmedabad, but in vain. It was while finalizing the story, I sought help from Vipul as I was posted at Surat then. After 10 consecutive visits he could get the scanned copies and provided me on 22.09.2020. The photo of first night with camp fire is used as cover. Without Vipul's persistency the story would have been half told.]