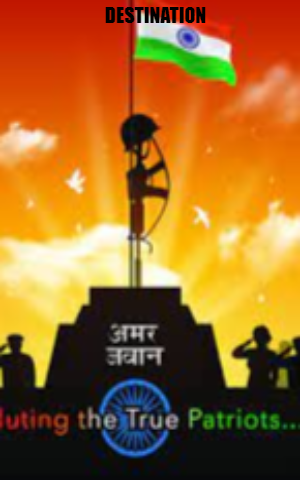 Dr Major Nalini Janardhanan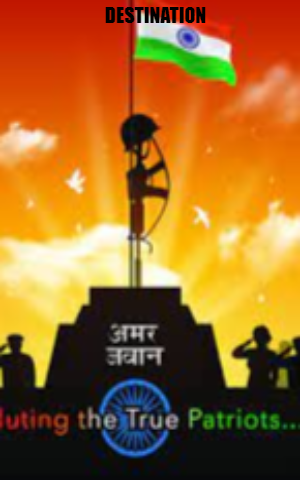 Dr Major Nalini Janardhanan
Destination
Destination

6 mins

252

6 mins

252
---
---
"Welcome to the family"-Colonel Prasad, the Commanding officer smiled and shook hands with Lieutenant Priya. Other Officers, JCOs and Jawans of the Regiment also extended a warm welcome to the new officer with respect and salutes. It was the proudest moment of her life.
Lt Priya was taken to her office room and offered tea. Sitting on her chair and sipping tea she cherished the memories of her husband……. memories painful but close to her heart.
"Darling, you are my second love"-Priya was surprised to hear that and she stared at her soldier husband.
"Now please don't look at me like that."-Captain Arun replied with a mischievous smile. "My first love is my country. I am an Army officer." Priya smiled and happily ran into her husband's open arms. She could feel the warmth of his love for her.
Those were days of pure bliss and love. They were a perfect couple in madly love with each other. It was knowing each other and growing together as a loving couple. Staying in the Army Cantonment was a new experience for Priya. Their neighbours were Army officers and families. Priya made many friends as the ladies were very helpful and affectionate. She found that Army is like a big joint family where people from different states come and live in a new atmosphere, serving the nation. She never felt homesick. The fellow officers and ladies were always ready to share her happiness and sorrows like her own family.
"You know darling, since childhood I have been attracted to this uniform. I remember receiving a prize for a fancy dress competition in school, wearing an Army uniform. And when I grew up listening to stories of patriots and martyrs I started imagining myself as an Army Officer fighting for the nation. I realised that it is our duty to serve Mother India and save her from terrorists, enemies and anti-national elements. So I don't mind dying for our country fighting as a true soldier till my last breath. You understand my love?"-When Captain Arun told, Priya could feel the patriotism in her husband's heart.
"Yes darling, I am proud to be your wife. And I appreciate your patriotism. But please don't you ever think of dying. I will be waiting for you when you come back as a warrior defeating enemies."-She replied.
Then came the D-Day when her husband had to leave on a mission. Priya hugged her husband and sobbed when he was leaving for a Counter Insurgency Operation in Arunachal Pradesh. She prayed to God to keep her husband safe during the dangerous operation.
But fate was something else. True to his words, he returned as a martyr in a coffin covered by the national flag. Priya was shocked to see that. She saluted the hero of her life…the brave patriot and son of Mother India. They were a newly married couple and Priya's life was shattered. She was expressionless and did not shed tears when her husband's mortal remains were taken for the last rites. After that, she spent a day and night in her closed room crying her heart out. 'Why me, God? Why did you take away my loving husband? Is this your reward to a true patriot?' She cried holding her husband's uniform. She could not figure out how to move on in life after the tragedy. The next day morning she wiped her tears and came out of her room with a firm decision.
"Mom, Dad, I want to join Army!"-She told her family.
"What? Have you gone crazy, Priya? Just now you have lost your husband. What will people say? And you are a woman. How can you become a soldier? You have to undergo tough training and face so many obstacles. It is not easy dear." Her father tried to explain and her mother started crying.
"No Dad, I have decided and that is final. I have lost my husband but he is a martyr. I am proud of him. I respect and admire my husband in uniform. I wanted to fulfil his wishes of serving our country and carry forward his great name. I know that it is not easy to join Army. But I will try my best. Dad, you only taught me that those who keep trying will reach their destination sooner or later. So let me try."
Priya prepared for the examinations, interviews and medical fitness to join Army. Focussing on her aim, she was not bothered about the family's reaction or society's criticisms. Hard work, determination, trust in God and self-confidence helped her in the journey towards her destination. Ultimately she became a lady officer in the Indian Army. Now she is wearing her most favourite dress-the Olive Green uniform.
"Ma'am, hearty congratulations! You have proved that women are in no way inferior to men. Salutes to you, as you decided to join Army and serve our nation. What message would you like to convey to the girls and women of our country?"- The lady reporter from a TV Channel asked her.
"Thank you so much. As a newly married woman, I was broken and felt so depressed when my life partner left me all of a sudden. Unfortunately, my fate was to receive his body as a martyr. How I wished I could hold him and say the final goodbye……. But I was proud to think that I am the wife of a true patriot who dedicated his life for the country. I had two options to choose after that-either spend my life as a widow or remarry another person of my family's choice. But I chose a different option. I wanted to be known as a martyr's wife. And I also wanted to fulfil his wishes working as a soldier in Army. I have achieved my dream. So girls and women, please don't think that you are good for nothing or you can't succeed in life without your husband or you are meant to be a housewife only. You are also equally powerful as men if you are determined to succeed. When you take a good decision, just don't worry about questions in your mind like 'Will my family hate me or support me?' 'Am I wrong in my decision?' 'What will the society think?' 'Do I have the capability to do this?' etc. Follow your dreams and try to achieve your goals in life with determination. Trust me, tough roads sometimes lead to beautiful destinations. God's blessings will be there with you if you are on the right track. You will definitely reach your destination and be a winner. Thank you."
"Well done dear! I am proud of you my love! I am sure you will be an asset to the Indian Army. You are my wife!"-Priya heard her husband Captain Arun's words whispering in her ears.
"Yes Arun, I am just following in your footsteps to offer my service to our country. But believe me, you are my first and last love…."
Priya wiped her tears and looked around. She felt her husband's loving embrace. She could see her husband's soul vanishing. There were tears of joy in his eyes and a proud smile on his lips.
…….