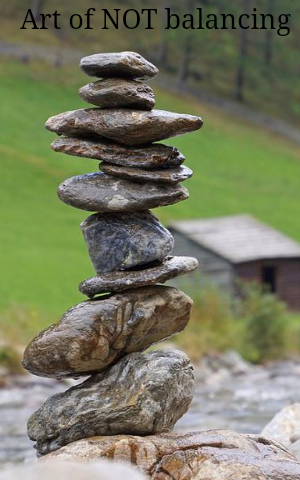 Annie Jaison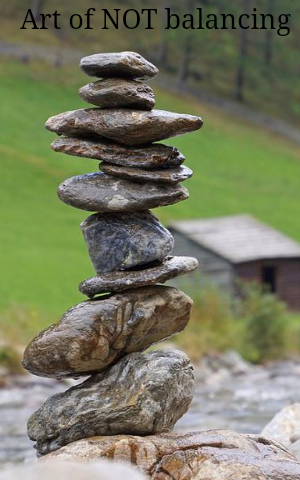 Annie Jaison
Art of NOT Balancing
Art of NOT Balancing


---
---
As a child, I could never balance a glass of water on a tray. So when a guest visits us, the onus of serving water to them was on me and I started to hate the ritual as I ended up breaking the glass and that made my mom mad at me. The pressure of not wanting to break another glass lay heavily on me. Looking back at it now, I realize it was a mountain of a pressure.
Later on in life when my friends took me along to learn to ride a bicycle, I could never balance myself on two wheels. They mastered the art of balance while I, hmmm...
So what is balance? Is it to ensure that perfect glass of water reaches the guest without your hands, tray, or the water trembling or learning to balance yourself on two wheels. I might not be perfect in either of them but does that mean I dont have an art of "balancing" in my life. Should I judge myself on the failures I have had and few successes?
Having retrospected on my life's journey, the few incidents that I can remember, while I criticized all the ways where I failed, I realized that I never appreciated myself for the few significant successes I have had. Be it getting a job, making my own money, buying my 1st home in mumbai at 25, being a mom and twice, being there for my loved ones when they were ill or lonely, kept aside my wishes, the few grams that I lost after months of dieting, for the journey I have had, for the strength/resilience I have shown and above all for BEING ALIVE.
There is no such thing as a perfectly balanced life or a balanced relationship.
The word balance means equal distribution - which means if you want something that u like on one scale, you have to keep a weight on the other i.e. you have to sacrifice somethings for the time being and then will you achieve balance. I think rather than balancing, its 'centering' oneself to something that needs to be taught.
Chuck the need to balance everything, rather center yourself to the things you do NOW.