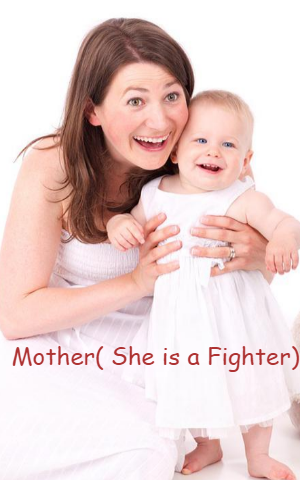 Vigneshwari Natarajan
Abstract Inspirational Children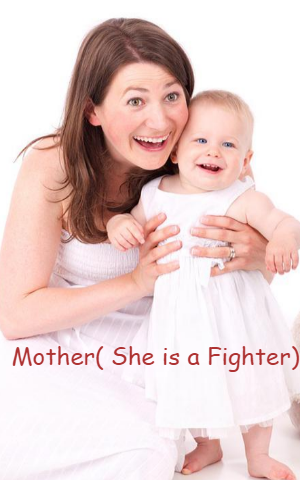 Vigneshwari Natarajan
Abstract Inspirational Children
Mother (She is a Fighter)
Mother (She is a Fighter)

2 mins

159

2 mins

159
---
---
When I look at the wrinkled hands of my mother,
I closely put her hands in mine and washed away her pain with my whimper.
She looks deep into my eyes without any sober,
Any asks what I would like to eat for my dinner.
That's how she was to me as well as to my brother.
Her blonde hair brushes past her face. Her eyes turn dull and tired because she keeps on working forever.
But she never retired from being a mother, even when she had a fever.
She works so hard that her body is strong enough to bear the pain, but the patches of white hair on her tell us that she is getting older.
If she is the Sun, then I am her rays. Both of us cannot imagine living without each other.
The sight of her suffering under pain and depression reminded me to study cleverer.
No matter who I am, what I do, and who I become. I am a daughter first and a lawyer next.
The domination of men had destroyed her from being a thinker.
Her education was enough to break the restrictions for women in her house but was not enough to fight society. That brought her nowhere but to the dishwasher.
But she didn't want that to happen to us, Never!
She wanted us to turn our anger into passion and fire to succeed, not to decipher.
She wanted us to lead a life heads held high forever.
She wanted us to live with pride but never rupture the joy of another.
Her life was only filled with grief yet, that never stopped her from being bolder.
She wanted us to be humans first and then think about being richer.
She wanted inhumanity to get murdered.
She wanted women's empowerment to become stronger.
She wanted the rich to be peaceful and the poor to be happier.
She thought about everyone except her somber.
Today, when I look at the wrinkled hands of my mother.
I put her hands close to my heart and said that you are a blessed soul, god in disguise as my mother.