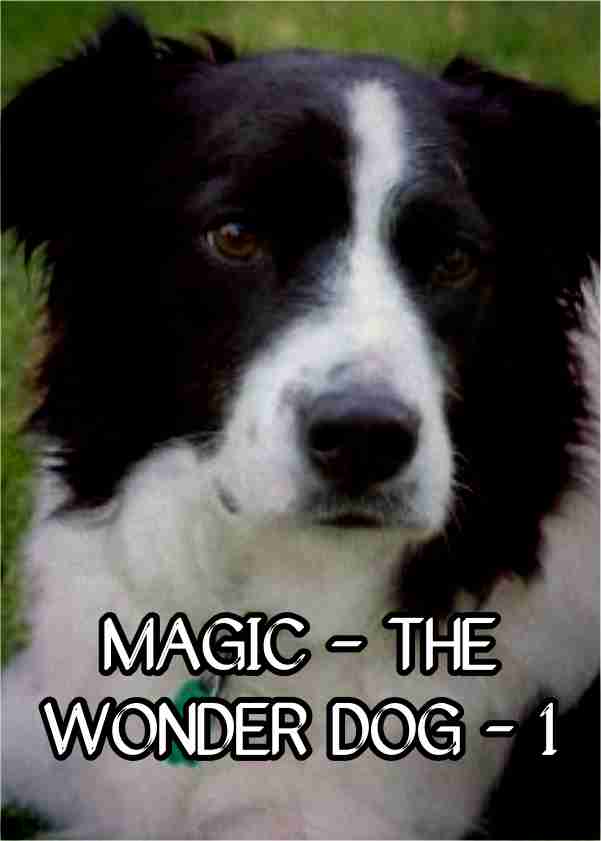 Mangesh Shirke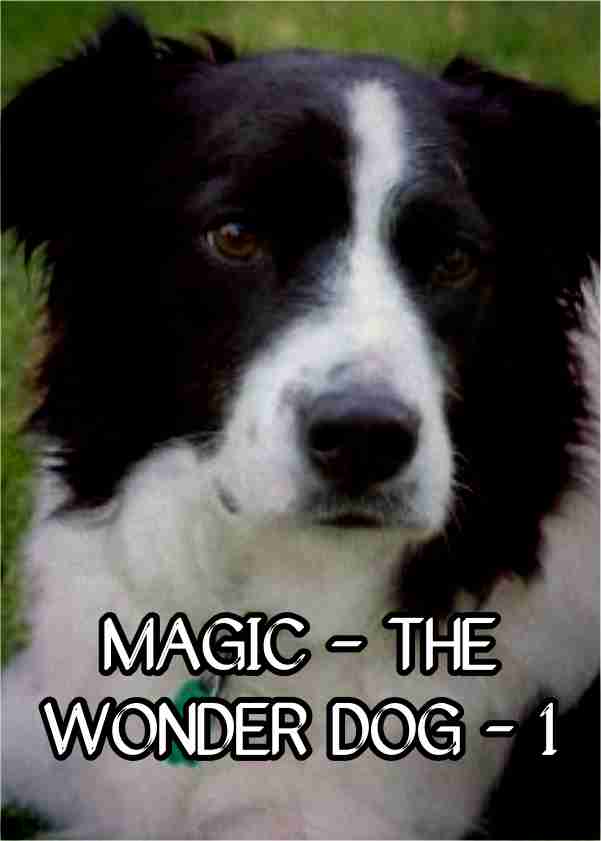 Mangesh Shirke
MAGIC – THE WONDER DOG - 1
MAGIC – THE WONDER DOG - 1


---
---
"MAGIC…..." Bade papa shouted loudly, "Where are my specs….Come here you foolish dog…!" he started searching for his pet, Magic. Back in the corner, Magic, their pet dog of the brown & white Border Collins breed, had papa's specs in his mouth. He was hiding behind the door. Bade papa finally found him. "You naughty dog…!" pulling him out with his collar, Bade papa said, smiling. The pooch looked up at him, wagging his tail pulling his ears back.
Suddenly, Bade papa heard shouts outside. Realizing what it was, he nodded his head sideways. Again they are fighting, he thought as he went outside.
"Why don't you tell your kids to play on your side..?" Ganesh Chauhan, the younger one, was shouting.
"Why don't you just keep our fights aside & lets the kids play…?" Giriraj Chauhan, the elder one, shouted back. "You started all the fights…! You wanted your piece of land, so you prosecuted me & got our lands divided. After our mother died, you even ordered Bade papa to stay with me. We stay on the land with a barrier in between…! At least let the kids play..don't drag them in all of this…!" folding his hands, Giriraj pleaded.
Somehow convincing, bade papa brought Giriraj inside. Ishaan & Komal, Giri's kids, used to play on the property that was divided subjecting to the fights between the two brothers. Ganesh's son, Mrugesh, was just 9 months old and loved to play with Ishaan, Komal & Magic, their pet dog. Infact, Magic & Mrugesh were totally attached to each other, and both loved each other's company. Magic was staying with Giriraj, but often used to go to play with Mrugesh, at his place. Magic was the only connecting factor between the two families. Only he was always welcomed in Ganesh's family.
"Bade papa, we are going to the fun-n-fair. We are taking Magic with us…!" Giri said as the entire family left for the fair in their car. It was in the big ground in the city, far away from their home. They enjoyed to the fullest. Soon it started raining, so they left for home.
As they returned back, they came to know that Magic wasn't with them.
"I'll call up the fair authorities….! He may be there inside, probably hiding away from the rains that started suddenly…!" Giri said as he again drove off to the fair. The entire area was dark, as the rains had caused the electricity to shut down. He searched the whole place, calling out his name every time, but he couldn't locate him. After requesting the authorities, he looked in all the CCTV footages. Unfortunately, he was nowhere. After the fair authorities convinced him that they'll find him, Giri went back home in despair. He promised his weeping kids that he'll find Magic & bring him back to them.
Magic was seating under the table to avoid the rains. He had just gone to return a rubber ball which had landed next to him. With the ball in his mouth, he ran a little & returned it to its owner. Coming back, he couldn't locate his family. He searched all the area around, looking & sniffing each passing person, but not one of them were his people. Suddenly, it started raining & to avoid it, he sat under a counter table, thinking his next move. As the rains stopped, he came out. But the entire area was in darkness, as the rains caused all the electrical appliances to shut down. He couldn't go back alone, as he never knew the way back home. Somehow finding his way in the dark, he reached the fencing on the boundary. Jumping over it, he entered the garden next to the ground & sat below a bench.
Magic woke up with noise all around. He then remembered that he had lost himself and was in a garden. He slowly walked out and looked around .It was morning time & the entire park was filled with people walking & jogging. He stood there, glancing around & searching for his family. Suddenly, he then remembered that he is hungry. He hadn't had anything since yesterday night. Sniffing his nose in the air, he tried smelling food around. Unsuccessful in it, he slowly started walking on the jogging track. Some passers-by stopped & patted on his head, which he gladly accepted by wagging his tail.
Prof. Badrinath Sharma, popularly known as Badri uncle, was seated in the park. After losing his wife, he felt totally disheartened. She was his only support in the older age, and now after her death, he had no one to take care of him. Previously, he was a professor & a motivational speaker, quite active in his profession. But nowadays, he had quit everything. Quite sorrowful in his life, he always used to come every morning to sit in the park. Staying in between happy & joyful people in the garden, he used to forget his sorrows.
Today, as he sat down on a bench in the park, he opened his tiffin & started having his breakfast which he got from his home. As he was munching, he saw a cute dog staring back at him. A border Collin's breed, he slowly came & sat down in front of Badri uncle, continuously staring at him. Realizing the dog is hungry; uncle offered him some morsels of food, which he ate willingly. After serving water to him, uncle patted on his head, & left the park.
Finally I got something to eat, Magic thought to himself. He still wandered around in the park. Some people in the park offered some little food to him, which he ate & at nightfall, when the park was closed, he again sat down below the bench.
The next day, Badri uncle again saw the dog & as usual offered him some food. This kept happening for 2-3 days. Reading his name from the batch attached to his collar, Uncle realised that the dog is lost. To avoid him getting diverted again, he decided to take him home, which the pooch readily agreed, as he knew he would be getting food & water. Uncle brought him home, & slowly, started getting attached to him. Preparing food for him, talking to him & feeding him the food became a regular habit for Badri uncle. He took him for walks around his home quite frequently. In a few days, his life totally changed. He again started feeling joyful & then decided to pursue his profession as a teacher & motivating all the students.
"I hope he gets well soon….." Giri was talking to Bade papa regarding his nephew, Mrugesh. The kid was not keeping well since the last 2-3 days, owing to the absence of Magic. Since both of them were connected to each other, Mrugesh fell ill in Magic's absence. Even Giri's kids, Ishaan & Komal, were equally unwell, as even they had a lot of emotional attachment to Magic.
"Let's try & find where our dog is….." Finally breaking the barriers, Ganesh came to Giri's house and folded his hands in front of him, "My son is continuously searching for Magic. He has not eaten properly since the last 2-3 days. I can't see my son falling ill this way. Even your kids are not well. Let's just find him, wherever he is…!"
Both the families together searched the Fun-n-fair ground & the garden next to it, but Magic was nowhere to be found.
Badri Uncle one day decided to take him to another park, rather than the one next to the Fun-n-Fair ground. This new ground had a separate Dog park in it, and many competitions were organised inside for all the dogs. Badri uncle started taking him there, & Magic thoroughly enjoyed all the games. Considering his breed as the most intelligent one, he grasped all the teachings quite fast in comparison to the other dogs. Everyone in the park loved to watch him play, as he was quite friendly to all of them.
One day, as he was sitting and enjoying seeing the dog play, a young girl came and sat next to him. "Hi, Prof. Badrinath, I am Sandhya. Just some months back I had attended your lecture on positive thinking…" She introduced herself to him.
"Maybe ….I don't remember.." Badri uncle gave a puzzled look & answered back. "No problem…but I do hope you had liked my lecture…!"
"Of course sir…! I do liked it a lot…!" Sandhya replied back cheerfully. Looking at Magic, she said, "You do have a good & smart dog…!"
Badri uncle just smiled back, knowing the reality that the dog was just temporarily with him. Maybe soon his real owners may come and take him back. Ignoring that thought,he enjoyed seeing him play in the garden.
Soon enough, this became a daily chore for Badri uncle, Magic & Sandhya. Every day, Uncle would get Magic in the park & Sandhya used to join them. Slowly, all three of them became good friends of each other. Both uncle and Sandhya used to talk on many issues. Sandhya was a confused girl, not knowing what she wants from her life. She had tried many things in her life, but never knew exactly what her calling was, what was her passion. Badri uncle often guided her in many aspects, but still she never was able to convince herself about her passion, she never was able to find her bliss.
Badri uncle mentored her many times. He also gave her certain activities to perform, considering her likes, but all of it was in vain. Sandhya was a Marketing Professional in a high profile company, but she was never satisfied with her job. She always wanted to work on her passion, which still she hadn't discovered.
One day, as they were chatting, Sandhya asked from where Uncle purchased the dog.
"I just got him from the park. I think he is lost from his real owners…!"
"Don't you think they'll come back searching for him & take him away…?" Sandhya questioned back.
"I do know that….but currently I don't know how to find his real owners…! I'll be glad to return him to his real family….but I just donno how to find them…"
Sandhya thought for some moments & came up with an idea, "Why don't we use social network? Let's put his pic on all the social networking sites and let's put up our contact details with them…! Someone will surely see it and then will come back searching for him..! At least let's try out this….." picking up her phone, she said, "I have a friend who is quite active on creating web search programs and stuff like that. I'll tell him to create one for us…and put up his photo…!"
Badri uncle liked that idea. He immediately agreed to it.
Meanwhile, the kids in Chauhan family were still unwell. All three of them, Komal, Ishan & Mrugesh, were still unwell. This caused the enmity between the two families to vanish as both of them had been worried about their kids. Giri & Ganesh, both the brothers use to search every day for Magic ,but couldn't find him.
The Chauhan's family were still upset regarding their lost dog. Someone had informed them about one Old man taking a dog similar to the photo that they had shown, but none of the people were able to give them a nice clear location of their pet.
"Let's search all the social networking sites. We'll create a webpage for our dog. Either he'll see our webpage and come to us, or at least we will see their webpage & try to contact them…" Ganesh suggested this to Giri.
"Let's do it for our kids…!" Giri said feeling convinced.
TO BE CONTINUED…….