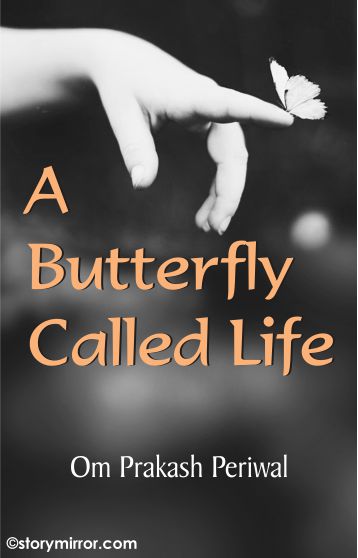 Om Prakash Periwal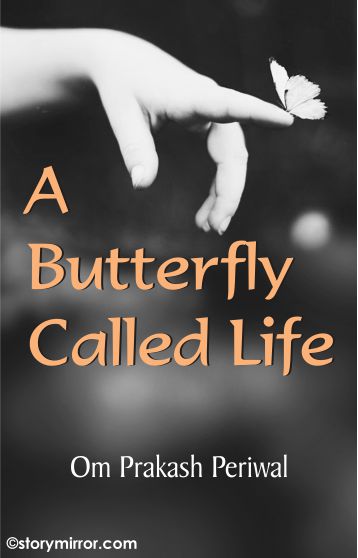 Om Prakash Periwal
A Butterfly Called Life
A Butterfly Called Life


---
---
It was over dinner that Shantanu mentioned to Aditi that he would leave a day earlier for his upcoming offsite to Lonavala. Aditi immediately noticed the uncharacteristic tentativeness in the way he spoke. When she asked why, his response was a mixture of anger and apology- "need to attend to some office work at Pune and check on the preparations for the offsite".
Aditi could sense that something was not right. Shantanu was behaving differently.  He had brought her a gift from his recent trip, something he had not done in the last four years. What raised Aditi's eyebrows was that for two months in a row, he had paid his own credit card bill. The credit card bill had been a bone of contention between them- Shantanu insisted that she pay it as he tended to forget doing so. Also, there had been more late evening/night meetings. Being the imaginative sorts, Aditi was left wondering- is he working really hard or is he having an affair. She was hopeful of being wrong, but could not rule out the possibility.
She initially felt like ignoring these signals. But over the next week, unsurprisingly, curiosity got the better of her. She called up Meera, one of the few female colleagues of Shantanu- someone with whom she bonded reasonably. 
Aditi: " Hey Meera, how are things?"
Meera: "Hey Aditi. Been a while- how are you?"
Aditi: "Thought will just say a hello. What's new in life?"
Meera: "Nothing much- same routine office stuff. Shantanu would have told you about the offsite"
Aditi: "Yes. How are you guys going?"
Meera: "We are all going by bus- should be fun- pity that Shantanu cannot make it. He said he has some personal work to attend."
Aditi closed the call with some more casual conversation. However, the line about "personal work" kept echoing within her. Shantanu was clearly hiding something. To her- he said office work, to his official colleagues, he had said personal work. What would be the one thing which he was hiding from all – possibly an affair!
She was determined to get to the bottom of this- but how? She knew a direct confrontation would not help. If she told Shantanu, he would up the guard. Also, any external fact finding would only create gossip. She was wondering what next- when a whatsapp message on her school group distracted her, and also provided her the key! Shantanu's mobile- best way to know more. However, he kept his mobile like Aditi kept her diamond ring – would not be easy to get.
She had an idea. Aditi maintained all the papers of the family including all bills. She had Shantanu's mobile bill for the last month. She surveyed the same. There were few common call numbers, but one mobile number stood out with long duration calls almost daily, sometimes multiple times during the day. To be doubly sure, she checked the bills for the last few months and found the pattern. She saved the number with her. Now somehow she had to get to Shantanu's phone and figure out more.
Since the last four years, Shantanu and Aditi used separate rooms for sleeping- Shantanu alone, and Aditi with her daughter Deepti. Sneaking while he was asleep was a possibility but Aditi knew that this could arouse suspicion. One window she had was when Shantanu was taking a bath. He typically put his phone on charge then. Next day, when he was in the bathroom, she immediately punched the number! The name was saved as "Sweetheart".
Aditi's heart sank. Her hopes suddenly crashed. She knew that Shantanu was having an affair. She was curious to know more about this "sweetheart" but she could not take a chance immediately lest Shantanu come out and see her fiddling with his phone. This was on Thursday, the day Shantanu was leaving for the offsite.
That day, Aditi was in a state of shock. She avoided any contact with Shantanu immediately. Once he had left, she wept uncontrollably for some time. Deepti, her five year old daughter, could not understand what was going on. When she asked her mother, Aditi told her she was not keeping well. When Deepti went to play with her friends, Aditi locked herself up in a room and cried her heart out. Aditi was a strong and bold girl, but this was a bolt from the blue and she needed to drown her anger in these tears. She was experiencing different emotions- from anger towards Shantanu "Why did he have to do this to me" to self pity "Why did this have to happen to me" to a concern about the future "What next?". She could not reconcile to the fact that what had started as a fairytale romance had ended like this.
Aditi and Shantanu had known each other for almost 19 years. They had become neighbors when Aditi's family moved to Kolkata after her class tenth board examination. Aditi was then sixteen, and was eye candy for the neighborhood. She was someone whom most normal males would turn back to check out. She was taller than average and had the curves. Shantanu was then nineteen, was just short of six feet and had an athletic physique.
As things were destined to be, both the neighboring families got along very well. Over the course of two odd months, it became customary for the families to have one meal on the weekend together- generally by turns. Initially Aditi and Shantanu were hesitant, and the conversations were social greetings- "how are you" types. Gradually the conversations became more meaningful, and discussions went into hobbies and interests, etc.
Aditi was new to Kolkata and needed help when the time for running around the admissions to college etc came up. Shantanu was the boy with a bike and a good knowledge of institutions and roads. He was the natural choice to help her through this process. This brought them closer, and by the end of this admission process, they both had been admitted to each other's heart as well. Over the next couple of years, seeing them hang around together, both families realized that they were a couple. They seemed like a "made for each other" pair, and the fathers decided, if the relationship sticks the test of time- great. The mothers did warn them individually to not cross any limits and not to be emotionally over-dependent on the other.
Things went on a smooth course though. By the time, he was twenty three, Shantanu had completed his engineering from Jadavpur university. In the interim, Aditi was already in the second year of her bachelors in mass communication degree. They had been best buddies for a long while, very comfortable in each other's company. Aditi was intelligent, had a mind of her own, a great sense of humor and a way with words. She loved being amidst people and would gel well with most, but did come across as headstrong once in a while. Shantanu was more the reserved types- silent, ambitious and focused. They were very different personalities, but opposites seemed to attract.
On the day he received his engineering degree, Shantanu formally proposed to her, going the extra degree to please the quintessential romantic Aditi and make it memorable for her. Aditi happily accepted, but pointed out that she would like to do her masters before she gets into a formal relationship. They both agreed to discuss it with their parents together. So the same was discussed in both the houses individually and then jointly. Given that Shantanu was to go to Gurgaon to join his first job, both families agreed to have a "roka" ceremony- a reservation for marriage of sorts. After a three year courtship period lined with long calls, romantic gifts, occasional visits and some naughty moments, both of them agreed to marry each other, immediately after Aditi had appeared for her final exams in Masters of Communication.
Aditi also moved to Gurgaon immediately post her marriage. This alliance seemed to be blessed with good luck. Soon after marriage, Shantanu was identified as a "young talent" which would basically place him on a fast track in career growth. Aditi, on her part, topped the course in Calcutta University and landed herself with a job in the editing team of one of the leading dailies. It was the ideal life- two young people, in love, earning well, in a happening city like Gurgaon. Beyond work, life had its fair share of movies, malls, restaurants, cafes, pubs and outings with friends. They could not have asked for more. There were occasional visits to Calcutta, where there would be jokes around who is visiting whose "sasurbaari".  The bond between the families had only grown stronger with it becoming a formal relationship.
Both their careers progressed, and on completing seven years into the company, Shantanu landed up into a managerial role. Aditi also rose up the ranks with her efforts being appreciated by relevant seniors. With increased responsibility came extra money and some authority, but also lesser time for each other. Shantanu started traveling domestically for work and also had to put in longer hours. On weekends, they both were tired and preferred to laze around rather than have active weekends like earlier. There was less energy and time for physical intimacy- something which both enjoyed a lot earlier.
Over a period of time, as is true of most marriages, the romance goes away and weariness starts. Differences of opinions come into play. After all, we all have our views- and here were two people with different personalities and neither would change their views on things easily. There were typical household issues, some of which did magnify once in a while. The big issue was discord around Aditi's career. Shantanu was happy that she was working, but he wanted it to be more like a "time filler which also pays a bit". He would insist that she should relax more and enjoy life- after all, he was already slogging- why did both need to work so hard!
Aditi on her part was ambitious and career oriented. She found these views of Shantanu, chauvinistic. She was clear that her career was important to her. Every time, discussion around starting a family came, this became a point of contention. Aditi wanted to do both, raise a family and pursue her career- Shantanu could not understand why?
There were differences which emerged, and as is typical, one thing led to the other. In the process, there was some love lost. Eventually, they did decide to start a family and Deepti, their daughter was born.
Initially it brought them closer, and they expected things to be back to their loving days. Shantanu was a doting father. However, given Aditi's focus on Deepti, Shantanu felt unimportant in the revised schemes. There were no hugs and kisses on leaving for work, no hot food and warm smiles on returning home.  To add to it, Aditi put on significant weight post delivery- something which Shantanu despised. In his view, from being a head turner, she became "aunty material".
Shantanu could not take disturbances in sleep and started sleeping separately. He would spend time with Deepti daily, but meaningful interactions with Aditi kept on reducing. He would spend more and more time in office. His role had expanded, and he wanted to do justice to his job. Besides, other than Deepti there was little to look up to at home.
Matters went significantly downhill when Aditi decided to rejoin her job after Deepti turned two. Shantanu was clear that he did not want this. He was earning handsomely and they had a lovely daughter. Why would Aditi leave her in a daycare and pursue a career? Aditi was clear that she did not want to be a housewife forever. There were shouting battles and visible animosity- everything short of a fist fight. Aditi was unrelenting and joined her office back. In retrospect, that just snapped the relationship in an irreparable manner.
After that, they lived in the same house, but were in different worlds. Their common talking point was Deepti, everything else was functional- on a need to discuss basis. To an outsider, things would not be apparent but to a keen observer, the difference was evident.
As these memories played back in her mind, Aditi lay sobbing and wondering where had she gone wrong. Was she the culprit or the victim? Neither of the thoughts was a pleasing one, and made her cry more. However, the fighter in her rose to the occasion. She told herself, enough of crying on this. I will get to the bottom of it and close the chapter.
She wanted to understand things fully and get as much evidence as possible. She knew Shantanu's mail password and hacked it. There were few romantic e-greetings to and from a "Kiran Sardana". Through social media she realized that her husband's "sweetheart" was a good looking marketing professional, a couple of years younger to her, who worked for a leading multi-national and whose office was in the same compound as his.
"Hmmmm"- it all adds up. She is single, earning, looks better and they probably meet up for dinners! All this investigation happened while Shantanu was still at Lonavala.
When Shantanu returned, she maintained a "business as usual" relationship. More than once she was tempted to confront him, but partially she was not clear about the way forward and partially she wanted to have more evidence. The mails were occasional and did not reveal much about their relationship. She wanted to be amply armed before confronting him.
She was on the prowl. As luck would have it, that week itself, Shantanu forgot his mobile at home. He called on their landline to tell Aditi to set up call forwarding to his office line. Aditi did that and more. She went over their sms exchange and whatsapp details, and realized that they chatted daily and had a physical relationship for a long period. She made sure that she had pictures of their interactions on her camera and forwarded some romantic pictures to her phone as well.
That was the last nail in the coffin. Aditi's composure gave way that day.
When Shantanu returned from office, he found his wife in raging form with all proofs of his misdemeanor lined up.
Aditi: "What do you think you have been up to. Did you think I will never come to know?"
Aditi was expecting him to defend himself, but he did not.
Shantanu: "Oh! So you got to know. Should not have left my mobile at home!"
Aditi: "Stop avoiding the topic and answer me! What is your relationship with Kiran?"
Shantanu: "Stop questioning me. You have no right to do the same. You stopped treating me as a husband long back. You chose career over family. What was I supposed to do?"
Aditi was not prepared for this backlash and shouted back.
Shantanu: "I will not tolerate this howling. I have sustained our relationship just because of Deepti. I have no interest in you or your life. I am prepared to walk out of the relationship now. And by the way, this is my house"
Aditi was stumped. "Where is this all leading to?"
She had not shared any information of Shantanu's infidelity with anyone even in her family. But then she realized she would need to. She could not speak about this on phone. So she decided to go to Kolkata. Shantanu chose not to accompany her.
In Kolkata, when Aditi narrated all the details to her father, he was furious. Had Shantanu been in front of him, he would have slapped him hard. He immediately went to his neighbours and shouted at them. They could not believe any of this, but when they saw the proofs, there was little they could do to defend their son. Shantanu's mother kept highlighting her son as a victim. She was very hopeful that things will turn around and all will be back to normal. Aditi knew that will never be the case.
Next day when Aditi's father had cooled a bit, he called up Shantanu. They had a man to man conversation. Shantanu was unrelenting. He was happy for a divorce and moving on with life, and wanted Aditi also to do so.
Aditi's father checked out legal options, but he was also wobbly between an aggressive approach and a conciliatory one. He wanted Shantanu to be punished, but he did not want a long drawn legal battle, which would only add to the humiliation of both the families.
Meanwhile, Aditi was finding it difficult to be in the same neighbourhood as her in-laws. All this would remind her of her better times. Also, she did not want to face any friend or known person. From a bubbly and talkative person, she had gone into a shell. For once she thought about going to Gurgaon and restarting her career there. However, her father pursued her to be in Kolkata, although in a separate house nearby.
Deepti could not understand all this, and would often ask about "Baba". Aditi had steeled herself significantly but could not help feel bad for Deepti and herself. She knew she had to keep herself gainfully occupied, and also build a proper economic support system. First of all, she got Deepti admitted to a good school nearby. She then started focusing on her career as a freelance editor. There were many times when she felt lonely, but she managed to distract herself between Deepti and work. Between these two divergent but unending focus areas, she managed to revive her seemingly dead life. She had a fair bit of support from well wishers and friends and that comforted her. The key though was the motivation to show to herself and her daughter that a woman does not need a man to complete her life!
It took two years for matters to formalize between Shantanu and Aditi. After multiple legal notices and animated discussions, which particularly stressed Aditi and her father, they decided for an amicable divorce. Aditi was to get a monthly amount in compensation which would take care of all her financial needs. In the meantime, Aditi's efforts on her career bore fruit. Her work was recognized and she had multiple job offers. She chose two part time jobs, which ensured that she was super busy, besides earning enough to support herself and Deepti well.
By the time the divorce happened, Aditi had mentally moved on in life from Shantanu. She realized he was a matter of the past. Of course, there was a connect which she would never forget. There was a part of him in Deepti, her eyes and nose looked like Shantanu's. However, the bond- the longing was no more there. The fond memories seemed a matter of too distant a past- more like a previous life.
In these two years, she had had many male approaches. She was intelligent and good looking, and looked cute in spite of the extra weight she had put on. However, she did not have the heart to entertain them. She had still not completely got over the bitter ending to her previous relationship. Besides, she was still legally Shantanu's wife. She knew he no longer thought of her as that- but she did not want to do the same error that he did.
After the divorce, she felt a renewed freedom, as if she had been released from a prison. Soon after, she came to know of Shantanu moving in with Kiran. That was the final chapter of that relationship for her. "May he be happy" she silently prayed, forgiving him in the process and also removing all the negativity that had crept in her. Letting go of all her angst was not easy, but she felt she was better off this way. As her counselor told her, "Unless you close this chapter, you will not be able to open a new one." 
She continued focusing on her job and soon, with the money she was earning and with some support from her father, bought a house of her own. This was a big deal for her. She was elated when all her friends turned up and celebrated her success at the house warming party. They were all the more appreciative because she was doing a triple role of sorts- she was both the mother and the father to her child and a career woman- that too with practically two jobs. Everyone understood how hard it was for her.
She knew it too. But the end result was worth it.

Freedom from a relationship which had not worked out, financial freedom, the unencumbered joy of having a kid who had matured faster than her years and who totally appreciated what her mother was doing for her. The career highs were a bonus. Life was becoming better and she was focusing on the joys that life was offering her. She was back amidst her friends, whom she had avoided in the interim. She was making new friends, including some interesting male friends.
She was more open to newer relationships, being fully cognizant that she did not want to rush into anything, and definitely not get committed anytime soon. "No harm in exploring and making the most of this time" – she repeated to herself what a friend had told her.
There were some frivolous approaches- people looking for free sex and fun. "Ha ha! Not wrong on their part to try and explore", she grinned to herself. She politely but firmly declined such approaches. She would not mind the occasional dinner dates, and having a good time at the expense of such people. It was fun, watching their actions and show of romantic display, knowing fully well that all they were looking for was some physical action. Given her strong sense of humor, Aditi was able to see the whole thing as a comic act. However, nothing moved beyond all this.One fine day, when she had taken a day off, she received a facebook invite from Thomas, a friend's friend. Both of them were into "punning" and knew of each other. Given she had some time off, she added him on facebook. Soon they were chatting, and things clicked like fire.
Thomas stayed in Mumbai and his work involved significant international travel. He was not great in looks as his pictures revealed, but he was a simple, humble person who seemed caring and sweet at heart. One week into this, and they were chatting and talking daily. One month later, they felt they had known each other for years.
At times it felt weird to them- how could they get along so well, but they just did! And they both lovedit.
Thomas had also been through the pain of a dysfunctional relationship and probably that helped him understand Aditi's situation much better than most people would. Unlike others who were focused on physical joy, he was keen on befriending her, understanding her and bonding with her.
They would chat about all things in life and gradually started sharing every emotion worth sharing with each other.
Having gone through their share of turmoil, both were in the state of giving and experiencing love and renewing their lives, and things just seemed to be moving towards the same. When they met for the first time, there was initial hesitation, but when they started talking, the comfort was evident, and the same feeling of having known each other for ages came about.
"Maybe life is about happy endings after all" said Aditi, as she wished Thomas on completing their first anniversary of knowing each other.