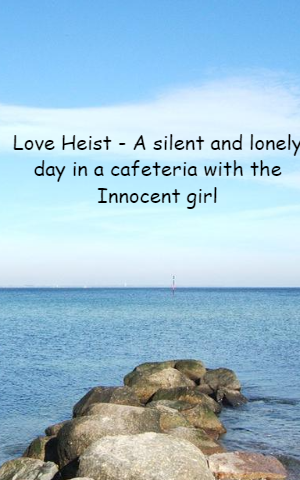 Sai kumar Palla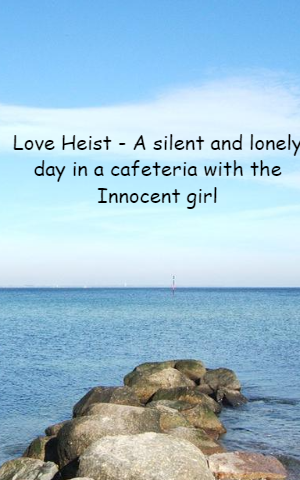 Sai kumar Palla
Love Heist - A Silent And Lonely Day In A Cafeteria With The Innocent Girl
Love Heist - A Silent And Lonely Day In A Cafeteria With The Innocent Girl


---
---
Below is the continuation to Episode2:
https://storymirror.com/read/english/story/a-sparkling-night-at-amphitheater/hdxadxae
Episode 3: A silent and lonely day in a cafeteria with the Innocent girl.
After a beautiful evening around the pool, both were seen little tensed while leaving to their rooms. Calls under the blanket started and unavoidable turbulence started for their hearts.
"Dark little eyes that created an impression in Sri. Eyes stored a place in the corner of his heart."
The night passed tough for both and as it was a weekend both were not in a rush for their breakfast. That was a sunny day in the beautiful city of Odisha and development Centre is witnessing the empty crowd. Trainees started their weekend trips with their friends and even food courts were experiencing empty crowds.
Sriya generally wakes up early every day generally from her childhood and she called Sri at 10 am for having breakfast. Both met together in FC, "A click before: Both got a beautiful smile by looking at each other. That was not a fake smile and it showed that will repeat for sure." After finding a suitable place for chit chat, they both went to the counter and saw the menu which is not at all interesting for them as both were from typical south.
Sriya is fond of Tea/coffee and she started sharing her favourites from that moment. Sri silently walked towards the counter and got her a tea. Sriya started her chatterbox talks by explaining her journey to the training and her goals. Sriya spoke greatly about her sisters and her family. Especially she showed a lot of great respect towards her mother who struggled very hard to raise them. Genuine tears started rolling from her eyes which decreased the distance between both on sharing personal front. She started laughing suddenly as she talked of her naughty little sister Ariyana and sharing her memories of home. She shared a lot of stories of them in that physical chat.
Slowly completed sipping the tea and sharing her memories with Sri, she started telling her daily routines and friends. In that talk, she told Sri that she does not have more friends and indirectly indicating Sri that she needs some good friendship. After an hour of personal talk, she asked Sri about their family. Sri shared her family details and that moment they both felt similarity in their family values and virtues. Crossed 12pm, both were seen busy cracking jokes and talking about their trainee classes.
After a while, Sri got a call from home and he started to leave from the FC. Sudden change in the expression of Sriya was visible to him and Sri was not able to leave her because of innocent expression that was seen on her face. He explained the situation to her and after a while, he dropped her nearby her room.
"This episode/meet between Sri and Sriya was so important situation that was remembered forever since they both knew each other about their personalities as well and their family values."
A friendship seed was planted between both and request readers to wait and watch how both of them keep looking after.
Up next...
Episode 4: Love Heist – A sunny day for shopping in Kolkata Bazaar