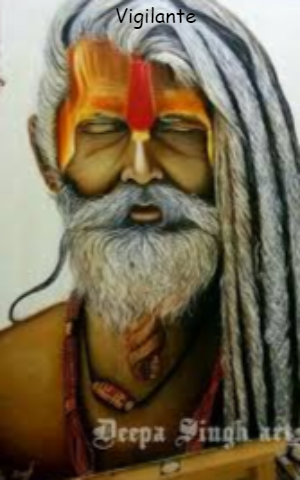 Raju Ganapathy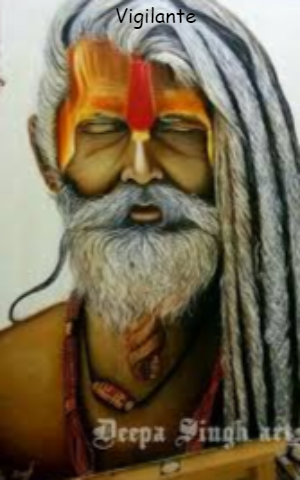 Raju Ganapathy
Vigilante
Vigilante

6 mins

34

6 mins

34
---
---
Vellore, August, 1990
Some scary story always happens a stormy night accompanied by lightning, thunder and some rain. I was tossing up this and that way on a sleepless night, with thoughts of my grandfather, whom I had never met. My Dad had told me that he had served as a priest in a temple but had died early in his late twenties. All of a sudden, I had got up and felt the ghost of his presence. I switched on the light and drank some water and realizing that no one was there went back to sleep. The morning I got up, I felt something had changed somehow.
I was leading a normal life as a bachelor working in a bank as an accountant. Since that night my sleep got disturbed, I became prone to spooky dreams of visuals from Hindu mythology. I wasn't what you call religious or god fearing. My work suffered as a result and was pulled up for shabby work by my manager a few times. It was then I decided to see a doctor at CMC, Vellore. Initial treatment did not help and soon I was asked to see a psychiatrist. After a series of test and diagnosis he declared my condition to be one of schizophrenia and prescribed some drugs. The drug treatment did not help me either and the nightmares continued and I felt haunted.
October, 1990
On a cloudy Sunday morning I went on a random trip on a motor bike. I reached the foothill of a small hillock and decided to climb till the top. I could see some signs of a dilapidated temple that was small. I decide to rest in the shade offered by a small tree and soon dozed off. I got up feeling very relaxed like never before since the eventful night. For the next few days I kept coming up to this spot and felt the same kind of relaxation. My mind was made up by then and this would become my new home. I quit the bank and encashed my accumulated leave and was relieved by the end of the month, by which time I had completed formalities to withdraw my provident fund and gratuity and together with my savings I had enough to lead a simple life. Soon a makeshift home was ready by a cave with a source of spring water hole.
I may sound a bit paranormal to tell you that my grandfather started living his life through my body. Soon I had read books on religion, learnt a mouthful of slokas which I could grasp very easily. I cleared the temple premises and gave it an antique but presentable look. There was an occasional visitor or two at the beginning. Soon a trickle had started. There were offerings, cash, cooked food and fruits from the devotees. Word was spreading around about the temple and the Baba and myths and miracles were added from one person to another. I was also joined by a deaf and dumb destitute man at the hill top and started living at the temple premises and worked like my valet.
October 1991
A year later my nightmares returned and started feeling my grandfather's ghost. This time, the visuals contained horror scene related to retribution, vendetta and death, good overcoming evil, that sort of thing. I saw sorrowful men and women, abusive men and women. I was left to wonder what my grandfather had to do with all these nightmares.
The answer came soon enough.
One bleak day at the twilight hour a man had climbed up and came up to meet me. He had the look of evil personified and a rage had built up in me by the looks of him for reasons unknown to me. As he narrated his abusive story of murder and rape, I recalled one of the nightmares I had seen in the recent past. The victim was a teenage girl. He had sought me out for atonement, as he was in a position of power, did not want to go to police and confess his crime. I felt like slashing his throat right away but an idea formed instantly. I asked him to wait as I said I wanted to consult a holy book. I told him what could be done and an evening was set for the following Friday for his atonement. I had asked him to hand over some cash for the preparation.
The next few nights until the Friday were sleepless for me. I repeatedly saw the man raping and murdering the girl as if I was there as a witness. I was beginning to get an inkling of an answer to these nightmares.
Friday the 13th, October, 1991
At the appointed hour the man walked up the hill. As he was told he had shaved his head, wearing only a dhoti with a cloth to cover his chest. He had walked from the town. He had told no one about this appointment and ensured he had covered his track well. He wore no jewellery nor carried his mobile but some cash tucked in his dhoti to meet his expenses.
I signalled to my valet who started the fire in a makeshift pit surrounded by all the ingredients required for a homa (holy fire). It all looked very authentic and the man relaxed. Soon my valet left for his next job and I started chanting and kept offering a spoonful of holy water laced with a deadly poison. Soon the fire, the smoke, the chanting and the poison started acting on the man and he fell down dead in a few minutes.
In the meantime, my valet who had gone to start the pyre in a deep pit in the valley surrounded by the hill on all sides returned back. We carried the body to the pyre and set it on fire. Instantly I felt a great sense of peace and I understood what the night mares meant to convey. I had become a vigilante and knew that this was only the beginning.
We came back to the temple and cleared the makeshift pit and got rid of the poisoned water. The next day morning we inspected the pyre to our satisfaction to ensure ourselves that the body had been burnt completely, removed the remnants of any bones and covered the pit to our satisfaction.
As if the decision that grandfather made using me was right, there was a huge downpour soon after. The rain had washed away all traces of what had happened. I took it as a good omen for things to come.
Ps: At the behest of the Baba, a crematorium has been constructed by the municipality of Vellore in early 1992.