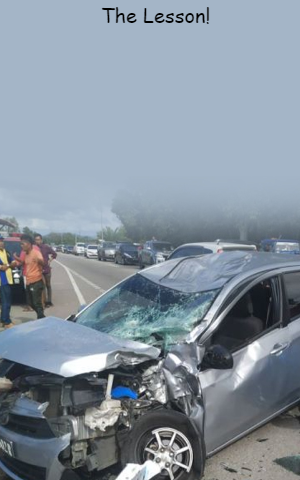 Biranchi Acharya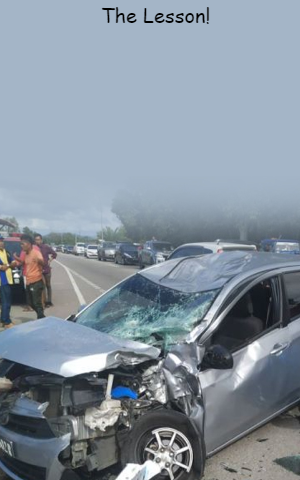 Biranchi Acharya
The Lesson!
The Lesson!


---
---
'He is not lifting the phone', Raj said in an exasperated tone.
I stared sternly at Raj.
'Don't give me that look' Raj said raising his hands, 'This is not my problem.'
I stared him in that stern look although I was hell angry at Shyam. I and Raj were at the Chief Engineer office, Bhubaneswar for about an hour waiting for Shyam. We were summoned by the Chief Engineer in connection with our profession where Shyam has the main role. We came from Cuttack whereas Shyam had to join us in the office from his Bhubaneswar quarter which was hardly two KMs from the office.
When we started from Cuttack, we tried Shyam's cell number but it was switched off. Shyam is a late riser and hence I was a bit suspicious whether he would reach in time. But Shyam also knew the importance of the meeting being the lead partner of our consortium for this specific project.
Throughout our journey, Raj tried his number after every 10-minute interval. When we were entering into Bhubaneswar his phone rang, but he didn't lift the phone. In last one-hour Raj perhaps tried his number for around twenty times, but no answer. The Chief Engineer was in the office and the time slot for our meeting was already passed by half an hour.
'We are sure to be get banged by The Chief Engineer'. I murmured cursing Shyam very vulgarly. 'Call him once more' I said a bit loudly.
Raj looked at me helplessly as he could realise my frustration. He connected to Raj's mobile again.
'Hello, Shyam! Where are you, man?' Raj said hurriedly because Shyam lifted the phone. But then he looked me strangely and said, 'he said that he is driving!'
'What the hell is he driving?' I nearly blasted, 'had he came on a cycle, he would have reached here months ago?'
Raj didn't tell anything. I insisted him to connect again. But Raj raised his hand refusing to connect further.
I dialled his number from my mobile. No answer. This angered me and I continued dialling him. I decided to continue dialling his number until I got a response from him. In fifth attempt he finally lifted the phone and responded irritatingly, 'I am driving man!'
I was about to say a nasty word but then Chief Engineer came out of his cabin. I stood up lowering the mobile.
'Mr. Shyam messaged me that he will be late due to some compulsion', CE said looking to us, 'I have some important work at the secretariat, so you come tomorrow again.'
He left for the secretariat and I shade a long breath out of seer foiling. 'He should have also messaged us' I thought angrily. I looked at my mobile, the connection was cut by then. I didn't say anything and signalled Raj to walk out.
I was really shivering with anger due to the recklessness of Shyam. Although CE said very softly I can realise his anger inside him.
As we have no more work in Bhubaneswar, we started returning back to Cuttack. I was fuming but Raj appeared to be calm as if nothing happened. How can he be so calm after wastage of so much of time with worst kind of frustrations?
Suddenly my phone rang. I saw Shyam is calling. I decided not to lift the phone. There is no point in talking as the meeting was cancelled for the day. After some moment the phone again rang. It was Shyam once more. I didn't respond and wanted him to feel the same frustration we were experiencing earlier. He must have reached the office. CE is not present nether he could find us. That's why he must be trying us.
'Let him realise how it's feeling when one didn't lift the phone?' I said to myself.
After sometime Raj's mobile rang.
'Don't!' I said threateningly to Raj as I was sure it must be Shyam who might be calling him as I didn't respond.
Raj looked me strangely but received the call, 'Yes Shyam!.. yes,..ah.. what, where? okay..okay..okay?'
I was really shocked to see the fast-changing expression of Raj.
'Shyam has an accident, sent to the capital hospital.' Raj said slowly but sadly.
We rushed back to the hospital.
Shaym had an urgency in the morning for which he had to go to Khurdha. There his mobile had no signal. When he got delayed, he messaged CE that he would be late for around 15 minutes. He returned driving vehicle running a bit faster to reach the office. That's why he was not lifting the phone. After repeated calls, he lifted once and said to Raj that he was driving. Then he saw my repeated calls. He was aware that I am a bit impatient. Hence, he wanted to say me that he was really driving. But then due to his attending telephone, he couldn't see a truck applied brake in front of him because of a cow coming into the road. He applied the brakes but couldn't control and his car have dashed behind the truck.
He got serious injuries in his legs as there were multiple fractures. He was immediately sent to the hospital. Some gentleman got his phone inside the car and dialled the last call came to him which was mine. I didn't respond to the call. Then he dialled Raj's number which was last but one call to the mobile. Luckily Raj lifted the phone and we came to know about the accident.
While in hospital Raj said in a desperate tone, 'He shouldn't have lifted any phone call for whatever reason when he was driving. Heavens wouldn't have fallen upon him.'
I touched his shoulder and said, 'I am the real culprit. When I know he is driving, I shouldn't have called him again and again. In fact, if someone is not lifting the phone or disconnects immediately, we must realise that he is in some work where lifting the call must be harmful. Many a time our dear ones had to lift the phone despite the danger because they know us well and feel the frustration in us.
To pacify my frustration Shyam lifted the phone and you see what happened. I am the culprit here. I will beg apology from Shyam when he will be in a position to listen, but I swear from this point of time that I will never ever call someone if he is not lifting the phone particularly when there is a chance that he might be driving. Sometimes our irresponsibility cause havoc on our near and dear when they are on roads driving the vehicle.'
I stopped. Raj touched my shoulder and said. 'Yes, this is a lesson for us, but then let's wish best for our friend!'
I raised my face upward with a tearful eye. Prayed to God to pardon me in saving my friend's life.