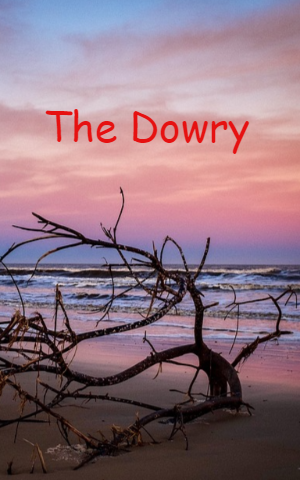 Anushila Chakrabarti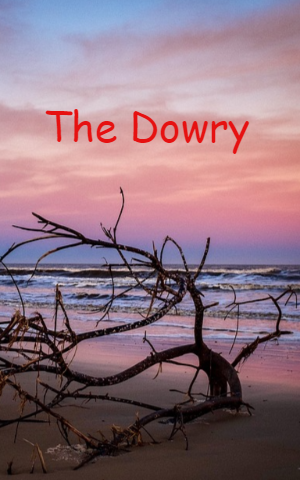 Anushila Chakrabarti
The Dowry
The Dowry


---
---
"We will have bhelpuri and panipuri stalls at our reception," declared Kamala.
Anup looked at her eager and happy face and said, "Of course we will. An ice Gola counter too. One of my friends runs a shop. He would set up a counter free of cost."
"Really?" said Kamala nearly choking on her mouthful of bhelpuri, "One of my friends had an ice gola counter at her wedding. I ate five."
"Masala chai!" called out a chaiwallah (tea seller) stopping by where they sat on the Juhu Beach.
"Yes, two please," said Anup, taking out his wallet to pay him.
"How're you sister? Didn't see you two for a long time," said the chaiwallah.
"I am good Bhuvan Bhai. How are you? Yes we didn't come here for the last three weeks," said Kamala.
They were regulars at the Juhu Beach. It was February now, neither hot nor cold in Mumbai and the beach was crowded. The vast expanse of the Arabian Sea offered enough cool breeze for everyone. From Marriot and elite clubs to chai, bhelpuri, pav bhaji, stalls, there was something here for rich, middle-class, or poor.
Anup and Kamala have loved each other ever since the day they found out about love between a man and a woman. Maybe even before that. Both were born in Dharavi, in Mumbai, Kamala two years younger than Anup. Ten years ago, Kamala's family left Dharavi and moved to a chawl (a large building divided into rented rooms for different families) near Kamathipura.
Anup lived with his parents and three sisters in a kholi (small room). They shared a toilet and a tap with 50 other families at Rs 100 a month. He had revived his father's faltering plastic recycling unit, which was just a stone's throw away from their kholi. They now had nine-odd daily wagers from Bihar and Bengal.
He had two dreams – marry Kamala and grow old with her.
A year ago, he had gone to meet Mr. Naskar, Kamala's stepfather, a fish trader from Bangladesh. Her mother, Renu, worked as a daily help and cook in six houses. Her elder brother Tarun was a mechanic in an electronics shop. Mr. Naskar was jobless. He spent his days smoking bidis (a type of local cigar) and gossiping with other men and drank country liquor in the evenings.
Anup had simply told Mr. Naskar, "Kaka, I want to marry Kamala. Request your blessings and permission for that."
Kamala peeped from behind the partition in front of the "kitchen". Renu stood behind Mr. Naskar, looking fondly at Anup. The younger kids (two girls and a boy) stood whispering and giggling in a corner. Mr. Naskar sat on the bed, Tarun, and Anup on two stools before him. In the middle was a wobbly center table with a plate of sweets and three cups of tea.
"Have tea," said Mr. Naskar, "And try the sweets, your Kaki made them."
Anup bit into a sweet, looked at Renu with a big smile, and said, "It's delicious Kaki, I remember you made them for us during the summer holidays."
Tarun, Anup, and Kamala started talking about their childhood in Dharavi. After a while, Mr. Naskar cleared his throat glancing at his watch.
"I am happy to give you my blessings," he said smiling at Anup, "However, you need to pay a dowry for her."
After a brief silence, Anup spoke.
"Does everyone pay a dowry for marrying girls in your family?" he asked politely.
"No," said Mr. Naskar, "But, Kamala is the most eligible girl in this chawl. She would soon start earning and support us, which she might stop after marrying you. That's why I need the dowry, to earn monthly interest from it. I have no other conditions."
"How much Kaka?" asked Anup.
"3 lakhs."
Anup looked at Kamala, who was shaking her head furiously, at Renu who was trying to hold back her tears, and at Tarun, who was looking ashamed.
Finally, he said, "Ok Kaka. However, I would need 2 years to arrange for it. Hope that's okay?"
"That's perfectly fine. She'll wait for you," said Mr. Naskar smiling at him.
That was back in 2019. After that, Anup hardly had time to meet Kamala except once or twice a week. He started an additional idli-making unit with one of his childhood friends, Ravi. After the initial glitches, they were making small profits in the last three months. Anup was saving every penny for the dowry.
Kamala too started working in a tailoring shop and tried saving money for her marriage.
They had met after three weeks today. After watching a movie, they were now at the Juhu Beach talking about their wedding menu and future home.
"We will have white curtains in our house, won't we?"
"Yes. The walls will be white too," said Anup.
"And a separate toilet with basin and tap."
"Yes," said Anup, "With blue tiles."
While returning, in an auto-rickshaw, they heard about a strange new virus on an FM Channel.
"What's this virus? Is it fatal?" asked Kamala.
"Yes sister," chimed in the auto driver, "Haven't you heard about the Coronavirus?"
Anup and Kamala found it funny and nearly laughed.
One month later
"What's this one-day lockdown for? How's it going to help?" asked Kamala.
"I don't think it will be for one day," said Anup, "They'll extend it."
"For how long?"
"Don't know, maybe as long as the virus is around."
"Anup."
"Yes, darling."
"Let's get married, now."
"What?"
Kamala had tears in her eyes. Anup put his arms around her shoulder.
"Why are you crying?" he asked, confused.
"I don't want to die before marrying you."
"Why should you die?!"
"The virus...."
Anup laughed and tickled her.
She slapped him on shoulders saying, "Why? You think the virus can't touch us?"
"Of course not!" said Anup, "We have superhuman immune systems. We grew up in Dharavi drinking the water of Mithi River. The virus would be scared of us."
"What rubbish! We never drank the river water," protested Kamala.
Anup quickly glanced around and then kissed her, full on the mouth. She resisted initially before responding. The moment stood still, until the time they heard whistles and catcalls from a group of teenagers sitting nearby. They hastily broke apart.
"Don't worry darling, we will live and get married," Anup told Kamala while dropping her off at home.
"I will die if we don't get married," said Kamala.
The next day onwards, the 21-day lockdowns began across India. Maharashtra was one of the worst-hit states and Mumbai was the epicenter of that outbreak.
The City of Dreams, which never slept, came to a standstill. The streets were empty, the air quiet. The factories were shut and offices closed. People were at home with a constant fear of contracting the virus.
The rich and middle-class washed their hands, sanitized their homes, and discussed social distancing norms. Without any "daily helps", most people learned how to use brooms, mop floors, wash utensils and cook for the first time. Quite a few took to gardening. Millions of self-tutored chefs blossomed during the lockdown courtesy absence of cooks, isolation at home, and of course YouTube. Moreover, there were the corporate professionals – all working from home, trying to manage work, life, and sudden snaps in internet connectivity. The underlying mood was fear and uncertainty.
People who lived right above, on, or below the poverty line had different types of worries, such as:
"Will I get my wages for this month?"
"How many more days can I sustain on 200 rupees?"
"When will my factory reopen? Will they rehire me?"
"When will I get my next meal?"
Here everyone was hungry and scared.
Dharavi, however, threw up an altogether different human panorama.
For those of you who might be hearing the name Dharavi for the first time, it is one of Asia's biggest slums. I am not going to share the data about how millions of people live crammed together on 2.1 square kilometers of land in Dharavi, its population density, location, etc. You can Google it up.
Located in the heart of Mumbai, Dharavi is a melting pot of different communities, professions, and religions. There are thousands of micro-industries dominated by recycling, welding, pottery, and textiles. If you walk through Dharavi, you can see people busily going about their daily tasks – the shopkeepers talking animatedly to their customers. The children walking in groups and singing Bollywood songs on their way to schools or playing cricket on the thinnest strip of pitch possible. The narrow alleys—on which two people cannot walk side by side—leading to the residential colonies. Open drains run on both sides of these alleys and they overflow during the infamous Mumbai monsoons. You can see women crouching around sandpits of plastic shards near the recycling units, talking animatedly while sorting them. While passing through the Kumbharwada, you would see elderly potters spinning uniform terracotta pots at lightning speed.
If you come across a long queue of people from behind, you are near a public toilet. There is one toilet for every 1400-1500 people in Dharavi. You can smell the strong stench of leather units and public toilets on one hand and the appetizing smell of roadside food joints on the other hand.
However, despite all these shortcomings, you will find people living life quite happily in Dharavi. They work and manage three square meals a day. Some even have air conditioners inside their kholis. It is like a huge joint family where you will always find help and support, in spite of innumerable conflicts, differences, and fights.
You can hear people fighting as you walk through. You also hear Hindi movie songs, screeching sounds of shredding machines, grinding sound of belts and buckles in the manufacturing sweatshops, and sound of bells from temple and church. The call of namaz rings out from the mosque and cars honk their horns at the traffic-choked chowks.
However, during the lockdown, Dharavi went quiet.
People sat idle, wondering when they can go back to work. Some stayed busy arranging community meals for the daily wagers who were jobless now. They heard a lot about the virus and wondered how to maintain social distancing while using public toilets and living in 10X10 ft kholis. With most of the factories, shops, and recycling units shut for four months, people were scared too – of hunger and the virus.
After a sudden surge in cases, the Police sealed off Dharavi. However, the health workers worked hard to control the spread and bring down the number of cases.
After four months
"No, not the virus, it's these lockdowns that would kill us," thought Anup bitterly after paying his mobile recharge, "We'll starve to death if we can't start working soon."
The combined savings of their family had dwindled over the last four months, including the money he had saved for paying the dowry, sustaining the family and paying minimal wages to the three remaining employees. His mother, Janhavi worked as a cook in six houses. She did not get her salary, as she could not step outside Dharavi.
Anup and Kamala stayed connected through their smartphones. However, they missed meeting each other.
The Unlock Phases began next week.
Kamala rushed down to Anup's house the day Police unsealed Dharavi. She took homemade vada pav for the entire family. She and Anup stood outside the kholi while the rest of the family enjoyed the ubiquitous Mumbai snack. It was evening and the lights were dim. Anup was caressing the curves of her body, longing to kiss her at least once. They usually went to movie halls or parks to make love. It was quite impossible to have a private space in Mumbai, especially Dharavi. In fact, they had grown up watching their parents make out at night in the cramped kholis.
"Kamu I want to show you something over there," said Anup.
However, his younger sister Ragini, also Kamala's friend, quickly got up and joined them.
"I will come with you too," she said, holding Kamala's hand.
Anup, who had nothing to show, wondered what he would show them now.
"Yes, show us," said Ragini, with a mischievous smile. She knew very well how much these two were pining for each other. She had thought of a plan to offer them a private space.
Next week, Ragini was getting married to Kishanlal, a migrant laborer from Bihar who worked in Anup's plastic recycling unit. After that, they would return to Patna, where Kishanlal had some farming land.
Kishanlal and two more migrant workers stayed at night in the recycling unit. Ragini had requested them to step out for a couple of hours so that Anup and Kamala could spend some time there.
Ragini's wedding preparations started the next day. It would be a simple ceremony with bare minimum essential rituals. Everyone was scared of contracting the virus, even though the number of positive cases had reduced now.
The wedding went off well. From decorations to food, nearly everything was a gift from the extended Dharavi family. Ragini glowed in a bright red lehenga choli, a gift from Kamala. The wedding helped them forget the virus and lack of jobs for a few hours.
The next day, Ragini wept bitterly on Anup's shoulder before leaving for Patna. Kishanlal stood by with a guilty face. At least 50 people had come to see Ragini off at the south entrance of Dharavi.
"Let me know at least a month before your wedding Bhaiya," Ragini told Anup between sobs.
"Yes. You let me know as soon as you reach," said Anup, trying hard not to cry.
Three days later
"What are you saying Ratan bhai? I just saw Bhandari Saab get into the shop while I was getting down from the auto. Why are you lying?" Anup asked the counter clerk who refused to let him enter Bhandari and Sons, a packaging shop in Lower Parel.
Bhandari Saab was one of his three biggest clients, who bought nearly 28% of his recycled plastic.
Ratan looked hard at him and said, "Dharavi is a virus hotspot. Saab says we can't risk buying from you for the next six months...or at least till a vaccine arrives."
Anup stood stunned for a few seconds then replied.
"But the virus spread has reduced a lot in Dharavi," he said, "There is no risk of spread through plastic Ratan Bhai. We wear masks and gloves in the recycling unit and maintain proper hygiene."
Ratan Bhai gave a sardonic smile and said, "Huh! Proper hygiene in Dharavi?"
On his way back home Anup met Kamala. She saw his face (whatever was visible beyond the mask) and asked.
"What has happened?"
"Nothing, let's go to Deepa Mausi's tea stall."
"Ok," said Kamala, "But, what are you hiding from me Anup?"
He told her. How the idli-making unit had nearly no takers now; simply because it was in Dharavi. How three of his biggest plastic recycling clients have decided not to buy from him until a vaccine for the virus arrives. Only the small clients remained, who are now paying one-third of the price they paid earlier – their only reason to buy recycled plastic from him.
"Has your mother resumed work?" asked Kamala.
"Only two places allowed her in."
They sat on a bench in front of Deepa Mausi's tea stall having tea and biscuits.
"I can't understand why people are singling out Dharavi," Kamala said more to herself than to Anup, "There are many slums in Mumbai as well as hotspots with more cases."
Anup stayed quiet. It had been a bad day. Most of his customers have told him that they would not buy stuff from him because of where he lived. This in itself is a big shock to any human being.
Moreover, Anup had been trying to call Ragini and Kishanlal since morning. Both their phones were "switched off". They were supposed to reach Patna by now.
Kamala reached out and gently pressed his hand.
"It will take some time darling," she said, "But things will improve. Mumbai will drown in its waste if Dharavi stops functioning. Just be patient."
Anup pressed back her hand. He felt like putting his head down in her lap and cry.
"What if your father marries you off to someone else by that time?" he asked.
Kamala bit the corner of her lower lip and said, "Actually, he might."
"To whom?" he asked after a pause.
"There's a debauch called Haricharan in our chawl. He runs a medical gear-making unit. He had been leering at me for many years. He spoke to my father last week."
"I will go and meet your father tomorrow. He promised me that you would wait for me."
"Don't come to our chawl now darling," said Kamala uneasily.
"Why?"
"You remember my friend Vyjanthi, who married Dinesh from Dharavi?"
"Yes."
"She came to visit her parents yesterday. They didn't let them enter our chawl."
After a few seconds, Anup said, "Ok. Can I call your father? Or has the virus started to spread through phones too?"
"Darling please don't get mad. You know how the situation is. Everyone is scared and paranoid. Things will soon settle down. We just have to be a bit patient."
Anup abruptly got up, slipped on his mask, and said, "I need some rest. Let me get you an auto-rickshaw for home."
Kamala continued sitting with her head down... fighting back tears. Then she too wore her mask and got up.
As Anup entered the narrow lane leading to his house after seeing off Kamala, he heard a faint sound of wailing, which grew louder. People came to him, patted him on his shoulders, and said something that he could not make out. He was trying to find out who was wailing. The voice sounded so familiar. His throat felt dry as he caught a few words.
"Both of them!"
"...right after marriage..."
There was a crowd in front of his kholi, which parted to let him pass. His mother was wailing and trying to bang her head against the wall, while few women tried controlling her. The younger sisters were huddled inside crying. His father sat like a statue outside the door.
Ragini and Kishanlal had died in a bus accident yesterday.
A month later
Anup woke up hoping the lump in his throat would not be there today. A lump, which had stayed and stopped him from smiling for the last one month.
However, Anup had stayed busy. No vaccine had arrived and people stayed away from products and people from Dharavi. Anup had started selling vegetables. He bought vegetables from the APMC wholesale markets and sold them in East Andheri. The profits were not high, but it had helped them scrape through.
Today morning the lump in his throat had a companion – a strong headache. By evening, he had a fever and cough. His parents and sisters watched him anxiously. Janhavi made him drink warm water mixed with ginger juice. It soothed his sore throat.
"At least I am feeling something, even if it's pain," he told Kamala when she called.
"You should visit a doctor tomorrow," she said.
"Yes. There's a testing camp here tomorrow. Don't worry, even if it's COVID, I won't die."
"You can't. Not before marrying me."
Anup had begged Mr. Naskar for a few months more last week, who had agreed reluctantly. However, looking at how social stigma continued to impact industries in Dharavi, he was unsure if he would be able to pay the dowry soon.
He went to the virus testing camp the next day. Within hours, they declared him positive and sent him to the quarantine center. The rest of his family was shifted to an observation ward nearby.
His first thoughts after entering the quarantine center were, "How many toilets are there?"
They took him to the ward for patients with mild symptoms. There were about 20 beds, 10 on each side of the long room with partitions in between. One doctor was checking a patient. Two nurses were attending to patients. The strong smell of disinfectants added to the gloomy silence and note of despair that hung in the air.
"Aren't they feeling hot?" thought Anup seeing the bulky PPEs worn by the doctor and nurses.
Within the first week, Anup understood why everyone dreaded the virus. He heard patients cough for minutes at a stretch, some complaining of chest pain, others of breathlessness. The only people he could "see" were the doctors, nurses (in PPEs), and the patient in the opposite bed – a young man, maybe a teenager. They sometimes looked at each other.
Anup could use his mobile for five minutes every day, as he only had a mild cough and fever. He told Kamala about the patient in the opposite bed.
"He's hardly 18 years Kamu," he whispered, "Very nice boy, but Type A diabetic. He needed oxygen yesterday."
"Do you talk to him?" she asked.
"No, it's always silent here. I miss you. Ok, will have to hang up now, five minutes over. I love you," he said listening to the kiss she sent over the phone.
In the second week, he woke up at night to see the boy in the opposite bed being wheeled away, most probably for surgery. He never returned. Anup asked a nurse about the boy and got no reply.
"I hope he's better now," he thought and then wondered about Kamala who had not taken his calls in the last few days.
"She's offline from Facebook and WhatsApp too...has she lost her phone? But then she will surely inform me," he thought.
He could not connect with Kamala in the next three weeks.
"Is she down with the virus too, in a hospital, maybe on the ventilator?" he thought fearing the worst.
He tested negative for the second time after three weeks and was declared fit. From the quarantine center, he went straight to Kamathipura, Kamala's chawl.
However, three people stopped him from entering the chawl.
"Aren't you a COVID patient? Kamala's lover!" jeered one of them.
"Ex-lover you mean, Shyam? She's married now," said the second man.
"Can you please inform Kamala that I have come to meet her?" said Anup.
"The cursed family's no longer here," said Shyam.
"What do you mean? Can you please explain?"
"What's left to explain?" now screamed the third person, "Renu killed her husband and is in police custody. We don't know where Kamala or the rest of the family are now. So please go away and stay away."
Anup started back home. He felt numb and could not hear the sounds around him. It was like being back in the cold, silent, and hopeless COVID ward.
"She said she would die if we don't get married," ran his thoughts, "Then why did she marry someone else? Is it because I got the virus?"
While passing through Dharavi's entrance, he suddenly panicked, "Will they turn me away from home?"
However, everyone at Dharavi welcomed him like a hero back from war. His sisters came running and hugged him tightly. His father patted his head and his mother cradled his head holding him tight, her tears wetting his hair.
He told his mother, "You should stay away from me Amma. Maybe I should live in the recycling unit for a few weeks."
"My darling," said Janhavi, "All those rules do not apply in Dharavi. Did you manage to speak to Kamala?"
Anup told them what he had heard.
Janhavi knew how much Anup loved Kamala and dreaded how it would hit him.
"She loves you Chhotu. She didn't betray you," she said while urging him to eat dinner later in the night.
"But she's gone, where I don't know."
"We are Dharavi folks dear," said Janhavi, "We don't give up easily. Search for her."
"If only I could have arranged for the dowry Amma," said Anup he said, "But he agreed to give me three more months..." his voice trailed off.
"What has happened has happened," said Janhavi, "He has paid for his sins with life. Let's try to find her now. And, to do that, we have to be strong, we have to live."
She tried feeding him a piece of chapati.
"Not now Amma. I will start being strong tomorrow."
He stayed awake throughout the rest of that night. The next day, Ravi (his childhood friend and idli-making partner) came to meet him.
He took Anup outside and told him, "I heard from Vyjanthi that Kamala has married a rich man from their chawl," he said.
"Who? Haricharan?"
"I don't know the name, can be him."
"Then she must be in the chawl now. Why did they say she wasn't there? To stop me from entering the chawl?"
"I will ask Vyjanthi to find out if she is there in the chawl. You rest now, you look exhausted."
"No, I'm not exhausted. I just want to know why she married Haricharan? And why did Renu Kaki kill Kaka? Where is Kamu now? Why did everything change in one month? I think I will go mad Ravi."
There are some questions, which often go unanswered in our lives. The ones that we cannot forget while covering our tears with smiles, while trying to revive ourselves after a bad day, while tossing and turning in our beds at night, unable to sleep.
Three months later
Anup had spent the last three months searching for Kamala and trying to revive his businesses. Everything reminded him of Kamala. Surprisingly the small things mattered more. The way she held her teacup, covered her mouth with dupatta while sneezing, the bhajis she loved to eat from the food stalls in Dharavi. The childhood pranks they played on others. The fights they had.
He avoided the movie theatres, parks, beaches, and all other places where they used to go together. But, how could he avoid his mind and how could he avoid Dharavi, where they had grown up?
"Is it her?" he thought, his pulse speeding up, after seeing a girl of about the same height and build from behind while passing by the Kumbharwada shops one day. She often went there to chat with one of the potters and help him in painting them. Even the temple bells reminded him of how she used to pray and offer puja.
However, he pushed the pain aside and focused on work. Two main plastic packaging customers returned last month, the idli-making unit also slowly started picking up sales.
He was on his way back after dropping off idlis at a roadside stall when he saw Tarun getting down from a bus.
Anup ran and caught up with him.
"Where is Kamala?" asked Anup, nearly shouting after he managed to stop him.
"How are you Anup?" Tarun asked, trying his best to sound calm.
"You tell me where is Kamu? What happened to Kaka and Kaki?"
Tarun remained quiet.
Anup took him by his shoulders and shook him.
"Please tell me Tarun. Where is she now? I need to know. I love her."
Tarun said in a flat voice, "Forget Kamu, Anup. Move ahead in life."
"What do you mean?" asked Anup frantically.
Tarun took Anup's hand and led him to a place beside the bus stop.
"Kamu is no more," he said, clearing his throat.
"What do you mean? Is she dead?"
"I wish she rather was, Anup."
"Can you tell me everything? Please I beg you Tarun."
Tarun stared at him for a while and then spoke.
"Our stepfather forced her to marry Haricharan for 4 lakhs of dowry."
"But he promised me!" shouted Anup.
"His promises," said Tarun sarcastically, "Three days after marriage, Haricharan sold her off to a Gulf-based brothel. He took her out to meet a relative that night but returned alone. We didn't know. We started suspecting after we didn't see her for the next two days. I went to their room and beat him up. After a hard punch, he told us what he had done. When Ma came to know about it, she didn't react and continued cooking. However, that very night, she killed our stepfather with the kitchen saw."
"What!!" exclaimed Anup, unable to believe his ears.
"Yes, after that Ma asked me to leave the chawl with my younger brother and sisters and then quietly went and surrendered to the police. We now live in a chawl near Thane. Hey!" he shouted steadying Anup who was swaying on the spot like a drunk man.
"Why am I still alive?" thought Anup, "Why didn't I die after hearing these words? My Kamu is in a brothel! And there is nothing that I can do...nothing. What's the point in living anymore? What do I do now? Where do I go from here? Kamu, oh Kamu, if only I could see you once or hear your voice. If only I could go and bring you back from the hell you are in now."
How he came from where he had met Tarun to the Juhu Beach on that day was a mystery that Anup would never be able to solve later in his life. Now he sat, cross-legged on the beach, staring ahead. However, he did not see or hear the breaking waves. His five senses were full of Kamala, and his only two dreams – marrying Kamala and growing old with her.
After a long time, his eyes fell on the white waves and he suddenly heard Kamala's voice.
"We will have white curtains in our house, won't we?"
"Yes," he muttered.
"Only one cup? Where's sister?" said a different voice now.
Anup quickly looked up. It was Buvan Bhai, the chaiwallah.
"Yes, only one cup," he answered, trying to push back a new lump in his throat.