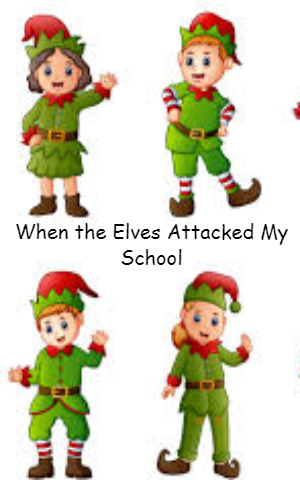 Ananya Mahajan
Children Stories Fantasy Children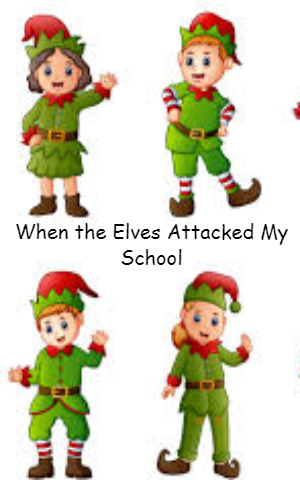 Ananya Mahajan
Children Stories Fantasy Children
When the Elves Attacked My School
When the Elves Attacked My School


---
---
On Monday, elves attacked our school, but we saved our precious school. We were studying Math in our class. I quietly did my work and went to show ma'am. Bang! We heard a noise which was rather odd. I quickly went back to my seat. Our teacher peeped through the large window and saw some funny and strange creatures. Soon, each class knew about this. Like always it was an attempt by the elves to attack our nice and unique school.
The teachers calmly walked out of the rooms and went to the staff room. Mr Dangle was the head of the elves. The elves slyly used to always try to attack our school but always failed because of silly Mr. Dangle. I wonder how could he even become the head? My friends were out of plans. Now we started crying because their was no other way to save our surpass school. We rarely or occasionally cried like this. Click! An idea came into my intelligent yet silly mind. The plan was to challenge silly Mr Dangle by asking him 5 difficult questions.
But while we were thinking the elves had already started their attack happily. They did graffiti all over the building and also did some magical and wicked spells which made the innocent caretakers fly and quack. My friends and I rushed towards the main door. We went to silly Mr Dangle and challenged him. He sometimes even tried to take us with him because of our cleverness, but he failed. We announced this all over the school. Surprisingly, Mr Dangle started eating walnuts. He said that walnuts make elves more clever and intelligent than humans.
Ha!Ha!Ha! Now it was time to ask silly Mr Dangle the five questions. If he got all correct he could take us away with him and destroy the school but if we won he would have to go to the elves' prison along with all the other elves and fix our school. Mr Dangle answered the five questions but got four wrong which meant we had won. Once again we saved our school. Silly Mr Dangle and the other elves were sent to the elves' prison. We all happily laughed and danced.