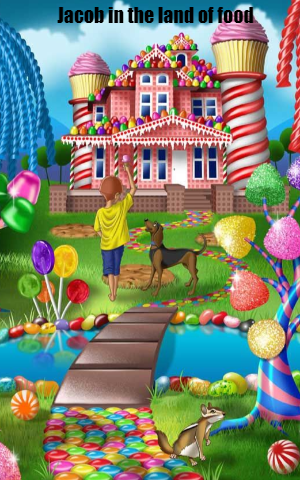 Soham Joshi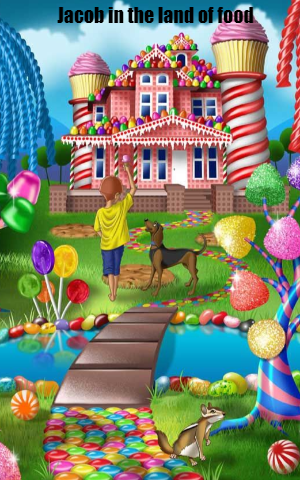 Soham Joshi
Jacob In The Land Of Food
Jacob In The Land Of Food


---
---
One day Jacob, a ten-year-old was walking down the street. He was hungry. He decided to buy a chocolate bar from a nearby shop. He gave the man a dollar and proceeded to eat his chocolate. As soon as the chocolate touched his lip he has transported someplace far away from Atlanta. When Jacob woke up, he saw a sight that was overwhelming for his brain to process even though he was intelligent.
He saw a whole big land with chocolate mountains covered with Ice cream on top. Houses made out of Ice cream cones. Rivers made out of Gravy and a huge chocolate castle with sprinkles on it. And in a balcony were flowers and gardens made out of Cake icing and cars made out of Cheese and there were also little gingerbread men and women.
Jacob took a whole 5 minutes getting adjusted to what he had just seen. And then a gingerbread man with a crown made out of butter was coming over with his army. Jacob knew this was the army because they were carrying toothpicks and peppermint spears. Jacob was extremely huge in this land but still, the food was about ten times big except the ice cream cones. But the chocolates reached till his waist and the gingerbread men and women came up to his waist.
Jacob was analyzing his surroundings when the king spoke "Welcome giant, please help me in devising a strategy to defeat the dragons because the spies have told me their plan but I cannot stand with my army against 15 dragons who are going to attack tomorrow."Jacob asked, "Sir what is their strategy, I need to see that before I tell the strategy to you." The king told him the strategy of the dragons and Jacob formed a plan.
The next morning, the dragons attacked Jacob saw that they were the size of eagles. As soon as the dragons entered the kingdom they were ambushed in the mountain where the king's army was hidden Jacob was so big that he took two dragons by the tail and swung them around and the dragons were thrown back into their own territory. It was not long before the dragons were in full retreat.
The king later thanked him and transported him to his own home just before dark. Jacob would never forget his adventure.