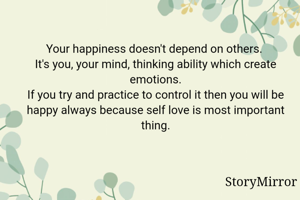 Submitted on 25 Jun, 2020 at 22:21 PM
Your happiness doesn't depend on others. It's you, your mind, thinking ability which create emotions. If you try and practice to control it then you will be happy always because self love is most important thing.
Submitted on 05 Sep, 2019 at 14:46 PM
Love is blind but it can't become a barrier for one's who want to achieve something in their life because it supports you rather than demotivating you!