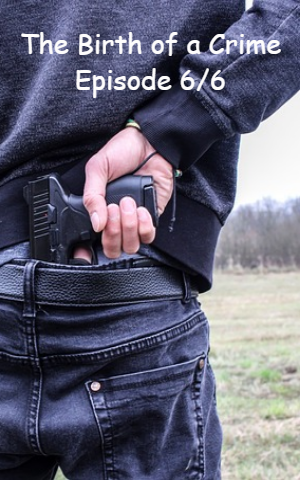 Amanpreet Singh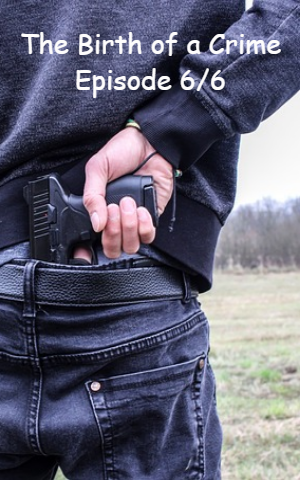 Amanpreet Singh
The Birth Of A Crime Episode 6/6
The Birth Of A Crime Episode 6/6

4 mins

98

4 mins

98
---
---
I shouted, "Kala! Abu, Salim! F.I.R. has been registered against us. Police is looking for us."
Kala said, "What, how do you know? How did the police come to know about it so soon?"
"We have been recorded on the CCTV camera. Check the news here."
"Oh, shit! We must run from here soon!"
Out of nowhere, D.S.P. Rajendra Verma appeared before us with a pistol in his hands and many constables following him. He said, "You are late Kala!"
The constables busted us quickly. We were chained and handcuffed.
The police had sufficient proof against us. Along with CCTV footage, they found some witnesses too. I didn't know whether the witnesses were real or fake. But I had understood escape was impossible now.
A criminal case was filed against four of us and we were presented in court. The judge was sitting above us in a cushioned rotating chair. One by one, Kala, Abu, and Salim stood in the dock and desperately tried to defend themselves. Their history sheets were already stained with crimes like stealing and fighting. Then my turn came to defend myself in the dock.
The judge said to me, "Your history sheet is clean. You haven't done any criminal act before. No F.I.R. has been registered against you up to now. Though some witnesses have said that you have been doing criminal activities for the last few months, I still want to give you a chance to defend yourself. So tell your story."
I looked at the face of the judge and I understood the judge must have felt some sort of innocence within me. It seemed from his facial expressions that somewhere he developed a soft corner for me. I didn't know why it happened. Maybe because of my speaking style or maybe because of the presence of a little bit of truth within me.
I began to tell my story. I started from the very beginning when I saw Nisha for the first time. How I developed an attraction towards her? How Mandheer was trying to hurt her? How I saved her from Mandheer's hands? And finally, how and why I reached this bloodbath?
After listening to my full story, he became very serious. I thought, perhaps he would do something for me as I was feeling he had a soft corner for me too, but I was in the wrong.
Finally, the judge passed his judgment, "Kala, Abu, and Salim are adults and clearly they are found guilty of the murder. All the evidence speaks against all of them. It is crystal clear that they have killed two lives. As it is a heinous crime so I sentence life imprisonment for all of them. As far as Sanjay is concerned, he is not an adult yet from now onwards his court proceedings will continue in the juvenile court."
The judge added in his judgment, "More importantly, I want to say that Sanjay could be prevented from being a criminal. Actually, Sanjay is not completely in the wrong. Sanjay has not become a criminal by his choice. In fact, we have made him a criminal. There are loopholes in the system that have made him a criminal."
The judge continued, "If we look deeply into the life of Sanjay, he wanted to save the life of a girl. That's all. But because at this age neither police take them seriously nor their parents. Well, I can understand the helplessness of the teachers. The teachers can only report the facts to their parents. What else can they do?"
The judge continued, "Well, I suggest there should be a body or small organization in each and every school and in each and every college who should look into such matters and sort out these matters effectively especially matters of love affairs, matters of bullism. Because up to now, there is nobody who can look into such matters effectively. Had the justice been provided to Sanjay at the beginning itself, in his school itself then he would not have become a criminal today."
"The police and our system become active only when a crime is committed. Why should we not start thinking in some other way? Why should we not become active before a crime is committed? Why should we not find out new ways to prevent a teenager from becoming a criminal? I personally believe that such matters of love affairs and bullism in schools or colleges give birth to thousands and lakhs of criminals in India. We must destroy the womb where a criminal takes birth."
After the judgment, I was taken to the juvenile court where again my story was heard and I was sentenced to seven years of imprisonment.